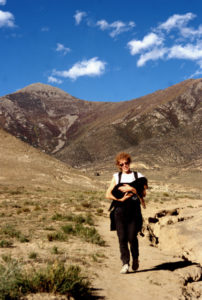 My wife reminds me that I should send the picture of her carrying the dog before we met the trekker and his sweaty, tired girlfriend in Tibet. Samye Chimphu behind us. That's with the Agram story.

(Steve Tibbetts, email, yesterday)
Komplett verrückte Idee. Es sei denn, man macht es radikal anders, kein Best Of, mehr ein Mix aus Kurzessay, Gedankensplittern, Stories, und einem Haufen unfassbar guter Musik. Als Glücksfall entpuppte sich meine Idee, Jon Balke und Steve Tibbetts zu einigen Favoriten zu befragen. Alle Platten, die sie besprechen, sind fantastisch, und es sind auch interessante "Aussenseiter" dabei. Sie werden ihren Geschichten gespannt lauschen! Die üblichen Wahrheiten sind eben allzu spruchreif und abgegrast. Das ist dann auch ein Trick: nicht "Belonging" zu spielen, oder "The Köln Concert", oder "Officium", sondern viele Alben ins Spiel zu bringen, deren Nachbrennkraft beträchtlich ist, und die sich nicht wie warme Brötchen verkauften. Mehr Entdeckungsreise als Deja Vu. "Danca Dos Escravos" von Egberto Gismonti ist so ein Wahnsinnsalbum, abseits der Zeitgeistereien. Als special guest tritt auf, in der letzten Runde, mit einem brandneuen OTON, Areni Agbabian. Ich habe ein sehr ungeordnetes Archiv, also beginnt nun bald das grosse Wühlen für die Klanghorizonte vom 17. August.