Als ich kürzlich die neue Platte von Eleni Karaindrou Tous des Oiseaux hörte, interessierte mich, auf was sich "Alles Vögel" beziehen könnte. Die Antwort gibt Eleni Karaindrou in den Linernotes zur Schallplatte: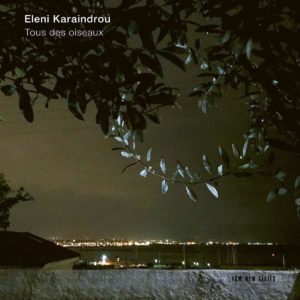 Sure, we should all be as the birds, free, without borders defining our existence and dictating our way of thinking. I feel deep gratitude for my encouter with such a haunting play as "Tous des oiseaux". It unlocked me, it opened new horizons, it broadened myy preception, it created within me images and feelings unknown, it deeply moved me. This production and my collaboration with Wajdi Mouawad ist a great chapter in my life.
Ich besorgte mir das Buch von Wajdi Mouawad "Vögel", erschienen in der Theaterbibliothek-Im Verlag der Autoren:
Eitan, Student der Genetik, möchte den Eltern seine neue Freundin Wahida vorstellen, allerdings gibt es ein Problem, Wahida ist Araberin, Eitans Eltern Juden. Der Vater, David, rasend vor Wut, kann das nicht akzeptieren, die Mutter, in ihrer Jugend in der DDR aufgewachsen, kann beide verstehen, Vater und Sohn: "Gruppenidentität ist das Elend der Menschheit". Der Großvater Eitans, Etgar, KZ-Überlebender, versucht zu vermitteln.
Natürlich wollen Wahida und Eitan diesem Elend entfliehen, es gelingt ihnen aber nicht. Während einer gemeinsamen Israelreise wird Eitan bei einem Terroranschlag schwer verletzt. Die Familie, Großeltern und Eltern besuchen den Schwerverletzten. Und irgendwann wird klar, dass beim Erbgut von Vater und Großvater etwas nicht stimmt.
Der Autor des Theaterstückes Tous des Oiseaux (Alles Vögel), Wajdi Mouawad, wurde im Libanon geboren und lebte in Kanada, er übernahm 2016 die Leitung des Pariser Théâtre National de la Colline. Die Uraufführung von Tous des Oiseaux fand 2017 statt. Das vor dem Hintergrund des Nahostkonflikts sich abspielende Familiendrama wird mehrsprachig aufgeführt, was in der Logik des Stückes begründet ist, es wird Englisch, Hebräisch, Arabisch und Deutsch gesprochen. Die deutsche Erstaufführung wurde im November 2018 im Schauspiel Stuttgart gezeigt. Kürzlich konnte ich die Stuttgarter Inszenierung sehen und war begeistert. Mich hat das Stück an Lessings Nathan der Weise erinnert, obwohl in dem Stück weniger die Religion thematisiert wird als vielmehr Vergangenheitsbindung und Identität. Angesichts der verfahrenen Situation im Nahen Osten das richtige Stück zur richtigen Zeit.
Und, keine Frage, die Musik von Eleni Karaindrou zu Tous des Oiseaux ist großartig.