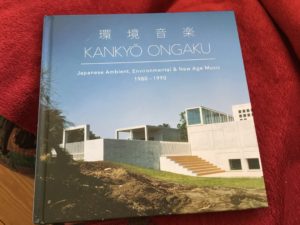 I'm in a dreamland. It is Japan, many years away from now. Satoshi Asiwaka sets the mood, with his composition "Still Space", and it sounds exactly like that, "exactly", I know, is a funny word here.
When I was a child, my father, a traveling man in industry, sent postcards from time to time, and I will never forget the big, big stamps on his cards from Japan – great hills with snow, women with strange eyes and long black hair.
Oh, what is that, Hideku Matsutake's "Nemireru Yoru", for a moment, I think of my old and long gone "Spielzeugeisenbahn". If that would have been the music for  my big green train crossing the big green field, I surely would have stopped time moving, I would have shouted "freeze" to the world in a tender way.
When I was a bit older, I had a book called "Getting There", and one of the first exercises was to fall up to the stars. It was a trance exercise – if you find the book, just follow the instructions, and use Joe Hisaishi's "Islander" as a way to activate a different you. In these synthetic arpeggios, the relaxed drum figures sound like real drum figures.
If it is very quiet in a room, and you do your Ikebana or your favourite solitary game (es gibt so viele Patiencen!), this can be the record of your choice. Oh, Yoshiaki Ochi's "Ear Dreamin'" has a real touch of Japan, slow enough for Western perception modes. It's no joke when, in the middle of the radio night, and in the middle of my hour on KANKYO ONGAKU, I will play a song from David Sylvian's "Beehive", a distant brother to these moods of environmental music.
Oh, big surprise, a new favourite piece rolls along with waves of water, "Variation iii", by Masashi Kitamura. The ascetic dark drumming, the space between the beats, and it stops way before its time, the shame of shiny fragments.
The constant loss of shiny fragments.
Now I have to stop writing and lose myself in the music of the double album. All the tracks seem to shy away from smartass knowing. They are just t h e r e, like the smell of my beloved plant (what was its name?), in the garden of my second childhood. I'm away now, on a day, where a tiny drip of blood found its way out of a tiny part of my body.