Die Taten von Lukic und seiner paramilitärischen Einheit wurden nicht erst durch die Ermittlungen des Haager Kriegsverbrechertribunals bekannt. Sie sind, basierend auf Zeugenaussagen, bereits der Gegenstand des von Handke kritisierten Artikels gewesen. Es handelt sich um eine Reportage des Journalisten Chris Hedges (Foto), die am 25. März 1996 in der "New York Times" erschienen ist.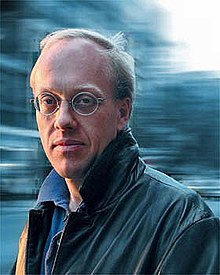 Im Gegensatz zu Handkes Unterstellung nennt Hedges den vollen Namen, die Herkunft und den Aufenthaltsort der meisten seiner Gesprächspartner, und er nennt auch den Namen von Milan Lukic. Zu den von Hedges befragten Personen gehört eine traumatisierte Frau, die mitansehen musste, wie Lukic und seine Männer ihre Mutter und ihre Schwester erschossen und lachend in den Fluss warfen. Handkes Erzähler will von alledem nicht wissen und spottet über den "Schlussabsatz des nach Visegrad hinter die bosnischen Berge geheuerten Manhattan-Journalisten, worin er eine aus ihrer Stadt geflüchtete Zeugin, nächtens dabeigewesen beim Hinabgestoßenwerden von Mutter und Schwester von der Brücke, Tennessee-Williams-haft sagen lässt: The bridge. The bridge. The bridge."
Handkes Erzähler, der die Tatsache leugnet, dass es die Massaker von Visegrad gegeben hat, trifft mit seiner Invektive nicht nur den Journalisten, der aufgrund seiner Recherchen zu einem anderen Ergebnis als Handke kommt. Seine Aussage über die "Tennessee-Williams-hafte" Sprache trifft durch den Journalisten hindurch auch das Opfer, dem nicht nur Mutter und Schwester genommen wurden, sondern auch – durch Handke – die Möglichkeit, das real erfahrene Leid zu artikulieren.
Doch das ist nicht alles. Handkes Erzählung ist noch nicht zu Ende. Am nächsten Morgen taucht der Erzähler – es ist ein schwüler Tag – in den Fluten der Drina unter und kommentiert diesen Vorgang wie folgt: "Kein Wasser, siehe die Wasserleichengeschichten, in den Mund kommen lassen!" Handke macht sich über die Opfer lustig, er verhöhnt sie. Und das ist wohl das Schlimmste, was man über einen Autor sagen kann, der ausgezogen ist, um mit den Mitteln der literarischen und poetischen Sprache Frieden zu stiften und zur Versöhnung der Völker beizutragen.
(Jürgen Brokoff, FAZ, 2010)
Das ist nur ein Ausschnitt eines sehr langen Artikels. Als ich ihn damals las, brachte er das Fass endgültig zum Überlaufen. Ich entsorgte alle Handke-Bücher im Müll, und staune nach wie vor, wie man jemanden, dessen Blickwinkel auf die Ereignisse damals so dreckverzerrt und menschenverachtend war, und das über Jahre hinweg, z. B. auf seinen Scheisspilzforschungen begleiten kann. Handke ist tatsächlich von der Vorstellung besessen, das poetische Wort könne zur Wahrheit durchdringen, während die "Meinungsmenschen" sich von oberflächlichen Indizien ernähren, und diese sensationssüchtig unters Volk bringen würden. In der Art, wie der Österreicher historische Fakten permanent verzerrte und der Unglaubwürdigkeit preisgab und schlicht leugnete, steht er in einer erbärmlichen Reihe all jener, die politsche Wahrheiten und die Aufdeckung von Verbrechen als "fake news" kompromittieren wollen, von Trump bis Infantino. Die Rollen in Jürgen Brokoffs genau recherchiertem Text sind klar verteilt: Chris Hedges ist der Chronist der Ereignisse, Milan Lukic der Mörder, und Peter Handke sein Geschichte fälschender Feld-, Wald- und Wiesendichter, oder, schlichter gesagt, eine erbärmliche Figur. (m.e.)