"I remember where I came from
There were tropical breezes and a wide open sea
I remember my childhood
I remember being free."
Bell's Lab Experimental Research Facility, New Jersey, 1978, Laurie Spiegel, das dunkle Haar fällt die Schultern runter, die Augen geschlossenen, Zigarette in den Fingern, umgeben von Maschinen wie aus einem Science Fiction. Genau in dem Monat, an dem dieses Foto gemacht wurde, treten die blutjungen Talking Heads im CBGB auf.
Eine Pionierin der Computermusik. Die riesigen Kolosse wurden mit Argwohn betrachtet, und ihnen musikalischen Ausdruck zu verleihen, war eine Herausforderung: Kann man den humanen Faktor einschleusen? Bei einem Stück wie "Patchwork" springen skelettierte Arpeggios aus den Boxen, fast mit dem gleichen frohgemuten Spirit, der Clusters Zuckerzeit auszeichnete.
Man kann sich kleine Filmchen auf YouTube ansehen: Laurie kommt da rüber wie eine außergewöhnliche charmante Astronautin: gutaussehend, bescheiden, klar im Ausdruck. Ihre Erklärungen sind geschliffen und intelligent, fast schon bis zum Punkt des Verführerischen. Hier in Bell's Lab wurde der erste Vocoder erfunden, noch für politische Aufklärungszwecke. Wie würde die Zukunft klingen? Jetzt, im Januar erscheint die wohl endgültige Ausgabe von Lauries Klassiker The Expanded Universe, auf drei Schallplatten, resp. zwei CDs, mit allem Drum und Dran – nennen wir es "real life cosmic music": eines ihrer Stücke wurde in illustrer Gesellschaft ins Weltall geschickt, auf dem "golden record" im Rahmen des "Voyager Space Program".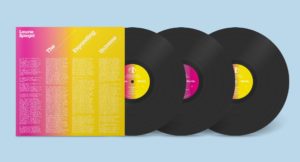 Damals wollte kein Label für zeitgenösssiche Musik diese Arbeiten veröffentlichen, und die Urfassung landete witzigerweise auf einem Folk-Label. Irgendwie passte das. Sie liebte ja schon als Jugendliche die Gitarrenforschungen eines John Fahey, nannte seine Musik eine Offenbarung, obwohl der Blick da weit in die Vergangenheit reichte. Sie war im ländlichen Raum hinter Illinois aufgewachsen, nahe dem Mississippi. Und auf verschlungenen, algorhythmischen Wegen dringt etwas von der verwunschen Wildnis der Kindheit in ihre Labormusik hinein. Diese seltsame Phänomen, wenn sich Menschen in der Fantasie, im Studio, im Labor, aufmachen zu fernen Welten. Irgendwann, irgendwo, "on the road", "lost in space", erkennen sie kleine Dinge, die sie an die vertrautesten Räume ihrer Heimat erinnern.