War dieser Kriminalroman ein klassischer "Pageturner" für dich?
Nein, das wohl langatmigste Buch, das ich von ihm je gelesen habe. Und ich habe ca. 12 gelesen, die meisten sehr genossen. Völlig überladen, das Teil hier, viel zu viele holzschnittartige Figuren, er kann das viel besser, aber der hier war wohl für Queen Mom geschrieben, seinen grössten weiblichen Fan, damals. Ich habe mich bei der Auswahl komplett "verrechnet".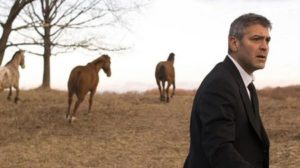 Wenn du dir eine sehr gute Verfilmung des Romans vorstellst, wer wäre die Idealbesetzung für Regie, Hauptrolle, und Filmmusik (du kannst Lebende und Verstorbene benennen, es ist ja eh imaginär)?
Vorab dies: es gibt ganz schlechte Bücher, aus deren Grundideen Drehbuchautoren und begabte Regisseure einen sehr guten Film machen können. Damals etwa, dieser Liebesfilm mit Clint Eastwood und Merryl Streep. Unter der Voraussetzung, dass ein Meister seines Fachs diesen Roman entmistet, kann man tatsächlich ein sehenswertes Netflix Original Movie oder einen kleinen kultigen Film machen, denn es gibt sie, die faszinierenden Sub-Plots und "Momente" in diesem Krimi, der eigentlich ein Genre-Mix ist, und dabei, leider,  nahezu jedes Genre komplett an die Wand fährt. 
Der junge Alexander Kinloch würde gespielt von dem Hauptdarsteller aus Bodyguard, Richard Madden. Man kennt ihn bestens aus Game of Thrones. Für George Clooney gibt es leider keine Rolle. Die Regie würde Wim Wenders führen, und die Musik sich allein aus Penguin Cafe Orchestra sowie historischer Dudelsackmusik (der langsamen und dronigen Art) zusammensetzen. Komplett instrumental. Nur im Abspann würde ein Song von Bob Dylan laufen, "One More Coffee", oder wie der Track aus Desire heisst, immer noch meine Dylan-Lieblingsplatte, egal, was die Dylanologen sagen.
By the way, the photo is from the movie Michael Clayton, a good one. As Peter Bradshaw once wrote in The Guardian: "George Clooney comes unprecedentedly near to playing a damaged man, a weak man, a defeated man, in this corporate-legal thriller, which comes swathed in a fur of anxiety and shame."
Was ist der ideale Ort zum Lesen? Ist es das klassische "book for the beach", oder gibt es für dich eine idealere Umgebung?
Das Buch ist ein Rohrkrepierer, es sollte nur von dem Drehbuchautor und Wim Wenders gelesen werden. Ach, Wim sollte auch das Drehbuch schreiben. 
Dick Francis hatte ja die Eigenart, ein bestimmtes Sachgebiet in seine Kriminalromane einzuarbeiten. Wie ist ihm die Umsetzumg in "Verrechnet" gelungen?
Nicht so gut. Den Scheiss mit den interkontinentalen Geldverschiebungen gleich rausschmeissen, wenn es um die Verfilmung geht. Auch die schottische Geschichtsstunde kommt hölzern daher. Das mit der Dudelsackmusik und der Landschafts- und Portraitmalerei hingegen ist flüssig und enthält Tiefe.
Wenn du einen Themenabend zu dem Roman veranstalten würdest, was würde auf der Speise- und Getränkekarte stehen, und welche Hintergrundmusik würde zur Begrüssung der Gäste laufen?
Wir wollen es mit dem Lokalkolorit nicht übertreiben. Zu Anfang gäbe es für alle ein grosses Stück Pissaladière, eime Spezialität aus Nizza (s. Foto, von mir angefertigt, gerne auch für das Mana-Treffen in Tübingen:)), als Hauptgericht Linsensuppe, das klassische Rezept mit dem Thermomix. Hintergrundmusik: Brian Enos Music for Installations, alle sechs CDs, als Rausschmeisser  Paranoid von Black Sabbath. Das Album. Cooler Scheiss.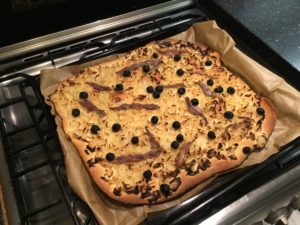 Wenn ein "special guest" an diesem Dick Francis-Abend einen Vortrag halten würde, der mit dem Autor und / oder dem Roman zu tun hätte, wie könnte man ihn idealerweise betiteln?
Wim Wenders würde auftreten und von seinem Filmarbeiten an Verrechnet berichten, der in die Kinos käme mit dem Titel "Eine Geschichte aus den Highlands". Ich glaube, keiner von euch hat den wunderbaren Film Lucky gesehen, der letzte grosse Auftritt von Harry Dean Stanton. Bei den Extras der DVD erzählt Wim von seinen Erlebnissen mit Harry bei den Dreharbeiten von Paris, Texas. Herrlich. Die Episode mit Ry Cooder ist der Knaller. Aber die gesammelten Stories, die Wim da auftischt, sind ganz und gar fabelhaft.
Dick Francis gehörte ja zu einer älteren Generation von Kriminalschriftstellern. Wie würdest du das Buch zwischen den Polen "Zeitlos" und "Altmodisch" einordnen?
Very, very old-fashioned.
Was wird der nächste Roman sein, den du liest?
Memorial Device von David Keenan. Von diesem kleinen Taschenbuch verspreche ich mir, hinsichtlich des kompletten Versinkens, was Feridun Zaimoglu über seine Lieblingslektüre 2018 geschrieben hat: "Ein Buch über Fremdheit und Entwurzelung, ein wunderbarem Deutsch geschrieben. Ich war betrunken vor Freude, habe gelesen, gelesen, und nur zwischendurch ein Brötchen gegessen und bin gar nicht mehr rausgegangen." Fast vergessen, er meinte Austerlitz von W.G. Sebald.