In meiner Kindheit kamen nur einfache Speisen auf den Tisch. Es war Nachkriegszeit und die Köchin der Familie war meine Oma Jette. Sie stammte aus einem Bauernhaus und kochte wie ihre Großmutter ein begrenztes Repertoire an Rezepten. Es gab ein paar Gerichte, die an bestimmten Wochentagen immer auf den Tisch kamen. Am Mittwoch gab es "Schnitz und Backela" (hochdeutsch "Gemüsesuppe und Kartoffelpuffer"), denn am Mittwoch konnte man beim Metzger für 10 Pfennige 3 Liter Wurstbrühe kaufen und mit Kartoffeln, gelben Rüben, Lauch, Zwiebeln und Majoran in "Schnitz" verwandeln. Am Samstag gab es meistens 2 Gänge. Brotsuppe eröffnete das Menu, Pellkartoffeln und Quark (oder Bratheringe) waren der Hauptgang. Ich hatte dieser Tage Lust auf #RetroCooking.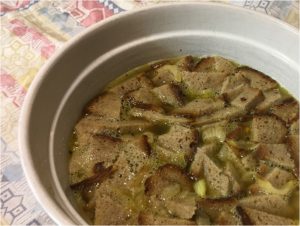 Das ist Brotsuppe, von mir gekocht am letzten Wochenende. Eigentlich ist es ein Verwerten harten alten Brotes in Gemüsebrühe, gewürzt mit knusprig gerösteten Zwiebeln, abgeschmeckt mit Salz und Pfeffer. Danach kamen Pellkartoffeln und Quark auf den Tisch. Es sind Gerichte von wunderbarer Kraft, wohlschmeckend, einfach, manchmal rauh, aber niemals dumm. Die Bauern aßen, um zu überleben.
Ein Eberkopf, seltsam grün und mit Blattgold verziert, ein Schaugericht, Essen für satte Leute. Wenige dieser Gerichte waren zum Verzehr bestimmt. Food Porn of the 18th Century, Schaustück und Attraktion für die festliche Tafel bei einem Bankett an Adelshöfen.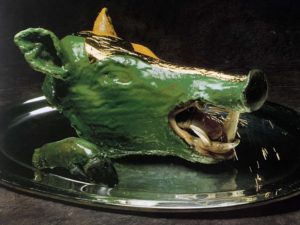 Die Funktion solcher Schaugerichte war, das Ansehen des Gastgebers zu erhöhen. Je bedeutender die Gäste, desto größer das Spektakel. Sie dienten der adeligen Repräsentation zusammen mit Architektur, Kleidung, Dichtung, Musik etc. und waren letztlich Statussymbole, Insignien von Macht und Herrschaft.
In den Jahren 1717 bis 1723 war Johann Sebastian Bach Kapellmeister am Hofe Anhalt-Köthen. Es muss eine gute Zeit für ihn gewesen sein, schrieb er doch im Jahr 1730: »Dasselbst hatte einen gnädigen und Music so wol liebenden als kennenden Fürsten; bey welchem auch vermeinete meine Lebenszeit zu beschließen«.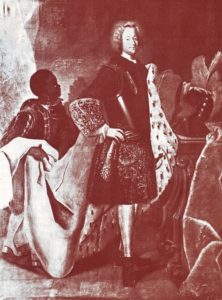 In den ersten Köthener Amtsjahren hat Bach den Herzog zweimal auf Reisen nach Karlsbad begleitet. Ein Teil der Hofkapelle hatte in dem berühmten Badeort, einem Treffpunkt der Herrschenden und Reichen, für Leopolds musikalische und gesellschaftliche Repräsentation zu sorgen. Wahrscheinlich wurde das eine oder andere der Brandenburgischen Konzerte – sie entstanden in Köthen – aufgeführt. Mit J.S. Bach und den Virtuosen der Kapelle konnte der Fürst eher reüssieren als mit seiner Kutsche und den 2 bis 4 Pferden. Heutzutage kann man wohl besser mit einem Fahrzeug als mit einem iPod Aufsehen erregen.