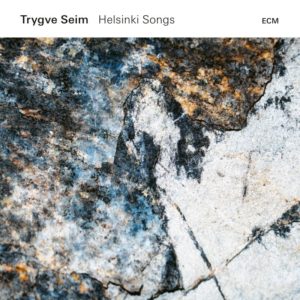 The new Trygve Seim album, Songs from Helsinki, is an exquisite gem and a standout in what has been a banner year for the ECM label.
While listening to this album, comprised entirely of ballads,  Seim's smoky tone almost reminded me of a European Stan Getz. However, Seim possesses a tonal range that gives him the ability to add a lot more colors, sounding at times like a Bulgarian duduk, at other times deploying passionate screeches and squeals in the upper registers, (although except for the last tune, he reins in his wilder musical instincts in this predominantly restrained session.)
Seim's sense of melody is virtually unerring in both his writing and his soloing. Understated, sensitive, even when skirting the edges of unabashed sentimentality – a lesser player might regress to the saccharine – somehow Seim has an unflagging intuitive discipline that avoids the obvious cliches. 
Since the very beginning as a leader, Seim has been a risk taking artist who approaches every project with a beginner's mind, constantly reinventing himself, coming up with unique concepts and approaches for each new recording. Thus far, I haven't heard an album from him as traditional sounding as this one is, in terms of a straight ahead quartet setting, and it succeeds brilliantly.
One more thing: After listening to this recording several times, I'm  utterly convinced that Kristjan Randalu is one of the best "new" pianists around (I've had his solo piano album for several years, so he's not really new to me, but new to the world stage perhaps.) I love his brilliant first ECM record, Absence, as well as his amazing duo album Equilibrium with Ben Monder on guitar. His playing here is the perfect embodiment of support and taste in the role of sideman. His phrasing reminds me a bit of Jarrett at times, but make no mistake, he's definitely his own man. I would be hard pressed to name a jazz pianist today with the degree of classical technique he possesses, and he puts his prodigious technical skills to good use – always in the service of the music. Randalu's touch is for this listener at least, absolute perfection, like a mixture of butter and honey. His solos here are worthy of study – an improvisational touchstone, a how to manual for playing through changes in a contemporary European jazz setting.
In many ways, this is the Seim album I've been waiting for. I listened to it 3x yesterday, something I almost never do. Like a snifter of good cognac, it goes down easily, smooth yet complex. Pure listening pleasure, to be savored again and again.