What has been your last great jazz concert?
In fact that has been yesterday, in Torino, so to speak. I have been listening to Part 1 of Keith Jarrett's performance from 1998, about 43 minutes long. And I've been obsessed with these 43 minutes during the last weeks. Nothing against the other performances, but this one grabbed me mysteriously, and I love every second of it. A Multitude of Angels is a gas, the whole box.
What record are you really waiting for at the moment?
Well, I think the best record of 2018 will be from 1968. I really hope they put out the surround version of the Beatles' so-called White Album. I recently listened to the excellent mono-remastering on vinyl, gosh, unbelievable. The pieces float into one another, and the way they do it, or George Martin did, thrills me since I listened to the album nearly every day in my first winter in Würzburg. My room mate had a cheap cassette player, and we were real White Album addicts.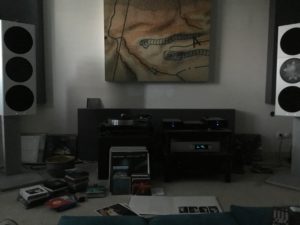 You sound a bit retro-minded!
Boy, I wouldn't be so sure if the word retro-minded is in official use, haha, but, yes, I'm so fucking retro-minded that I should get a professional look at my mental state. Another example: in two weeks from now, I will play, in my night show, two bands I always thought I should stay away from as far as possible, Tangerine Dream and Yes. In my mental map they have been equally pretentious and boring as, say, Coldplay or U2 or Simple  Minds, and now a change of my own simple mind, haha …
More symptoms you want to speak about?
Well, I tell you something quite embarrassing. Recently I ordered music by Deodato that has been reissued in a quadrophonic version, and lots of people got crazy about it. I do really have pale memories about Deodato, he had one or two hits, a grandioso version of "Also Sprach Zarathustra", and I think he very much went for showmanship anf big gestures, but I fucking like to lose myself inside that sound. One more time. The last time I have heared it, hundred years ago, I must have been in love with a daughter of a priest and been listening to Genesis' "Foxtrot". Deodato, come on – possibly purely regressive behaviour. Hopefully my blinking red lights for a loss of judgement abilities all go wrong. But I'm not totally lost – the Jarrett magic from 1998 still sends me places.
Is there some deeper reason for all this moving back in time?
You mean, if I can talk some sense into it?! I can. And it's sad enough.