Die Frau, der damals mein Herz gehörte, war in Italien, und als in diesem verdammt heissen Sommer ein grosses Erdbeben nicht so weit von ihr entfernt die Erde grollen liess, beschlich mich leichte Sorge. Ein bisschen dumm waren wir schon, oder, Ed? Es war doch das beste Jahrzehnt unseres Lebens, die beste Musik des Jahrhunderts kam in jener Dekade heraus und fütterte den Soundtrack unserer Würzburger Tage ohne Ende. In den romantischen Empfindungen schien ja auch alles prairieweit, doch verengten wir unseren Blickwinkel mitunter durch etwas schmächtig geratene Versionen unserselbst. Auch kam einmal der Tod dazwischen, kalt und trostlos.
Halim backte die besten arabischen Pizzen im Umland, exklusiv für uns Studentenheimbewohner, und musste den politischen Kampf mit der Politik gewinnen, um nicht, völlig zu Unrecht, ausgeliefert, und von der israelischen Regierung getötet oder auf ewig ins Gefängnis geworfen zu werden. Hoffentlich liest Maxim Biller diese Zeilen nicht, der wittert ja bei uns Linksintellektuellen stets Antizionismus, Antisemitismus, aber es ist ein grosser Unterschied, die gegenwärtige Regierung Israels für den letzten Dreck zu halten, oder solche Scheisse zu singen wie Kollegah und sein Muskelkumpel.
Aber alles kam zusammen, wenn wir unsere Matratzen aufs Dach des Internationalen Hauses schleppten, den Plattenspieler anschlossen, das kalte Bier tranken (Patrizier Hofbräu, haha), und Neil Youngs "Tonight's The Night" lief, endlos, jenes zerschossene Requiem,  und das Schattenreich der Hippie-Ära seine Pforten weit öffnete. Oh, Baby,  mellow my mind! 
Es war wohl in jenem Jahr auch, dass das amerikanische Keith Jarrett Quartett vor underen Ohren aufspielte, in Nürnberg, das letzte Konzert jener Gruppe. Christiane war unversehrt aus Italien zurückgekehrt, wir sassen zu viert etwas weit hinten, Gerti war mit dabei – was für eine Musik, da konnte auch Archie Shepp zuvor nicht mithalten. Hans-Dieter Klinger sass weit vorne, hinterher begegneten sich unsere Augen auf der Toilette für einen kurzen, wissenden, unwissenden Moment.
Ed, wir studierten sehr entspannt die Psychologie, und ich staunte immer, mit welcher Energie du dein Doppelstudium betriebst. Und so oft noch landeten wir in jenem Sommer, neben unseren Ausflügen zum Spargelessen nach Volkach, "über den Dächern von Würzburg", und Neil Young und seine "drugged crew" spielten "Tonight's The Night", immer wieder. Heute erscheint "Roxy Live", es war das erste Aufspielen dieser Lieder in Los Angeles, es war das Jahr 1973, und erst später brachte Reprise Records das dunkle Meisterwerk der "audio verité" ans Licht einer leicht irritierten Gefolgschaft.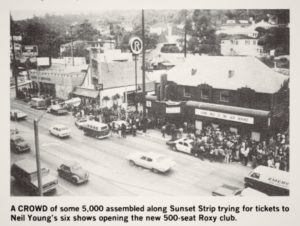 Als sie das originale Album einspielten, war Neil Young wegen des Todes von Danny Whitten schuldgefühlzerfressen, und so nah am Abgrund wie nie. Es war ein Totentanz, der uns im fernen Deutschland aber nicht so finster stimmte – zuviel von der Ursuppe der Rockmusik war da angerührt, um uns kein stetes Funkeln in die Augen zu zaubern. Allen "tired eyes" zum Trotz ! Als Neil Young dann im Roxy aufschlug, Wochen später, rollten die Lieder leichter, die Musiker fanden ins Leben zurück, Neil Young sprang sowieso nie zweimal in den gleichen Fluss. Come on, roll another number! The banter's remarkably jocular, Young shouting out Fifties superstar stripper Candy Barr and cracking wise like a tipsy hippie Henny Youngman ("Welcome to Miami Beach! I'd like to thank my managers for introducing me. … Ten years in the business, folks. I feel like Perry Como!") But the songs are dark as a moonless night. Also, Ed, was kann ich nach dem ersten Hören sagen? Geiler Sound, Alter! Deep listening!