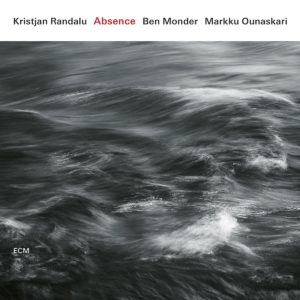 Estonian pianist Randalu has always impressed me with his technical mastery and subtle arranging chops, but takes it up another notch on the new ECM release, Absence.
The opening track, Forecast is one of the most stunning pieces I've heard in a very long time, starting with an out of time meditative opening, moving into shimmering arpeggios of light with a haunting repeating melody, and suddenly opening up into a powerful piano solo. You can hear the classical inspiration from composers such as Erkki-Sven Tüür and Tõnu Kõrvits, both of whom had been his mentors at one time. This classical harmonic approach serves the music well – it fits in with the ECM aesthetic, yet integrates rigorous classical discipline with spontaneous improvisation in a unique, fresh approach.
Besides his compositional excellence, Randalu is a prodigious improviser. His chemistry with guitarist Ben Monder is palpable here, and drummer Markku Ounaskari's supple playing is the glue that pulls it all together.
This trio is so dynamic and huge sounding that at first I barely noticed the absence of a bass player. Overall, this album serves up a soft palette of musical colors, veering from the melancholic to the ecstatic, occasionally taking  a detour to some surprisingly dark spaces. Once in a while, the power of this trio comes thru the generally gauzy sonic veils, hinting at what they must sound like live and unleashed. (There are some good videos on YouTube.)
The music flirts with ambient and free playing in a couple places, but Randalu's sense of structure and form keeps it from becoming diffuse or unfocused.
Music of startling beauty and originality, this album will easily be on my top 10 list for 2018.