In der letzten Woche war in der Süddeutschen-Zeitung eine Buchbesprechung von Thomas Steinfeld zu lesen. Es ging um ein Buch des Berliner Schriftstellers Friedrich Christian Delius. "Die Zukunft der Schönheit". In diesem Buch wird von einer Begegnung mit Albert Ayler berichtet. Der Erzähler sei zu der Tagung der Gruppe 47 im Jahre 1966 nach Princeton eingeladen worden und anschließend wäre er nach New York gefahren und hätte dort in einen Jazzkeller in der Lower East Side Albert Ayler und seinen Free Jazz gehört …
Diese Rezension erinnerte mich an eine große schwarze Box, die seit vielen Jahren in meinem Plattenschrank steht und ständig vergeblich ruft, ich möge mich endlich mal wieder mit ihr beschäftigen. Nun, der Artikel hat mich dazu verführt, die Box aus dem Plattenschrank zu holen und abzustauben. 2004 hatte die englische Musikzeitschrift WIRE Albert Ayler Holy Ghost: Rare & Unreleased Recordings (1962-70) als Platte des Jahres ausgewählt (auf Platz 2 kam übrigens Sonic Youth: Sonic Nurse und auf Platz 3: Fennesz: Venice).
Ich dachte mir, okay, diese Box sollte in deinem Plattenschrank nicht fehlen und kaufte sie mir. Was für eine Überraschung: Man öffnet einen schön gestalteten schwarzen Kasten und erblickt zunächst ein in blaues Leinen gebundenes Buch, 208 Seiten, wunderschön gestaltet, bebildert, mit allen nur erdenklichen Informationen zu den neun CDs. Das hier abgebildete Foto des jungen Albert liegt ebenfalls in der Box, dann: eine gepresste Blüte, eine Notiz des Meisters auf Hotelbriefpapier geschrieben (Hotel Esplanaden / Kopenhagen), ein Werbeblatt des New Yorker Clubs "Slugs" mit Hinweisen auf Konzerte im September und Oktober 1967, eine Schrift von Paul Haines: Ayler-Peacock-Murray- You And The Night And The Music, ein Auszug aus einem Heft The Cricket – Black Music in Evolution mit Aufsätzen zu Pharoah Sanders und Albert Ayler, eine CD, die sich in einer als Tonbandbox gestalteten Hülle befindet. Die CD enthält zwei Ayler-Titel: Tenderly und Leap Frog, aufgenommen am 14.September 1960. Ganz unten im schwarzen Kasten findet man dann endlich die neun CDs. Diese Musik zu hören, das erfordert schon Mut und Durchhalte-vermögen, wofür man dann letztlich aber belohnt wird: Free Jazz eben.
Folgende Musiker wirken auf den Aufnahmen mit: Albert Ayler (tenor saxophone), Herbert Katz (guitar), Teuvo Suojärvi (piano), Heikki Annala (bass), Martti Äijänen (drums), Cecil Taylor (piano), Jimmy Lyons (alto saxophone), Gary Peacock (bass), Sunny Murray (drums), Don Cherry (cornet),  Burton Greene (piano), Frank Smith (tenor saxophone), Steve Tintweiss (bass), Rashied Ali (drums), Don Ayler (trumpet), Michel Samson (violin), Mutawef Shaheed [Clyde Shy] (bass), Ronald Shannon Jackson (drums), Frank Wright (tenor saxophone), Bill Folwell (bass), Beaver Harris (drums), Milford Graves (drums), Pharoah Sanders (tenor saxophone), Chris Capers (trumpet), Dave Burrell (piano), Sirone (bass), Roger Blank (drums), Call Cobbs (piano, Rocksichord), Bernard Purdie (drums), Mary Parks (vocal, prob. tambourine), Vivian Bostic (vocal), Sam Rivers (tenor saxophone), Richard Johnson (piano), Richard Davis, Ibrahim Wahen (bass), Muhammad Ali (drums), Allen Blairman (drums) u.a. … Paul Bley fehlt in dieser erlauchten Liste, erstaunlich eigentlich.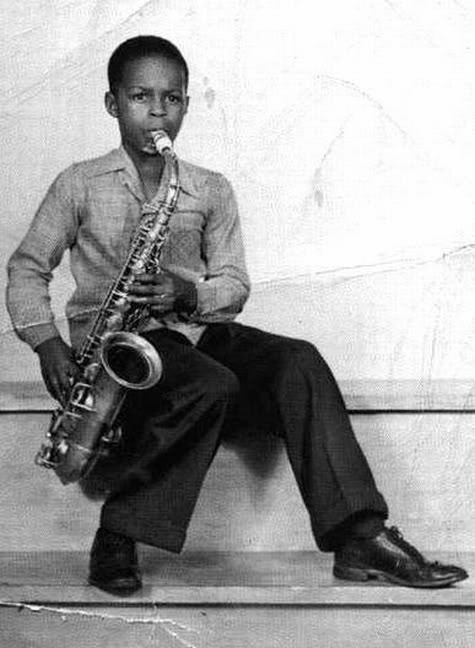 Übrigens Thomas Steinfeld behauptet in seinem Artikel, Albert Ayler sei im Herbst 1970 im Alter von nur 34 Jahren gestorben, vermutlich habe er sich auf der Fähre zur Freiheitsstatue in den East River geworfen. Auf der website https://www.ayler.co.uk/ ist über seinen Tod folgendes zu lesen:
"Following his death, at the age of 34, there was the usual outpouring of conspiracy theories: that there was a bullethole in the back of his head; that he was tied to a jukebox; that the F.B.I. had killed him as part of their policy of assassinating all prominent Black figures; that the Black Power movement had killed him because he wouldn't support the cause; that the Mafia had tied him to the jukebox because he refused to make any more rock`n`roll records for Impulse. But the simplest explanation is that it was suicide. Guilt over the treatment of his brother, and Don's subsequent illness, the fact that his attempt to popularize his music had not only failed, but alienated the critics and fans who had supported him in the past, the cancellation of the Impulse contract, all could have combined to tip him over the edge. Albert Ayler was buried in Highland Park Cemetery, Beachwood, Cuyahoga County, Ohio on 4th December, 1970. The funeral was paid for by the US army (a benefit which every former serviceman is entitled to), and through some oversight, Albert Ayler's gravestone implies that he died in Vietnam."
HOLY GHOST rare & unissued recordings (1962 – 70) 9 CD Spirit Box
P.S. Cecil Taylor starb ab 5.April 2018. Er wurde 89 Jahre alt.