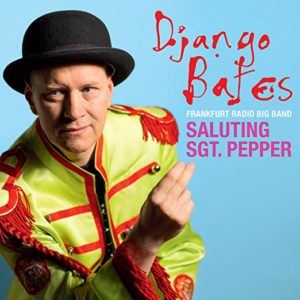 I'm relatively new to Django Bates artistry, so he is still a bit of an enigma to me. I gather he has many facets. Having first heard him on Anouar Brahem's Blue Maqams and then on his brilliant new trio album, Beloved, I didn't know what to expect when I saw this – but I knew I had to have it. I watched a couple live YouTube videos and was intrigued.
For the most part Bates has stayed almost religiously true to the canon of Pepper; there is barely a bar that has been changed with regards to form and structure. Rather than completely reinvent the album as was done to Revolver by San Francisco jazz singer Ann Dyer (Revolver: New Spin,) he has wisely chosen to keep Pepper's bones intact, for the most part anyway, and instead adds some jazz filigree to the mix, by augmenting it with earthy big band horn parts, a few surprising harmonic twists and turns, occasional funky guitar riffs and subtle groove shifts. He plays a lot of Rhodes piano, deftly riffing here and there, but never muddying the sacrosanct Pepper waters. Amidst the augmented arrangements, all the associated licks and classic guitar solos are reverently played (although not always by guitars,) once again showing Bates has a great deal of respect for the material. There are exceptions: one tune, (and it might be the Sgt Peppers theme itself if memory serves), is mostly in 5/4. But these sorts of liberties are rare.
The vocalist is perhaps the weakest link in the chain. He too stays true to the originals, offering little in the way of reinterpretation. He has the right Brit rock/pop pipes, no doubt, but there is very little to distinguish these vocals. I would describe them as appropriate and serviceable, yet they come off for this listener as a bit flat, i.e. they don't get in the way of the proceedings, nor do they particularly shed any new light on the material.
That being said, a more radical departure may not have worked. I think of Nguyen Le's Dark Side of the Moon, a reimagining of the classic Pink Floyd album. It is a far more radical departure from the original, reinventing the material entirely for big band and employing female (as well as males) voices for the vocal chores. Le even adds his own entirely original material to the mix – it's the complete opposite approach to Bates's, and while extremely bold, doesn't seem to find its way onto my player very often. This version of Pepper however, is plain fun to listen to and finds a sweet spot between reinvention and fidelity to the original.
The bottom line is, Bates has managed to create a highly listenable version of a masterpiece, run through the kaleidoscopic lens of Bates's wild imagination.