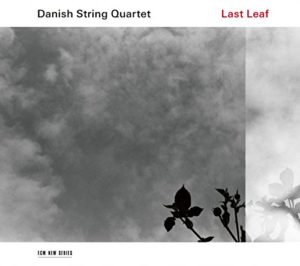 The new album, Last Leaf by the Danish String Quartet (ECM New series,) is the kind of music that beckons one to listen in wonder, like a child. At its heart, it's an album of deeply felt folk music, albeit dressed in superb, sophisticated arrangements and executed with consummate classical precision. Put it on and at once, you're in familiar territory. Yet, what was that strange chord there, and why did that song start out one way and take me here …?
Besides the odd moment of untraditional dissonance, there are times when the album invokes classical minimalism, inviting one to think of Terry Riley's string quartets – in more reflective moments I hear snippets of Arvo Part at his most spare. I even hear moments that remind me of Lou Harrison. But then, suddenly the group is off at a bright pace on what almost sounds like a traditional jig from the British isles. I have found Scandinavian folk music to be like that sometimes, not so very far from the British Isles after all, and I like it.
This is a gorgeous album that is almost impossible not to like. It is by turns, dramatic, mournful, playful and ecstatic. But it is always beautiful, sounding like it rose from a natural spring fully formed and perfectly in tune, so light and dynamic it feels as if it is being played by angels.