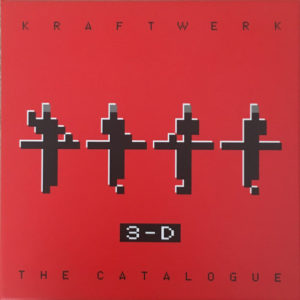 Acht CDs liegen da vor einem, jede davon verpackt in einem grafisch exzellent gestalteten aufklappbaren Pappcover, und dazu noch ein 16-seitiges Gesamtbooklet.
Ob man so ein Paket braucht, kann nur jeder für sich entscheiden. Was man bekommt: sozusagen The Mix 2, diesmal aber das gesamte Repertoire von Kraftwerk von Autobahn bis Tour de France Soundtracks umfassend. Die Aufnahmen sind angeblich Live-Mitschnitte. Überprüfen lässt sich das nicht, da an keiner Stelle Publikum zu hören ist. Sicher ist lediglich, dass die CDs die Stücke so wiedergeben, wie Kraftwerk sie heute auf der Bühne präsentiert. Es ist nicht ganz unwichtig, das zu betonen, weil Hütter und seine Mitstreiter ihr Repertoire über die Jahre hinweg immer wieder variiert, neu arrangiert und umgestellt haben, und die Unterschiede sind zum Teil beträchtlich. So waren z.B. die "Autobahn"-Motorengeräusche auf dem originalen Album von 1974 synthetisch nachgestellt, was ihren eigentlichen spielerischen Charme ausmachte. Auf der "Autobahn"-Version vom Mix-Album (1991) ging dieser Charme verloren, weil man die Motorengeräusche durch gesampelte Originalklänge ersetzt hatte. Das sieht die Band inzwischen anscheinend selbst so, deswegen sind nun wieder die synthetischen Imitationen da, der Beat allerdings ist der von 1991.
Generell fällt auf, dass gegenüber den Aufnahmen aus der Mix-Ära die Rhythmik verändert wurde und sehr viele Samples aus den Originalaufnahmen integriert wurden, und in fast allen Fällen hat sich das gelohnt. Da etliche der Stücke über die Jahre hinweg kräftig eingekürzt und einige der Tracks zu Medleys zusammengefasst wurden, sind einige der CDs erstaunlich kurz geraten. Autobahn beispielsweise besteht, obwohl alle der ursprünglichen fünf Originaltitel verarbeitet wurden, nur noch aus zwei Tracks und dauert 26 Minuten. Trotzdem ergibt es Sinn, dass jedes Album wieder eine eigene CD ist, denn alle Kraftwerk-Alben waren in sich geschlossene Werke und sollten das auch bleiben.
Es lässt sich schwer sagen (weil subjektive Einschätzung), ob die neuen Fassungen "besser" oder "schlechter" als die Originale sind. Klanglich sind sie kristallklar und streckenweise im Bassbereich durchschlagend. Manche Tracks sind mir ein bisschen zu kirmeshaft geraten, andere erinnern an den Alleinunterhalter auf Hochzeitsfeiern, andere sind sehr gelungen. Ich für meinen Teil würde in den Fällen Autobahn, Radio-Aktivität, Trans Europa Express und Computerwelt die Originale bevorzugen, in anderen Fällen hält es sich die Waage; im Fall Tour de France Soundtracks hat die neue Version sogar deutlich gegenüber dem Originalalbum von 2003 gewonnen.
Besonders interessant ist die CD 7, die das Repertoire des Mix-Albums plus die "Planet of Visions"-Single enthält. Diese Scheibe ist nämlich in Headphone-3D abgemischt. Dass Kraftwerk live oftmals mit dem Wellenfeldsynthese-Verfahren arbeitet und dadurch ein Klangerlebnis bietet, dass das Publikum von allen Seiten mit 32 Tonkanälen einschließt, wird mit diesem Verfahren für ganz normale Kopfhörer simuliert. Das erinnert ein bisschen an Kunstkopf-Stereophonie, wie sie etwa Can oder Tangerine Dream schon in den 70er Jahren geboten haben, beruht nun allerdings auf einer elektronischen Simulation des Kunstkopfes. Das funktioniert tatsächlich, klingt im Kopfhörer sehr gut, über Lautsprecher allerdings funktioniert es nicht vernünftig (wie damals schon Kunstkopfaufnahmen).
Die ersten drei Alben sind nicht dabei; Ralf Hütter hat irgendwann mal entschieden, dass er sie nicht zum gültigen Repertoire rechnen möchte. (Wie ich aus gewöhnlich gut informierten Kreisen höre, sind die ersten drei Alben bereits remastert und sollen als 2-CD-Box mit viel grafischem Material veröffentlicht werden, aber keiner weiß, wann. Und ob überhaupt.) Über diese Entscheidung kann man streiten. Ich finde ja, dass Autobahn noch deutlich dichter an Ralf & Florian anknüpft als an, sagen wir: Trans Europa Express, aber Hütter hat das so entschieden. Er hat sich offenkundig in die 12345678-Idee verliebt, und da er uns nichts schuldig ist, kann man das nur akzeptieren oder nicht. Deswegen übrigens glaube ich an kein neues Kraftwerk-Album mehr; eine 9 würde nicht mehr ins Konzept passen. Satt dessen hat sich Hütter für eine Art Never-ending-Tournee entschieden und uns davon jetzt eine Ansichtskarte geschickt — auch nicht schlecht. Immerhin jedenfalls sind die Konzerte innerhalb von Minuten ausverkauft, und die Besucher sind durchweg begeistert, also macht er offenbar irgendetwas richtig.
Es ist noch darauf hinzuweisen, dass es dieses Paket auch auf Vinyl gibt. Außerdem gibt es das Gesamtpaket als 3D-Blue-Ray mit entsprechendem Sound, und alle, die das Ding in meinem Umfeld bisher gehört bzw. gesehen haben, sind begeistert. Ich kann dazu mangels Anlage nichts sagen.