Ein Pinguin in der Wüste. Und einen Sonnenbrand vom Feinsten hat er sich auch noch zugezogen. Quasi ein bißchen gegrillt. Ob das den Ohren schmeckt?
Vor einigen Jahren wählte Eckart von Hirschhausen den Pinguin in der Wüste als Bild dafür, wenn jemand seine Ressourcen nicht ausreichend wahrhabend, versucht in artfremder Umgebung zurecht zu kommen, nicht ohne die anhaltende Tendenz ständig zu scheitern. Warum also wählt Arthur Jeffes dieses Bild für das Cover seines neuen Albums? Und dem Pinguin geht es wie dem kleinen Gespenst als es Sonnenlicht abkriegt: Kein feiner Frack mehr, sondern mehr ein passendes Outfit für eine Beerdigung. Aber ist es tatsächlich schon Zeit zu gehen?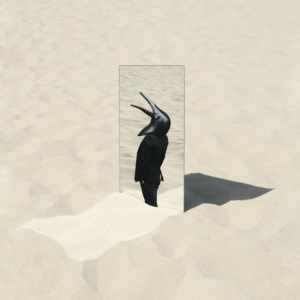 Fangen wir vorne an: Mitternacht in einer lauen Sommernacht im Grüneburgpark in Frankfurt. Normalerweise nicht die beste Zeit dorthin zu gehen, es sei denn man wollte seinen Dealer etwas ungestörter treffen. Es war schon recht ruhig geworden, kaum noch jemand unterwegs und man hörte schon das Rauschen der Autos vom Alleenring lauter als das Flüstern der Bäume. Nicht mehr lange, denn schon sehe ich zwischen ihnen ein matt erleuchtetes Zelt. Nicht wirklich groß, eher eine intime Atmosphäre zu später Stunde. Eine konspirative Veranstaltung? Endlich sind wir angekommen und haben unsere Plätze im Zelt eingenommen. Dann wird es dunkel.
Das Licht auf der kleinen Bühne geht an und herein kommen ein paar Musiker, die ein teilweise eigenartiges Instrumentarium mit sich bringen. Der Vater des oben erwähnten Protagonisten begrüßt mit ausgesprochen britischer Höflichkeit das Publikum und dann beginnen sie zu spielen. Mit dem gleichen anarchischen Spaß, mit dem sie völlig selbstverständlich um Mitternacht ein Konzert im Park anbieten. Telefonklingeltöne, Ukulelen, Gummibänder, found objects (ein Harmonium?) und nicht zuletzt das legendäre complete outfit for a double suicide. Es pulsierte mit morbidem Charme und die lichtscheuen Geister, die sich nachts in den Park zurückzogen, tanzten leise, fast wie Schatten hinter der Bühne mit. Aber trotzdem war es sicher, denn der unbändige Spaß, mit dem die Musiker zu Werke gingen, Zeit völlig ignorierten und kaum ein Ende finden konnten, schützte die Zuschauer vor ihnen und ließ sie schließlich nach Hause schweben und von oben sehen, wie die Lichter Frankfurts verblassten …
Und nun, viele Jahre später, der Vater ist an einem Hirntumor verstorben und sein Sohn erwachsen, nahm er sich des Projektes wieder an, reanimierte es quasi. Und steht jetzt als Pinguin zwischen den kleinen kräuseligen Sanddünen. Und da ist die altbekannte Eleganz gleich beim ersten Stück gleich wieder da, geht bald über in langsame akustische Drones, strecken die Zeit ein bißchen und es entsteht eine wohlige Atmosphäre. Sogar Kraftwerk und Simian Mobile Disco werden gecovert. Aber halt: wo sind die tausend kleinen Ecken und Kanten geblieben, wer hat die nicht identifizierbaren Sounds durch ein manchmal konventionell perlendes Piano ersetzt, wo sind die kleinen Schattengeister, die einst mit ihrem Tanz das Penguin Cafe Orchestra zum Leben erweckten? Sind sie in den kleinen, etwas verloren wirkenden Pinguin geschlüpft und haben seinen Frack geschwärzt? So sieht es aus: schön ist die Musik geworden, wunderbar, wenn man einmal durch einen grauen Sonntagnachmittag getragen werden möchte, immer noch filigran und voller guter Ideen.
Aber wie schrieb schon Eckart von Hirschhausen: … wenn du merkst, du bist ein Pinguin, schau dich um, wo du bist. Wenn du feststellst, dass du dich schon länger in der Wüste aufhältst … braucht es kleine Schritte in die Richtung deines Elements. Und dann heißt es: Spring ins Kalte! Und schwimm! Jump into The Imperfect Sea, making a programme out of the title again, please!