North London, December 2002. Having no idea that 15 years later I'd time travel back to this moment via memory, I didn't bother taking notes. What mobile phone did I have? Probably a Sagem, probably dual-band model with WAP, the shitty mobile internet precursor. What was I wearing? No idea, but I do know that (for reasons now long forgotten on account of being too silly to remember) I didn't wear denims for a full five years between 1998 and 2003, when in 2003 bought a pair of £50 Zoo York jobs out of a skateboard shop. But this was still 2002 and that was the following summer, so I was probably wearing £12 black cargo pants from either Millets or the army surplus store. I was rocking a utilitarian look and style was not my middle name. (During those 5 years there was also a 2 year period where I didn't have a CD player (or a record player) or a television. It was a good experiment, and you'd end up reading broadsheet newspapers and books and whatnot out of complete boredom. I especially enjoyed The Karamazov Brothers but felt that Russian doesn't translate well into English and that what I was reading was not Dostoevski but a series of approximations that missed the poetry of the original. Same with Pushkin's Yevgeny Onegin – you can get the metre but you can't get the spirit.)
Finchley isn't a name that means an awful lot to me. It was Margaret Thatcher's constituency during the 1980s. I believe McDonald's also had a "Hamburger University" there. I think I may even have gone to gawp at the outside of it in hopes that some hamburger knowledge might seep by osmosis into my brain. And apart from occasional trips to Finsbury Park and Stoke Newington, I don't think I've really ever been back to North London, good though it is, since last week. Anyway, the other Finchley sightseeing I did was to go to the Clissold Arms pub, where The Kinks had played their very first gig 39 years before – in 1963. I always liked The Kinks – and part of the reason why is their balance and subtlety. They never overdid the cheeky chappy wacky 60s bit, they never overstated anything much, never went headlong into rock with a capital R, and recorded a body of work that is always worth revisiting. The other thing they never overstated was production values. And yet, there they are. Listen to Big Sky off the Village Green album. The recording levels are turned up way too high on the drums and the guitar, but the vocals are as clear as polished glass. The drums on old Kinks records always have that elemental feel. But I wasn't thinking about this stuff then. The record on the radio that week was "Don't Mug Yourself" by The Streets. One England had faded into the sepia-coloured folds of memory and another had appeared. Not on top of it, but in place of it. And it's appropriate that "Don't Mug Yourself" reminds me of being at The Clissold Arms, because The Streets, remind me a bit of The Kinks – real without descending into social realism, ambient without even trying, and about as English as it gets.
North London, April 2017. Times and perspectives change. (And I'm wearing Levi 511s.) Battersea doesn't feel like Battersea anymore – not in a good or a bad way, just different. Nine Elms is something else, it's a physical space, yes, but, but psychogeographically it's almost locationless, like an airport – a swirl of hope and anticipation and a question: how will it age? Battersea and Nine Elms are of course south of the Thames, but bear with me. Walk north for an hour (over Vauxhall Bridge and far away) and a half, in a straight line, and – boom – you're in Maida Vale. And it's preserved. Even the tube stations at Maida Vale and St Johns Wood still have the indefinable northness about them. What's on the radio, who knows, fuck knows. Pasta at Allora on Boundary Road, maybe a limoncello or two, then home to sleep.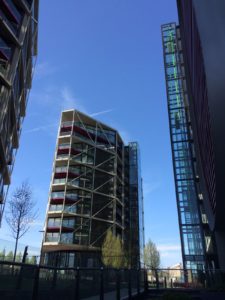 Nine Elms. The Jago it ain't.