Geschichten aus der Jukebox (3)
Die Taste 230 wird gedrückt, die NSA-Musikbox knackt und knistert, der Plattenwagen setzt sich in Bewegung, eine blaue Columbia-Single wird herausgefischt, das Shure-system fährt heran, nach dem ersten Ton weiß jeder, welche Platte gewünscht wurde, Cliff Richard: Congratulations. Aber was für ein grauenhafter Sound, es quietscht, quäkt, eiert, die Single müht sich voran, braucht aber statt 2:31 Minuten mindestens sechs, gefühlte 10 Minuten bis die Platte wieder in ihrem Fach verschwindet. Klar, denkt sich der Jukebox-Man, die Box ist länger nicht gelaufen, das Öl, das an den beweglichen Teilen der Musikbox haftet, die Schmiere ist verharzt, deshalb läuft die Platte nicht rund. Normalerweise ist jetzt Geduld angesagt, Lautstärke auf Null drehen und Platten laufen lassen, was das Zeug hält, nach zwei drei Stunden ist dann alles gut und die Singles bewegen sich im Normalgeschwindigkeit: Aber, Besuch naht, der sich auf die Box und das vergnügliche Plattendrücken freut. Da hat unser erfahrene Jukebox-Man nun eine tolle Idee, er denkt, man könnte die Wartezeit abkürzen, indem man gezielt mit dem Haarföhn etwas heiße Luft auf die beweglichen Teile der Box, also den Plattenwagen, richtet. Wow, es klappt, die Platten drehen sich fast schon in Normalgeschwindigkeit. Föhn abgeschaltet, Platten gedrückt, aber irgendwas scheint nicht zu stimmen, der Schallplattengreifer bekommt die Singles nicht aus dem Fach. Mir wird schwarz vor Augen, ich weiß sofort, was passiert ist … wie doof kann man eigentlich sein, was für ein jämmerlicher Idiot, ich fasse es nicht, hoffentlich liest keiner meiner Jukebox-Kunden diese Zeilen: die warme Föhnluft hat Platten über Platten auf immer zerstört, verformt, besser gesagt … nein, ich kann es nicht sagen, … meine wunderbaren uralten Singles … einfach … geschmolzen, jetzt ist es raus!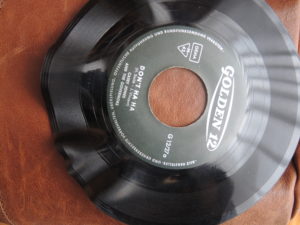 Die Verlustliste:
Cliff Richard: Congratulations

Casey Jones and the Governors: Don´t Ha Ha

Christie: Yellow River

Simon and Garfunkel: El Condor Pasa

Pink Floyd: Another Brick uín the Wall

Michel Prolnareff: Gloria

Nat "King" Cole: Don´t Get Around much anymore

Nat "King" Cole: The Party´s over

The Les Humphries Singers: Promised Land

The Creation: Painter Man

Desmond Dekker: You Can Get It If You Really Want

The 5th Dimension: Aquarius
Leider ist es durchaus möglich, dass die Liste noch länger wird, schließlich habe ich noch nicht jede der 100 Singles angespielt … und ein winziger Knick reicht ja schon …
Ich fasse es nicht!