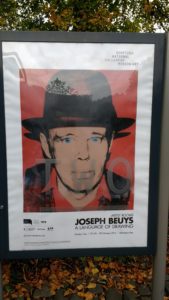 Joseph Beuys and Edinburgh go way back.
Walk around Scotland's capital city long enough and sooner or later, Beuys will appear. A real presence. The most recent encounter: a late afternoon Saturday, late October 2026 (or 2016, my DeLorean is ****ed these days). I was on my way someplace else, passing through Edinburgh's north-west side on foot. And it was nearly evening and the gallery this poster belongs to was closed for business.
But it was great to see a friendly face. So great. A comfort. And if you play Psychogeography, the two things you don't get are: 1. a map; 2. an itinerary. Is Joseph Beuys really dead though? Art never sleeps. Even when the gallery is shut and you're off someplace else, there it is.