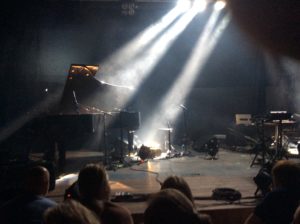 Fast ein Bilderbuchtag. Etwas vom mitteleuropäischen Sommer ist auch hier in Kristiansand angekommen. Schade, dass Manfred Eicher nicht kommen konnte, ein Teil meiner "electronic campfire session" war auch dazu da, den Boden zu bereiten für das Gespräch eines norwegischen Kollegen mit dem Produzenten. Neben ganz anderen Dingen. Zudem ist Eivind Aarset mit einer Magenverstimmung angeschlagen, und Arve Henriksen muss sich plötzlich um einen verschwundenen Koffer kümmern.
So konnte ich immerhin mit dem frisch verheirateten Tigran Hamasyan und dem in diesen Tagen wohl an massiven Schlafdefiziten leidenden Jan Bang ein Interview im achten Stock des Hotels  machen, unter akustisch nicht ganz idealen Bedungungen, aber in entspannter Stmmung. Seit den Aufnahmetagen in Lugano im Juni 2014 habe ich keinen der Vier wiedergesehen, und das Release-Konzert am Abend war der Magie des Albums nahezu gleichwertig, voller Überraschungen.
Das Foto (s. oben) habe ich nach dem Auftritt der Vier aufgenommen. Ich fotografiere lieber leere Bühnen, in denen noch etwas von dem "Feuer" nachglüht, als die endlos vertrauten Motive von Bühnenpräsenz feilzubieten. Das Nachspiel von Simon Løvgren enthüllte eine fesselnde elektronische Gegenwelt, mit einer nicht minder spannenden Choreografie des Lichts. Pan Sonic hätten applaudiert!
Meine "Vorlesung", betitelt "Desire Lines and the Disturbance of Memories", war mein zweiter Auftritt dieser Art beim Punktfestival, und, trotz zweier kleiner technischer Pannen, eine helle dunkle Freude. Ich sah nicht nur einige alte Bekannte wieder, die gute Freunde wären, würde ich sie nicht nur so sporadisch treffen, sondern lernte auch etliche "music travellers" kennen, von Lübeck bis Seattle, von Lausanne bis Nizza, die sich alle gut auf meine Geschichten von Herumtreibern und Hinterlandbesessenen einlassen konnten (von Joni Mitchell bis John Lennon, von Darren Hayman bis zu meiner Wenigkeit).
Die beiden "Short Stories" von Darren Hayman las ich in einem speziellen englischen Dialekt, zu dem ich nicht fähig gewesen wären, hätte ich nicht aufmerksam, und in Originalsprache, die TV-Serien "Shetland" oder "Hinterland" (!) gesehen.
Beeindruckend war auch Erik Honores Auftritt beim Punkt Seminar, der die Geschichte (und die "Punkt-Geschichten") von David Sylvian aufrollte, ehrlich, eindringlich. Auch dem Leser dieser Zeilen dürfte aufgefallen sein, wie still es um den ohnehin auf Zurückgezogenheit bedachten Sylvian in den letzten Jahren geworden ist. Aus seinen letzten Äusserungen Hoffnungen auf einen Neuanfang herauszulesen, fällt nicht ganz leicht. Ein Brief etwa, der eine bittere Abrechnung der hasserfüllten Art mit seinem alten Weggefährten Mick Karn darstellt, lässt einen schon leicht zusammenzucken.
Und eine seiner letzten, unveröffentlichten Aufnahmen (mit Jan Bang) ist nichts weiter als ein Gang durch eine Riesenhalle, die womöglich den Charme der brachliegenden Insdustrieanlagen aus Tarkowskis "Stalker" ausstrahlt, flüchtig belebt von wirrem Rauschen aus alten Luftschächten und defekten Radios. Das alles klingt nach Abschied, doch Erik Honore verweist auf zwei, drei Zeilen eines letzten Textes, der auf anderes hindeuten könnte – ausserdem arbeite DS an neuem Material.
Später am Tag ging ich durch die grosse Einkaufsstrasse, und sowohl Wildfremde wie vertraute Gesichter kamen auf mich zu und verloren liebevolle Worte über meinen Vortrag. Solche Dinge passieren mir nicht mal im Westfalenstadion, wo ich ja auch unter meinesgleichen bin, als Fan von Borussia Dortmund. – Was machst du, wenn du kein Radio mehr machst, fragte mich Malu. – O, das wird nie ein Problem sein. Ich liege auf einer Weide und schaue in den Himmel.
Und, da streiche ich doch das "fast" aus dem ersten Satz mit dem Bilderbuchtag; wann hat man schon mal die schönste Begegnung eines Tages auf dem Weg zur Toilette in einem vollbesuchten Musikclub!? So werde ich dann doch im nächsten Jahr, wie John Lennon in "Beatlebone", auf einer einsamen, dann jedoch norwegischen Insel, ankommen, bevor das 13. Punktfestival seine Pforten öffnet. Zumindest eine Spielart von möglicher Zukunft.