Wenn der Tempo mit dem Jukebox-Man kommt …


Eine Musikbox in einer Kneipe wird von mir nach verschiedenen Kriterien bestückt, ein wichtiges, ich will es nicht verschweigen, ist natürlich, dass schon auch die Münzen im Kasten klingen sollten, was wiederum bedeutet, dass ich mich an den Bedürfnissen der Besucher einer Gaststätte zu orientieren habe.
Aber auch das hat Grenzen, ich werde nur solche Platten einstellen, die auch mir gefallen und von etwa zehn Prozent aller Schallplatten, die ich für meine Boxen aussuche, wünsche ich mir, dass sie dem verehrten Publikum vielleicht eines Tages gefallen könnten. Freunde von mir nennen solche Scheiben "Missionsplatten". Sei´s drum.
Neulich rief mich der Wirt einer meiner Lieblingskneipen auf einer Nordseeinsel an und erbat sich eine Ausnahme von meinen Bestückungsregeln: er hätte mit seiner Kneipe jetzt zehnjähriges Bestehen, also wünsche er sich zehn außergewöhnlich gute Scheiben aus dem Jahre 2006, zudem feiere er in diesem Jahr seinen fünfundvierzigsten Geburtstag, deshalb sollten in der Jukebox zehn Platten aus dem Jahre 1971 wählbar sein, aber hammergute sollten es sein.
Eine schöne Aufgabe, der wunderbare Nebeneffekt bezüglich der Scheiben aus dem Jahr 2006, Platten, die eigentlich noch gar nicht alt, aber fast schon vergessen sind, in Erinnerung zu rufen. Natürlich auch ein schwieriges Unterfangen, muss doch ein Schnittpunkt zwischen dem Geschmack der Kneipenbesucher, dem Wirt, der einiges zu feiern hat, und schließlich mir gefunden werden. Hier zunächst mein Vorschlag für die zehn Platten aus dem Jahr 2006:
Beginnen wir gleich mal mit einem fetten Rockhammer: Die Gruppe Heligoland und ihre CD Pitcher, Flash & Foxy Music, das Stück "Fruit" habe ich ausgesucht.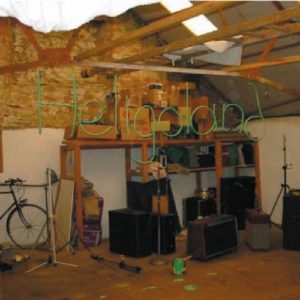 Etwas Ruhigeres als nächstes: Die Gruppe The Nits brachten 2006 ihre CD Les Nuits heraus, ich wähle das Stück "The Wind-Up Bird". Chris Watson veröffentlichte 2006 Storm, auf dieser CD befindet sich das über 15minütige "No Man´s Land", Vögel, wohin man auch hört, wunderbar, aber ok, das ist keine Jukeboxplatte. Aber Bob Dylan, er legte 2006 Modern Times vor, ich wähle das flotte "Someday Baby". Übrigens kam Scott Walker in diesem Jahr mit seiner grandiosen Platte The Drift heraus, ob ich das bringen kann … Doch, natürlich, dann eben als "Missionsplatte", mein Lieblingsstück, "Clara" (12:43) kann ich nun wirklich nicht einstellen, das würde "wyatting" verursachen und meinen Freund ernsthaft verstimmen, also vielleicht "A Lovers Love", das wäre vorstellbar. Klar, M. Ward, er muss dabei sein, seine Platte Post War erschien in besagtem Jahr und, wenn "Rollercoaster" erklingt, wird jeder denken, der Mann am verstimmten Klavier greift in die Tasten. T-Bone Burnett veröffentlichte damals die CD The True False Identity, "There Would Be Hell To Pay" wird dem Publikum ebenso gefallen wie Johnny Cashs A Hundred Highways (AmericanV), hier fällt die Auswahl wahnsinnig schwer, ich entscheide mich für "Further On Up The Road". James Yorkston darf mit Year of The Leopard natürlich auch nicht fehlen, "Summer Song" kommt in die Box. Bleiben noch zwei Platten, jetzt wird es eng, kamen doch 2006 wirklich tolle Platten in die Läden. Joanna Newsom mit Ys zum Beispiel, passt aber jetzt wirklich nicht in die Jukebox. Okay, es ist entschieden: Bonny Prince Billy und seine CD The Letting-Go und das Stück "Strange form of life" kommt noch in die Box und schließlich Ray Davis, die CD Other People´s Lives hat mir damals so gut gefallen, ich wähle das Stück "The Tourist".
Die Auswahl aus dem Jahr 1971 wird mir ähnlich schwerfallen. Damit lasse ich mir noch etwas Zeit.