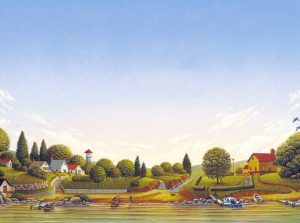 Das da oben? Das ist ein fiktives amerikanisches 800-Seelen-Dorf mit Namen Lake Wobegon, "the little town that time forgot, and the decades cannot improve".
Ich lebe ja im Land der originalen radio personalities, wie es sie in dieser Form nirgendwo sonst gibt. Und wer mehr über solche amerikanischen Radioshows wissen möchte, dem sei der Film A Prairie Home Companion ans Herz gelegt (USA 2006, Regie: Robert Altman, Drehbuch: Garrison Keillor, deutscher Titel Robert Altman's Last Radio Show – bitte aber dann nicht die deutsche Synchronfassung auswählen, sondern den Originalton!).
Die wirkliche Radioshow dieses Namens gibt es seit 1974, geschrieben und präsentiert von Garrison Keillor, einem amerikanischen Unterhaltungsautor, dessen Markenzeichen rote Chucks und der Anzug mit einem roten, zu langen Schlips sind. Dazu hat der Mann einen merkwürdigen Kinderhaarschnitt. Macht aber nichts, seine Stimme wiegt das auf. A Prairie Home Companion wird jeden Sonnabend zwei Stunden lang live aus dem immer ausverkauften Fitzgerald Theater in Saint Paul, Minnesota, im Radio übertragen.
Die Show ist über die Jahre zur freundlich-nostalgischen Persiflage klassischer amerikanischer Radioshows geworden. Es spielt eine Live-Band, es kommen Gastmusiker (Emmylou Harris, Willie Nelson und k.d. lang waren schon da), wir hören Sprecher und Geräuschemacher. Kaillor moderiert locker vom Blatt, er singt, spricht live die (Fake-) Werbung und präsentiert immer eine neue Folge der "News from Lake Wobegon", mit dessen Einwohnern er alle Probleme der Welt in verkleinertem Maßstab durchspielt wie seinerzeit der NDR-Schulfunk in "Neues aus Waldhagen". Und das alles ist nicht nur liebenswert, sondern vermittelt sehr anschaulich das Gefühl, was das ist oder war oder sein könnte: amerikanisches Radio.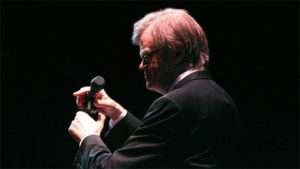 Und nun ist Schluss. Am 2. Juli nimmt Garrison Keillor live aus der Hollywood Bowl seinen Abschied — nicht zum ersten Mal, aber diesmal meint er es anscheinend ernst.

Livestream und Podcast hier.

Ach ja, und vergessen Sie dann bitte nicht, Ihre Antenne zu erden.