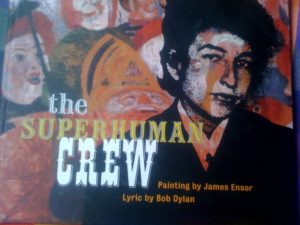 Bob Dylan ist mit Abstand der Kuenstler, der mich bereits ein Leben lang begleitet. Ich habe ihn auf sehr vielen Konzerten erlebt und leider waren da auch schlechte Auftritte dabei. Wie menschlich. "The superhuman crew" nannte sich mal eine Ausstellung mit Bob Dylan und James Ensor. Ich wuensche Bobby auf diesem Weg Gesundheit und viel Glueck:
So if you find someone that gives you all of her love,
Take it to your heart, don't let it stray …
… und an meine Dylan Sammlung gerichtet, sing ich weiter:
For one thing that's certain,
You will surely be a hurtin',
If you throw it all away.
(I swear, I keep all my Dylan tapes).