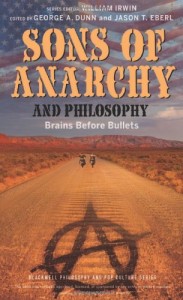 Are the Sons of Anarchy really anarchists?
How does their relationship to their bikes help to shape the Sons' moral code?
Does membership in the MC tend to foster virtue or vice?
How do the club's practices and moral code make it like a religion?
FX's hit television series Sons of Anarchy draws viewers into the morally ambiguous world of a close-knit outlaw motorcycle club, where standard societal conventions and authority are shunned and replaced with a moral framework based on the bonds of brotherhood, family, and community and where members frequently war with other outlaw groups and the federal government to protect their interests and those of their home base, the town of Charming, California.
Featuring essays by philosophical fans of the show and drawing on the ideas of some of history's greatest philosophers, including Plato, Aristotle, Machiavelli, Hobbes, Marx, and Nietzsche, Sons of Anarchy and Philosophy digs deep into the moral and political aspects of life in the MC – the ethics of loyalty, honor, and revenge, individual and group identity, the morality of war and terrorism, political authority, and religion. Interesting book.
Key Phrases: "I take care of my family" / "Shit" / "This won't happen" / "I'll fix it" / "I love you, brother" / "…, I'll kill you" / "Holy shit" / "Have a minute?"