There are well over 200 windows in this image – high windows, low windows. Low windows whose astragals were first placed in the first decade of the 20th century. Plus the moving windows of the train. The four tall buildings' stance is artistic, almost sculptural – four ginormous automata marching to the top of a low hill, stationary now, stopping to drink in photons for the compound eye. Solstice, perihelion, equinox, solstice, equinox, solstice, perihelion and on and on. If you can stand on this platform and still the mind and listen, really listen: the buildings and the low stone wall by the railwayside and the sky all speak in unison – right in your ear, right to your heart. What they say is unwordable and miraculous.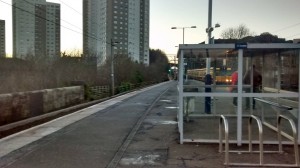 Image playlist:
John Cage – In A Landscape
Alan Hovhaness – Tzaikerk
John Foxx and Theo Travis – Before You Disappear
Kate Bush – Watching You Without Me
John Martyn – Singin' In The Rain

Note:
The title of this post and the word "unwordable" were appropriated from Russell Hoban's book "The Moment Under The Moment". And what a book it is!