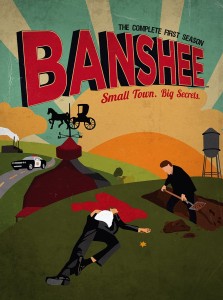 I'm not really embarrassed to say how much I loved this series. It has amounts of both explicit violent gore and sex. This is no private obsession.  I only violated one sociopathic driver on a German highway within the last year (breaking his nose), I recently only offended one cop,  and I've never been put in prison. And, yep, if that is all this series was about – or if both of those aspects weren't flawlessly integrated into making the story–then I wouldn't write this at all. However, here it all just makes sense. The characters are well drawn out and incredibly sympathetic, making the violence and sex just a part of who these characters are and just part of their stories. And the plot really is intense.
Man gets out of prison, kills some people in self-defense, then impersonates a sheriff all the while trying to stay hidden from a Russian mafia boss who wants him dead as well as maybe win back his ex-girlfriend. I realize that sounds absurd and rather dumb on paper–but again – it just works. In fact, everything would quite frankly either seem voyeuristic or just plain stupid if it wasn't for the amazing cast. The acting here is top quality and this is what gives the far fetching plot equally weight and a natural impact.
Kiwi Antony Starr has a remarkable talent for being able to mete out extreme violence and yet look sad and regretful the entire time. Hoon Lee as Starr's sidekick could have been a very camp role as Lee's character is frequently in drag and spewing catchy one liners – and yet Lee's character "Job" is one of the most hardcore and rock like characters in the whole cast. Ivana Milicevic plays Starr's ex, and her physicality in this role is astonishing. She's believable as both a warm and loving mother as well as the type of person who you would want by your side to face an angry horde of zombies with. Ulrich Thomsen rounds out the fantastic cast as the local ex-Amish mafia lord who is emotionally caught in two worlds thus slightly sympathetic yet capable of horrible violence. BANSHEE is brutally brilliant. Addictive. Well, in case you enjoy some hardcore Tarantino films, Jim Thompson novels – and the darkest stuff of Shakespeare. You don't need psychoanalysis in Banshee, you only need a good ambulance.