Hello, Joey,
quiet days in Paris. Funny encounters with strangers. Women who look like 25000 dollars. Drinking good cidre from Bretonia, seeing Pynchon's/Anderson's "Inherent Vice", great movie: film noir, slapstick, the mad, mad world, California round 1970, all rolled into one. The other great film I saw this year, was "Birdman". And, in the very quiet hours, while looking from time to time to the Eiffel Tower from my little hotel room (lovely solitude!), planning the next edition of the "Radionacht Klanghorizonte". On February 21st, beginning one hour after midnight, at 1.05. (www.dradio.de / Deutschlandfunk / live stream / mp3). Here it is, a kind of preview for the inner ear:
The first hour rolls off with a band I've never heared of before: what do three musicians find in a cellar room in Cork, Ireland, and how does that inform their improvisations? And, well, in a book about "one hundred masterpieces of Teutonic Electrokraut" I would definitely list the second album of the show, a "killer" from 2015, synthesizer-percussion-studies with a distant African vibe. Released by Bureau B, real Kraut-diggers.
Then: strollin' through the woods, meeting animals, singing poems, playing a collection of northern harps: producer Manfred Eicher often finds a new skin for an old ceremony. And after "the most beautiful sound next to silence"? Three Russians under a grey Moscowian sky inventing mysterious fog machines – eight ways of going underground, followed by another reflection of dark Russian times handled by a German group mixing desolation, heartfelt melodies with invocations of the "Donaudelta". Peter Handke was there! :) Then another Eicher production from Oslo is bringing back (among other things) the energy of an old master drummer in a work of sublime delicacy.
After that a peculiar electronic wilderness will revise your picture of Carnival in Rio. There are ghosts in that big city, flawed characters attracted to the underworld. The lost themes of an old specialist of horror and mystery delivers suspense and focus with his naked electronica. Congolese musicians with nicely deranged instruments are walking on the jungle line. And at the end of the first hour a great English drummer (in a a three hour show quite full of strange drum sounds) is delivering minimal jazz with a hint to rave culture, the Necks, and Carebean Islands. Or the islands in your head. Hypnotic. Ghosts everywhere, and some of them in damn good shape.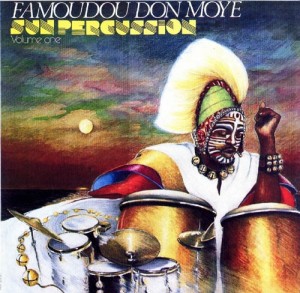 The second hour is about time traveling. It starts with a buried treasure from a Camden flea market: a pure solo percussion album from 1975 created by an urban bushman – the jazz afficionados of the Manafonistas will surely know that guy. 1973: a still unknown band from NYC releases its second studio work, exotic chamber music with distant landscapes and canyon songs. 1981: one of the most creative German studio wizards meets another pioneer of Krautrock for a journey into raw, unpolished territories. In between some Cornish weirdness from faraway places of the mind. Mr. Underworld is writing a letter about his persona of 1994, and tells me how the best album of the band created a kind of "new tribe of listeners". And at the end of the second hour another hypnotic work, a melange of an Amercan classic, 50 years old, with African instruments is making your day, your night. In the streets of Bamako.
The third hour is a close-up exercise in remembering ten years of Kristiansand's Punktfestival. It's time for a rediscovery of things and sounds you only think you know well. It all started (and starts) with the lyrics of a native Kristiansand writer and his twilight zones: "Theory Of The Singular". So, Joey, follow the usual suspects creating their live-remixes and studio works and, en passant, establishing a new chapter of Norwegian music history. Two words for it: understatement and passion. Ghosts from the past, echoes falling apart – the alien world of Cyclobe, the library research of two sisters in little villages of the Northumbrian coast. The Punkt agenda: "Skip agendas. Be prepared for looking at exit signs!" The three hours will end with a bang. You could call that bang a poem. A railway to nowhere with nothing to hide. So to speak.
Sincerely yours, Michael