Das eine richtiges Leben, das andere … . Von der Aufnahme zur live-Musik oder von der live-Musik zur Aufnahme. Oder gar ausschliesslich die live-Musik, keine Aufnahmen mehr (anhören). Wie gesternabend bei Konzert von Wadada Leo Smith mit Anthony Davis. Ein paar Tage davor war's Craig Taborn mit seinem Trio (Thomas Morgan und Gerald Cleaver). Das Konzert war – ausser dem bekannten Techno-Stück – ganz anderer Tobak als auf dem letzten Album. Konzerte sind eben the real thing. Eine andere Weise der Entgegennahme, des hörend-schauenden Erlebens, der Aneignung.
In den letzten 8 Tagen 19 Konzerte gesehen und intensiv (schreibend) verarbeitet. Beim Schreiben nochmal "nachgehört" wie etwa bei dem finnischen Trompeter Verneri Pohjola, der schweizerisch-albanischen Sängerin Elina Duni, dem französisch-englischen Saxophonisten Robin Fincker und der phänomenalen belgischen Flat Earth Society (siehe das Video hier auf Manafonistas unter Les Bes 5).








Heute abend wäre – bequem bei mir um die Ecke in einer ehemaligen Tankstelle – wieder live-Musik angesagt gewesen: checken der estnischen Sängerinnen Laura Remmel und Ivi Rausi sowie der heavy Brooklyner Gitarristin Ava Mendoza (dieses Jahr schon mal in Moers getroffen und eher als Teil einer Conduction von Butch Morris in Lissabon). Sed corpus et spiritus divertunt parte alia. Nicht wieder neue Eindrücke, neues Kapitel … Fand mich also am Schreibtisch wieder.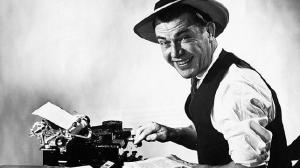 Mit den Stapeln, die auf Besprechung warten. Mit den Gedanken an die Artikel, die in den nächsten Tagen in Angriff zu nehmen sind, die im Kopf herumschwirren, den Festivals (und Reisen), die vorzubereiten sind.
Um die Ecke bei mir auch: EYE, das neue Filmmuseum. Alte Film mit live-Musik von Musikern der Amsterdamer Scene. Schauen, wählen, dosieren, negieren, … Vieles entscheidet sich durch die Dinge, Gruppen, Musik, an der man arbeitet. Ach ja, hier liegt noch ein Text über Musik bei Tati, der den Weg in die Veröffentlichung finden soll. Ja, einiges bleibt auf diese Weise länger liegen, bis sich eine passende Gelegenheit bietet oder man diese selbst schafft.
Die Zahl der live-Musik-Veranstaltungen nimmt eher zu als ab, aber die Leute finden häufig den Weg nicht mehr hin, bleiben irgendwo anders hängen oder verirren sich total. Absichtlich oder unabsichtlich. Eine Verschwörung von beiden Seiten?
Wohnte man in den Fünfigern, Sechzigern, Siebizigern in tiefster oder weniger tieferen Provinz oder kleinen Nestern, waren Radio und Plattenspieler eine Segnung. Zeiten des Entdeckens und Verlangens. Weg, begraben.
Aber, man höre und staune: hierzulande wurden im letzten halben Jahr fast ebenso viel neue Vinyls verkauft wie Cds. D.h. Cds sacken weiter ab und Vinyl steigt ungleich schneller nach oben.
Anhaltend, schon eine ganze Weile. Musik braucht einen auch physisch greifbaren Platz. Und einen, der etwas hat, was aus dem Strom heraushebt. Vinyls finden wieder einen Platz in Fächern von Recordshops. Das gedämpfte, dumpfe Klappen statt des Geklappere, wenn man durch einen Stapel fährt. Meine letzten Vinyl-Erwerbungen: Contrasts von Sam Rivers und als Doppelalbum Injuries von Angles 9. Und gesternabend im Bimhuis von Wayne Horvitz erhalten: 55: Music and Dance in Concrete – An electronic music score from the sound, video and dance installation. Created from original recordings made in the bunkers and cisterns at Fort Worden (Port Townsend, WA) – die Mitwirkenden führe ich jetzt hier nicht auf. Besprechung demnächst, hier oder da.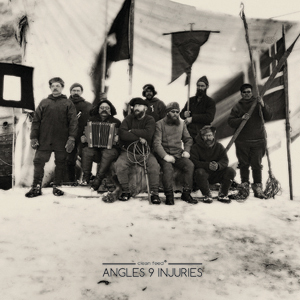 Es klingt auch nach, was kürzlich besprochen wurde oder fürs Radio zusammengestellt wurde: Hildur Gutnadottir – Samam zusammen mit Anja Lechner/Francois Couturier – Moderato Cantabile oder Frode Haltlis Vagabonde Blu als No.3 der Vigelandserie.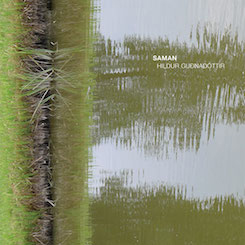 Und geschrieben zu/über u.a.: das herrliche neue Album von Shara Wordens My Brightest Diamond (This Is My Hand (Athmatic Kitty)), Marcin Wasilewski Trio – Spark of Life mit der herausragenden Saxophonstimme von Joakim Milder; die New Yorker Gruppe des niederländischen Pianisten Gideon van Gelder mit dem hervorragenden jungen Schlagzeuger Jamire Williams, das wunderbare Album der belgischen Vokalistin und Flötistin Melanie Biasio (siehe Video hier unter Les Bes …).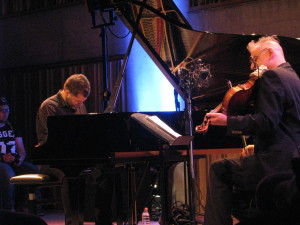 Und ein Portrait des in norwegischen Bands allgegenwärtigen Schlagzeugers Gard Nilssen, der ein wunderbares Soloalbum (nur auf Vinyl) mit dem Titel Drumming Music gemacht hat. Eine Mini-Einführung in die norwegische Scene. Und dann noch zwischendurch Liner-Notes zu einem binnenkurzem erscheinenden Album von Lucian Ban/Mat Maneri/Albrecht Maurer geschrieben. Releasekonzert am 19.November im Kölner LOFT.
Summsumm, ja. Es summt herum in Kopf und Körper.

Fortsetzung folgt

fotos ©FoBo_HenningBolte