Angesichts des Publikums, das überwiegend aus reiferen Jahrgängen bestand, hatte ich schon befürchtet, er würde – wie in seinem Buch angedroht – Bingozahlen ansagen. Aber Mr. Fagen entschied sich dann doch für sein Fender Rhodes. Und für den Gesang. Wenn er auch die hohen Töne nicht mehr packt, die Stimme ist unverkennbar.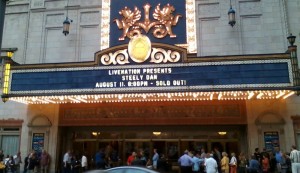 Seit 42 Jahren sind Steely Dan auf der Szene. Entdeckt habe ich sie erst in den 80ern, als es sie eigentlich schon nicht mehr gab. Aber ihre Musik ist im besten Sinne zeitlos geblieben. Und wenn Steely Dan eigentlich auch eher ein Studiokonstrukt war: Sie können es auch live, wie ich gestern abend im Benedum Center in Pittsburgh bei ihrer "Jamalot Ever After"-Tour erleben durfte.
Das Opening wurde gestaltet von der Bobby Broom Organi-Sation, einem Chicagoer Jazztrio, das mit halbakustischer Gitarre, Drums und einer Hammond-B3 den passenden Einstieg lieferte. Interessant übrigens, dass das US-Publikum in der Regel den Supporting Acts gern und mit Sympathie zuhört. In Deutschland habe ich das sehr oft anders erlebt.
Eine Band, die tourt, obwohl sie kein neues Album im Koffer und auch sonst nichts zu promoten hat und trotzdem alle 56 Termine innert weniger Stunden ausverkauft (und das bei Ticketpreisen bis zu 200 Dollars, von den Resellerpreisen mal gar nicht zu reden), kann es sich leisten, keine Interviews zu geben und auch auf sonstige Reklame zu verzichten.
Die achtköpfige Backing-Band begann den Abend mit "Cubano Chant", einem Ray-Bryant-Cover, das auch "Pittsburghs very own" Art Blakey mal gespielt hat (man ist hier stolz auf sowas), dann gesellten sich Walter Becker, Donald Fagen und drei Sängerinnen (Carolyn Leonhart-Escoffery, La Tanya Hall, Cindy Mizelle), von denen jede einen eigenen Abend tragen könnte, hinzu und stiegen mit "Black Cow" (vom "Aja"-Album) ein.
Es folgte eine zweistündige Show, an der zwar bis in die Lichtdramaturgie hinein nichts spontan war, die aber auch nie in allzu offensichtliche Routine abdriftete. Fagen, der hinter seinem E-Piano mit dunkler Brille und zurückgelegtem Kopf beim Singen immer ein bisschen wie Ray Charles wirkt, brauchte zwei oder drei Stücke, um stimmlich auf Betriebstemperatur zu kommen, aber das war auch fast alles, worüber man sich beschweren könnte. 
Zu hören gab es Repertoire, "Greatest Hits", wobei zur Enttäuschung etlicher Fans allerdings ausgerechnet "Do It Again" und "Rikki Don't Lose That Number" fehlten. Auf Beckers und Fagens Soloalben wurde verzichtet, auch von Steely Dans Alben von 2000 und 2003 war nur jeweils ein Stück zu hören. Dafür war der Anteil des "Aja"-Albums überdurchschnittlich hoch.
Hervorzuheben sind der Drummer Keith Carlock, der es an Präzision mühelos mit der auf dem "Gaucho"-Album verwendeten Drummaschine ("Wendel II") aufnehmen konnte, und der Gitarrist Jon Herington, dem selbst das vertrackte Solo aus "Bodhisattva" keine Probleme bereitete. Der Sound blieb den ganzen Abend über ein wenig blechern, aber 13 Musiker live abzumischen ist auch keine Kleinigkeit.
"Reelin' In The Years" und "Kid Charlemagne" waren die Zugaben. Ein glückliches Publikum erlebte einen perfekten Abend. Gerne wieder.