1) Brian Eno: Music For Films
2) Eleni Karaindrou: Music For Films
3) Ennio Morricone: The Best of Ennio Morricone
4) Nino Rota: Amarcord
5) Meredith Monk: Book of Days 
6) Angelo Badalamenti: Twin Peaks
7) Ry Cooder: Paris, Texas
8) Miles Davis: Ascenseur pour l'echafaud
9) Roy Budd: Buddism
10) John Carpenter: The Fog
11) Neil Young: Dead Man 
12) Giya Kancheli: Themes from the Songbook
13) Gato Barbieri: Last Tango in Paris
14) Andrej Dergatchev: The Return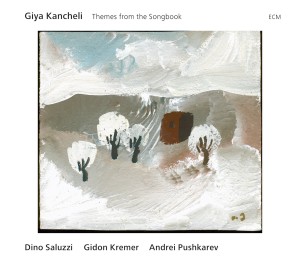 Zu, Beispiel Nr. 12: Der Komponist Giya Kancheli hat mit seinen symphonischen und kammermusikalischen Werken viel Anerkennung erfahren. Dass er seit langer Zeit auch Film- und Theatermusiken geschrieben hat, ist bis zru Veröffentlichung dieser ECM-Produktion weniger bekannt gewesen. 2009 veröffentlichte der Georgier etliche dieser Kompositionen unter dem Titel SIMPLE MUSIC FOR PIANO – 33 MINIATURES FROM MUSIC FOR STAGE AND SCREEN. Einfache Musik für Klavier. Ein Nebenwerk, eine Fingerübung, eine Erholung vom anstrengenden Komponieren der tiefernsten Musik? Barer Unsinn, solche Gegensätze aufzumachen – manches Thema aus einer Filmmusik fand sich auf einmal im sog. seriösen Terrain wieder. Als der Musikproduzent Manfred Eicher dieses SONGBOOK in die Hände bekam, nahm langsam eine Idee Gestalt an. Altvertraute von Kancheli, der Violinist Gidon Kremer und der Vibraphonist Andrei Puskarev, studierten dieses SONGBOOK so eingehend und einfühlsam wie der Bandoneonist Dino Saluzzi. In Aufnahmesessions in Oslo und Riga entstand eine neue Version dieses Liederbuches, als Solo, Duo, oder Trio. Zuweilen hört man Gidon Kremer im innigen Dialog mit der eigenen Violine. Alte Themen, das Leben im Exil, der Verlust von Heimat, sind im georgischen Kino wiederkehrende Themen und prägen den in sich gekehrten Grundton der Musik. Diese Art der Melancholie lässt jede Eintönigkeit vermissen und überrascht mit vielen Facetten: man sehe sich nur Tenigiz Mirzashvilis zauberhafte Winterlandschaft auf dem Cover an, und bekommt sogleich eine Ahnung von all der hier wehenden Transparenz. Oder man führe sich Fellinis Worte vor Augen: "Der georgische Film ist ein eigenartiges Phänomen: speziell, philosophisch leicht, und zur gleichen Zeit kindlich rein und unschuldig. Da ist alles enthalten, was mich zu Tränen rühren kann, und das ist nicht so leicht." Diese vom italienischen Meister angesprochenen Ebenen spielen gewiss auch in die Musik hinein, genauso wie uralte georgische Folk-Traditionen mit ihrem ganz eigenen "Blues-Feeling". Was das Ganze nun so betörend macht, ist nicht zuletzt der feine Spannungsbogen, der diese zwanzig ausgewählten Kompositionen durchzieht. Scheint sich in einer Passage aller Feinsinn in Luft aufzulösen, in reines Schweben und Fortschweben und Verschwinden (das zu belauschen allein, stellt ein großes Vergnügen dar!), sorgen kurzerhand kleinste Dynamiksprünge, scharf intonierte Klangfiguren, minimale Melodiefiguren (die einen potentiellen Ohrwurm nie bis zur Ermüdung auskosten, sondern nur beiläufig einstreuen!) für eine erneute Schärfung der Sinne.