The link is a person – Bill Tilton.
In 1976 I got a job working the overnight shift at Minnesota Public Radio. I worked from 10pm until 6am. My job was to monitor the broadcast feed in the St. Paul studio, dub tapes, make cassettes of news programs, and do some tape editing. All the nighttime classical music programming came from a different station in the Minnesota Public Radio network, located in Collegeville, Minnesota. I worked alone and had the station in downtown St. Paul to myself. It was a wonderful time, and I enjoyed being up all night listening to classical music while I did my various tasks. The solitude of the station seemed to be an appropriate place to listen to the overnight classical music programming; the music having been created in the solitude of a composer's mind. I remember well one early morning at 3AM being struck by the sound of Debussy's "Nocturnes" echoing through the empty radio station. I just had to stop what I was doing and listen. It was beautiful to be awake and and alone and working at that hour, right in the center of a major metropolitan city.
Just about the only visitors to the station at night were the station engineer and Bill Tilton.
Bill had been convicted and imprisoned for destroying draft records during the famous "Minnesota Eight" trial, and had spent some time in a federal penitentiary. When Bill got out of prison he worked painting houses, and then volunteered for the Wounded Knee Defense Committee. The Wounded Knee Defense Committee was a group of lawyers and volunteers who banded together to defend the American Indians connected with the uprising at Wounded Knee in South Dakota. Bill worked as a driver for the famous lawyer William Kunstler and watched the trial unfold. He became smitten by the possibilities of being a lawyer. He decided to study law at the University of Minnesota. Eventually he became the only convicted felon in the state of Minnesota to have a license to practice law. (Bill is now the head of a very successful law firm.)
When I met him he was producing a series of public policy programs at Minnesota Public Radio. Bill found it most relaxing to work during the night at the radio station. It was very quiet at the station, and he had easy access to the big Ampex tape recorders he liked to edit on. He could edit away to his heart's content. He would come in around 2AM, and we'd talk occasionally during the night. I learned a lot from talking to him; about his time in prison, his politics, and the things he wanted to do with his life.
We would usually sit and talk during my "lunch" hour, between 3 and 4AM. One night Bill told me that when he was in prison and very depressed he made the firm decision that when he got out, he would travel everywhere and meet as many women as possible. I nodded my head in agreement. I wanted to do the same thing. He said, "Women and traveling is all you think about when you can't go anywhere and never see a woman."
(He actually said he wanted to "go everywhere and fuck as many women as possible", but you might not be able to phrase it that way in your program.)
I asked him for stories about where he'd been, and he started bringing photos to the station he'd taken in his travels. He told me story after story of the places he had been since he'd been released from prison. He showed me one picture he had taken at a border crossing between Ghana and Upper Volta. There was a sign at the border crossing that said, "No photo", so naturally Bill got out of the taxi he was in, crouched down, and snapped one shot. I looked at the photo and said, "I'm going to use this picture on an album cover someday." As I was flipping through his photos I told him that I was going to start sending him postcards from places he'd never been. He challenged me, saying, "Well, good. Good luck. I'll look for your postcards. Where are you going to go first that I haven't been?" I said "Nepal," without thinking. (The drummer from my high-school band went there in 1972. Nepal was the only place I could think of on short notice.) I decided later I would indeed go there first, and that I'd go many other places, and send him postcards from everywhere.
So that's what I did. I used the picture he took at the border crossing for the cover of "Safe Journey." I went to Nepal in 1985, sent him postcards, and my Nepal experience ended up as the storyline behind the music that makes up "Big Map." From my job working for The Naropa Institute's Study Abroad Program in Nepal I got another job with their program in Bali, and that ended up being the basis for the drumming and gong cycles in "The Fall of Us All." During the years between 1985 and 1992 I didn't really live anywhere. All my belongings fit in two small boxes that I left at my studio or at a friend's house. I traveled through Europe, Nepal, Sikkim, all over India, Tibet, and many places in in Southeast Asia. I took every travel opportunity I could. There were girlfriends, there was marriage, divorce, pregnancy, miscarriage, death, humiliation, redemption, spiritual ecstasy, sickness, hell, heaven, thousands of miles of travel, and many postcards addressed to Bill.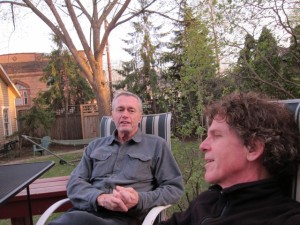 Here we are, drinking beer on his porch just two nights ago, May 13, 2013.