Today meeting Lucian Ban and Mat Maneri at Barbès, a small bar and well-known venue (French style) in the South Slope area of Brooklyn (376, 9th Street, 6th Av.). It is run by two French musicians from Brooklyn. Meanwhile a well known music-place, meeting-point for musicians and connoisseurs. Programming and line-ups are impressive.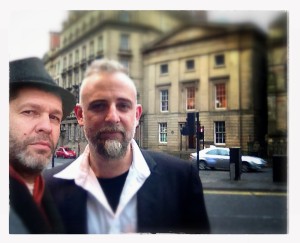 Lucian Ban is a pianist from Romania who has been living and working in New York for the last ten years. Together with bassist John Hébert (from New Orleans) he set up Enescu Re-Imagined (2009), a work on famous Romanian composer, conductor and pianist George Enescu (1881-1955), teacher of great violinist Menuhin. Line-up for this work: trumpeter Ralph Alessi, saxophonist Tony Malaby, violinists Mat Maneri and Albrecht Maurer, percussionists Gerald Cleaver and Badal Roy together with Ban and Hébert (VIDEO)






Mat Maneri is one of the finest musicians around and a very special violin-player who participated in many (many!) groups, a.o. groups of Paul Motian. We met earlier when I was involved in organizing a tour of Joel Harrison's String-Choir Playing Music Of Paul Motian (HERE as one of my RADIO ON DEMAND programs).
Ban and Maneri met through this work and discovered their mutual musical rapport from which their steady duo-work emerged. It is the deep and dark sonance of Ban's voice, its shadowy quality which gives way to Maneri wrapping his violin-sounds with all it's microtonal colorings and multiphonics around conjuring up spiritual sentiments.
Mat is sitting in front of Colson Patisserie next to Barbès when I arrive at 4 p.m.. It turned out Barbès will not be open before 5 p.m.. So we took a delicious espresso at Colson and moved to another place in fine style nearby together with arriving Lucian for the interview.
ECM will in may release Transylvanian Concert, a live-recording of the duo made in the hundred year old Grand Theatre of Targu Nures with its extraordinary acoustics, an album produced by Steve Lake and Lucian Ban. This interview was somewhat special, special in preparation. First for weeks we did lots of efforts to set up a release-concert in Amsterdam fitting in the duo's European may-tour and my Amsonanza-series. The music was not available then. I received it shortly before I left to New York.
There was a lot of common ground nonetheless and we could finally dig into musical issues easily and intensively. We touched upon and revolved around issues as spirituals, religiousness, folkmusic sources, Mal Waldron, avantgarde, musical solidity, African roots, cultural determination and universality, beauty of sound. It will all be revealed in a later article in may when the upcoming album will have been released. One exception, the Birthday Party Question: which person not alive anymore would you like to invite to join your birthday-party? Here it is for Lucian Ban: Thelonius Monk, Ludwig Wittgenstein, Joe Maneri. And here it is for Mat Maneri: Joe Maneri, Charlie Chaplin, St. Francis of Assisi. Heavy gathering? Lucky company? Meeting of minds? Rich perspectives!

Tour may
11th Cologne – Altes Pfandhaus w/Albrecht Maurer, vln
12 Berlin – A-Trane w/Albrecht Maurer, vln
14 Bucharest – Odeon Theatre w/Evan Parker, sax
16 Ploiesti – Toma Caregiu Theatre
21 London – Vortex
22 Derby – Voice Box w/Corey Mwamba, perc, electr.
23 Newcastle – Recital Hall
24 Wuppertal – tba w/Albrecht Maurer, vln
25 Bergneustadt – tba w/Albrecht Maurer, vln
27 Vienna – Porgy&Bess
28 München – Unterfahrt
29 Deutsch – Minihof – Limmitationes (A)