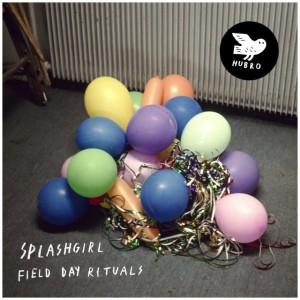 Eigentlich nur ein Trio. Drei junge Norweger: SPLASHGIRL. Keyboards, Piano; Bass; Schlagwerk. Das letzte Werk "Pressure" war radikale Kost, vertrauter Jazz meilenweit entfernt, das Pianotrio wirft kulturelles Gepäck ab. Die Drei hören nicht so sehr Monk oder Jarrett, lieber Paul Bleys Synthesizer Show und experimentelle Metal-Music a la Sunn O))). Wohl auch Bohren und den Club of Gore, diese Hypno-Schleicher, gebürtig aus der westfälischen Provinz. Grosse Töne spucken Splashgirl nicht. Sie tuen es vorzugsweise leise.
Zwei Gäste liefern zusätzliche Ideen, Eivynd Kang an der Bratsche, Timothy Mason am Modular-Synthesizer. Alles passiert in slow motion, manchmal in slow, slow motion, manchmal sogar in slow, slow, slow motion. Eine Klangspur aus dem Orient, ein weiches Rauschen aus dem Dream House von La Monte Young. Irgendwas Klassisch Getöntes. Ein Hauch Chopin? Oder doch ein Drehleiermotiv, aufgeschnappt auf einem Marktplatz im winterlichen Oslo?
Der Produzent Randall Dunn (Akron, Mountain a.o.) erinnert sie daran, dass sie doch auch eine Jazzband sind. Sie vergessen das gerne, haben aber nun doch (so rate ich mal) alten raumöffnenden Pianojazz im Ohr. Etwa Paul Bleys "Open, To Love". Ein Meilenstein. Bley nimmt das Ausschwingen der Töne ernst. Es erinnert ihn an die Hüllkurven seines alten monophonen Synthesizers. Mit diesen Klangmaschinen konnte man noch lamgsamer in der Stille verschwinden als mit getretenem Pedal auf einem Flügel. Jede Nummer bei diesen "Freizeitritualen" eine andere Ruhe. Eine dezent aufrührerische, eine feinnervige, eine gespannte. Raffiniert an der Idylle vorbeigespielt. Immer für ein Aufhochen gut, auch wenn nicht viel passiert, an der Oberfläche, in diesem Ambient-Hypno-Post-Jazz. Splashgirl-Musik eben.