"Wenn man auf die Vergangenheit zurückblickt und versucht, Erinnerungen zu rekonstruieren, scheint man eine poetische Stimme zu brauchen. Ich denke da an Nabokov oder insbesondere an Stefan Zweig. Und doch habe ich entdeckt, dass sie viel besser auf eine ironische Stimme reagiert. Wenn man es allerdings mit der Poesie übertreibt, kann es kitschig werden. Ich habe auch versucht, die erste Person Singular zu vermeiden. Denn in dem Moment, in dem man sich selbst zu einem Teil davon macht, in dem ich eine Kamera bin, schreibt man eine andere Art von Buch. Apropos, es lohnt sich immer, an die große Warnung von Christopher Isherwood zu denken: Es ist so einfach, ein Buch zu schreiben, das einfach nur eine Beschreibung des Buches ist, das man gerne schreiben würde." (m.b.)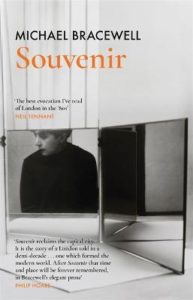 Das sagte Michael Bracewell zu seinem kleinen wundervollen Buch "Souvenir", eine Meditation, eine Reise ins vordigitale London. Ein Buch, das wie ein Pepetuum Mobile sich fort und fort bewegt, ein Continuum, aller Bruchstellen zum Trotz. Leider hat es bis heute keinen Verlag hierzulande gefunden. Michael Bracewell  und ich sind möglicherweise aneinander vorbei gegangen im Dezember  1982, in Hampstead Heath. Wahrscheinlicher, dass er auch im  Marquee Club war, in der Wardour Street, als Jah Wobble and The Invaders of the Heart spielten. Oder wir standen nebeneinander im legendären Plattenladen von Rough Trade in Notting Hill – unvergessen der Anblick des Covers einer Single von Aztec Camera. Und Geoff  Travis erzählte mir (lange vor meinem Quereinstieg ins Radio) von seiner Liebe zu den Liedern von Robert Wyatt. Marianne Faithfull habe ich leider nicht getroffen. "Souvenir" ist eines der 12 schönsten Bücher des 21. Jahrhunderts (in meiner kleinen Lesewelt*), ich kann es gar nicht lesen, das Büchlein, seitenweise oder bis tief in die Nacht, ohne in Trance zu fallen. So gerne versinke ich darin. Wieder und wieder.

"Zunächst liest sich "Souvenir" von Michael Bracewell wie eine Reihe von Postkarten aus der Vergangenheit, denn der Autor verwendet Fotos, Schallplatten und Bilder von alten Schlafzimmerwänden, um sich an sein Leben in der Hauptstadt zu erinnern, als der staubige Modernismus der späten 70er Jahre allmählich einem neuen digitalen Pop-Zeitalter weicht. Er ist ein lyrischer, rhapsodischer Autor, aber sein Stil hat sich schon immer der nackten Mechanik einer Standardbiografie oder -geschichte widersetzt. Befreit von solchen Bedenken verliert er sich hier in reichhaltigen, beschwörenden Träumereien über alles Mögliche, vom Walkman und PiLs Metal Box ("eine postindustrielle Winterreise… von einem Ort mit verlassenen Schrebergärten und Oberleitungen") bis hin zur "verzweifelten Müdigkeit" im Haus seiner Eltern in der Vorstadt. Teils Lobrede, teils Elegie – Bracewells verschwommene, halluzinatorische Memoiren scheinen keinen anderen Zweck zu haben, als zu transportieren, und der Leser hat keine andere Wahl, als sich seiner kraftvollen, hypnotischen Prosa hinzugeben und sich selbst als Zeitreisender oder Geist vorzustellen, der in einem verschwundenen London umhertreibt, das irgendwo zwischen Nachkriegsverzweiflung und futuristischem Optimismus liegt." (a.m.)

*also keinerlei Übertreibung, es geht hier nicht um den Kanon der jüngeren Weltliteratur, sondern um den Zauber mancher Bücher, in ihnen verschwinden zu können (obwohl sie permanent,  parallelwelthaft, von einem selbst erzählen, Flüchtigkeiten und Intensitäten des eigenen Ichs rauf- und runterspiegeln, dabei ad infinitum Vertrautes in Unvertrautes, Unvertrautes in Vertrautes wandeln). Also: "Souvenir" ist eine Tranceinduktion, ein Rauscherlebnis – achten Sie auf Set und Setting. Not everyone's soul food. In some ways  (of drifting. diving, celebrating, mourning, tripping. dancing) comparable to one the most spellbinding records of this year (in my reliable, not-so-reliable ears), Alabaster DePlume's "Gold".