Vor ein paar Tagen veröffentlichte Jochen Siemer Kleine Fluchten – ein Lob der Stille und des Zweifels. Mich erinnerte Jochen damit in diesen "stillen Tagen" an das Thema Stille in der Musik. Diesem Thema möchte ich die heutige und die nächste Ausgabe des "Plattenschranks" widmen.
Komponierte Stille:
1952 komponierte John Cage sein viel diskutiertes, nur aus Stille bestehendes Stück 4´33: "Ich war dabei die MUSIC OF CHANGES zu schreiben, was in einer komplizierten Weise vor sich ging, es gab viele Tabellen für Tonhöhen, Tonumfänge. Das ganze Werk entstand aufgrund von Zufallsoperationen. Im Falle von 4´33 benutzte ich tatsächlich dieselbe Arbeitsmehtode und baute die Stille in jedem Satz auf,  jeder Satz besteht aus kleineren zusammengefügte Stille-Einheiten, die drei Sätze ergeben 4´33." (John Cage)
Vor einem Jahr geschah dann das Erstaunliche, Cage-Fans?, Stille-Fans? versuchten das Stück in einer "Neuaufnahme" als "Cage Against The Machine – 4'33" in die englische Weihnachtshitparade zu bringen. Ich war im Internet dabei, als plötzlich der unglaubliche, brülllaute Trubel einer BBC Christmas-Charts zum Schweigen gebracht wurde. Wenn ich mich recht entsinne, kam die Single bis auf Platz 21. Klar, dass in dieser stillen Zeit wieder Cage 4:33 aus dem Plattenschrank genommen wird.
Klagende Stille:
Als Giya Kancheli 1998 Lament – Trauermusik für Luigi Nono veröffentlichte, hatte er ein "extrem stilles Werk" geschaffen, eine dreiviertelstündige Klage von hoher Intensität. Es entstand eine Klangwelt des Leisen, vielleicht auch des Verlorenen.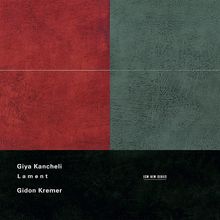 Funkstille:
Ich glaube Alan Bangs hat diese Geschichte einmal erzählt: "Es gab in England einen bekannten Moderator mit einer populären Show, die jeden Tag live über den Sender ging. Irgendwann hatte der Mann die ewige Routine, mit der seine Show ab lief, gründlich satt. Er sagte eines Tages völlig unerwartet zu seinen Hörern: "Ich will nicht mehr so weitermachen. Mir steht´s bis oben hin. Immer das gleiche Spielchen. Ihr sitzt da draußen, während ich hier mutterseelenallein in meinem Studio hocke und zu Euch rede. Ich sag´ euch, was ich jetzt tun werde. Ich steh´jetzt einfach auf und geh´raus!" – und genau das tat der Mann. Bei offenem Mikrophon konnte man hören, wie er seine Papiere zusammenpackte, aufstand, zur Tür lief und verschwand. Fünf Minuten lang blieb er draußen. Das Mikrophon blieb geöffnet, und es passierte nichts, es herrschte totale Funkstille … Dann kam er wieder und machte weiter, als sei nichts gewesen."
Erinnern Sie sich noch? Es gab im Rundfunk früher Sendepausen und auch das Fernsehen hatte Sendeschluss. – Stille eben.