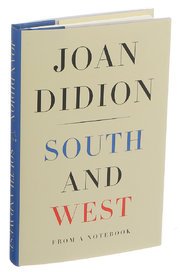 Für einen Zugezogenen wie mich ist es natürlich immer interessant, die Eindrücke anderer mit den eigenen zu vergleichen. Und obwohl die hier präsentierten Texte schon von 1970 stammen und ich noch nie in den Südstaaten der USA gewesen bin, klingt vieles sehr vertraut.
"From a Notebook" heißt dieses Buch im Untertitel. Tatsächlich enthält der schmale Band nur Notizen von einer Reise durch die Südstaaten und ein paar Bemerkungen (13 Seiten!) über Kalifornien und San Francisco, gesammelt 1970. Das Ganze sollten Reportagen für den "Rolling Stone" werden, aus irgendwelchen Gründen wurde daraus aber nichts, und nun hat die Autorin die Notizen von damals mit kurzen Einleitungskommentaren als eigenständiges Buch veröffentlicht.
Der Schreibstil versetzt einen unmittelbar in die Landschaft und das Klima Louisianas, Mississippis und Alabamas im Sommer. Fast bleibt einem beim Lesen das Hemd am Körper kleben, man meint im Hintergrund Songs wie "Born on the Bayou" aus dem Autoradio zu hören, man sieht die Lethargie der Kleinstadt- und Dorfbewohner vor sich, man meint ihre Sprechweise fast zu hören. Ob es ein Bürgermeister ist, der betont, der KKK spiele nicht mehr die große Rolle wie früher, oder der weiße Besitzer einer Radiostation, die Musik vorrangig für Schwarze spielt, der selbst aber Schwarze nicht zu seinen Freunden zählt, ob es die stumpfsinnig dreinschauende Friseurin ist, die einfach nur geheiratet werden möchte, der Typ, der die Autorin fragt, ob ihr Mann ihr diese Reise überhaupt erlaubt habe: Man meint sie zu kennen und vor sich zu sehen. "The time warp: the Civil War was yesterday, but 1960 is spoken of as if it were about three hundred years ago", schreibt die Autorin an einer Stelle. Keiner möchte weggehen, wer weggeht, kommt irgendwann wieder. Jeden Tag aufs Neue ist alles, wie es immer war und wie es zu sein hat. True Stories hieß das bei David Byrne.
Die Frage ist, ob das alles wirklich "typisch Südstaaten" ist. Ich glaube ja, man würde vergleichbare Typen auch in der Provinz von Ohio oder Pennsylvania finden. Und wohl auch in den Tiefen Niedersachsens oder Thüringens. Und 1970 ist wirklich schon lange her. Städte wie Atlanta oder Birmingham dürften sich seitdem verändert haben, auch die von der Autorin besuchte  "Ole Missi", die Universität von Mississippi, wird nicht mehr die von damals sein.
Niemand würde auf die Idee kommen, die Zeitstimmung, die in deutschen Heinz-Erhardt-Komödien eingefangen ist, als typisch für das heutige Deutschland anzusehen. Sie zeigen aber die DNA deutschen Denkens. Und auf diese Weise zeigt Joan Didions Buch die DNA der USA.


Joan Didion:
South and West — From a Notebook
ISBN 978-0-525-43419-1
2018