Tja Chet Baker … Chesney Henry Baker (1929-1988), für mich jemand, den man im guten Moment, im guten Kontext hören muss … Ich mochte und mag die gängige Baker-Ikonologie, die Mythologisiererei um Baker herum nicht besonders! Der Widerstand dagegen bleibt schon dadurch lebendig, dass ich recht häufig beim Gang in die Stadt die Stelle passiere, an der er im Mai 1988 aus dem Hotelfenster fiel. Eher Absteige als Hotel, direkt am Bahnhof, da, wo der Zeedijk beginnt.
Ich habe 3 Alben von CB und eines davon mag ich richtig. Es ist hier immer griffbereit (und kann wärmstens empfohlen werden). Es ist die letzte Studiosession von CB. Im Februar 1988 in Paris. Mit Philip Catherine, dem Pianisten Egil Kapstad, dem Bassisten Terje Venaas UND … dem norwegischen Dichter Jan Erik Vold. Das Album, Telemark Blue, beginnt mit der Melodie des norwegischen Lieds Blåman, Blåman … Irgendwie schloss sich ein Kreis: Baker ist mütterlicherseits norwegischer Abstammung.








Auch bei der Session zugegen: Randi Hultin (1926-2000), in deren Buch Born Under The Sign Of Jazz (1998) man einiges an Aufschlussreichem zum Jazz-Life in Oslo der 60er, 70er und 80er Jahre erfahren kann. Auch zu CB.
"Three weeks earlier, bass player Terje Venaas drove at top speed over the mountains, all the way from the Norwegian west coast, just to do a one-night gig with Chet Baker in Sandvika, just outside Oslo. Only a temporary teacher's job prevented him from joining Chet on his tour right away. Venaas had played with Chet Baker in Norway many times before (featured on the Baker album The Improviser, 1983).
Egil Kapstad had shaken hands with Chet Baker previously, but – oddly enough – had never played with him. Along with his poet friend, Kapstad had found a number of melodies to choose from in Paris: jazz standards, his own compositions – and at the top of the sheets, "Blåmann, Blåmann," a beloved folk tune and children's song, so full of Telemarkian beauty that my young son didn't want to hear it too often: "Daddy, it's so sad!" "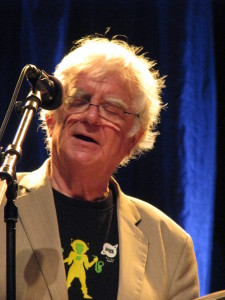 Bleibt noch zu sagen, dass Jan Erik Vold einer der wunderbarsten Vortragenden zu Musik dieser Art ist. Ich habe ihn 2010 im norwegischen Kongsberg bei einem (mir unvergesslichen) Konzert zusammen mit Bill Frisell und Arild Andersen kennengelernt.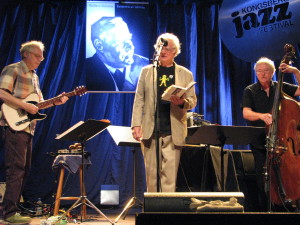 ©FoBo_HenningBolte