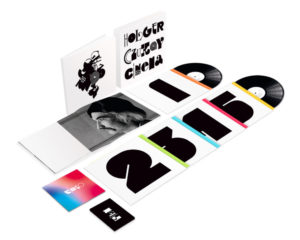 Das ist es dann also, Holger Czukays Boxset Cinema — fünf LPs bzw. CDs, eine DVD und — in der Vinylversion — eine "Videosingle" im 17-cm-Format, ein RCA-Patent, das sich nie durchgesetzt hat und das heute sicher nur noch ein Computermuseum abspielen könnte.
Wer nichts von Holger Czukay besitzt und mit einem Querschnitt zufrieden ist, mag bedenkenlos zugreifen. Die CD-Box ist sehr preiswert. Die LP-Box nicht, aber wer's denn braucht … bitte. Es besteht dann allerdings die Gefahr, auf den Geschmack zu kommen und auf Vollständigkeit zu beharren. Vollständig enthalten sind die Alben Canaxis 5 (1969, heimlich nachts mit Rolf Dammers im Elektronischen Studio des WDR aufgenommen) und Czukays Meisterwerk Movies (1979), dazu Ausschnitte aus On the Way to the Peak of Normal (1981), Full Circle (1982), Der Osten ist rot (1984), Rome remains Rome (1987), Radio Wave Surfer (1991) und aus 21st Century (2007) mit U-She, Holgers inzwischen leider ebenfalls verstorbener Frau. Plus ein paar verstreute Dinge wie "Breath Taking", das auf einem Sample des "Huuuu"-ausatmenden Karlheinz Stockhausen beruht, die Single "Biomutanten"/"Menetekel", die Czukay mit Conny Plank unter dem Projektnamen Les Vampyrettes veröffentlichte, ein Song der japanischen Sängerin Phew, ein Ausschnitt aus Cluster & Eno und den Titel "Mandy" des mir völlig unbekannten Projekts Bison.
Die hypnotische "Ode to Perfume" vom Peak-Album wurde aus unerfindlichen Gründen von 18 auf 13 Minuten gekürzt, in anderen Fällen ist es schade um die weggelassenen Stücke (etwa "Blessed Easter" vom Rome-Album). Der als "previously unreleased" bezeichnete Titel "Konfigurationen" des Holger-Schüring-Quintetts von 1960 ist keineswegs unveröffentlicht, sondern war bereits als Bonustrack auf der Spoon-CD Canaxis 5 enthalten, dort allerdings unter dem Titel "Mellow Out" — eine etwas schlappe Jazznummer, aufgenommen wohl beim WDR für die Sendung "Jazz für jeden", wahrscheinlich hier: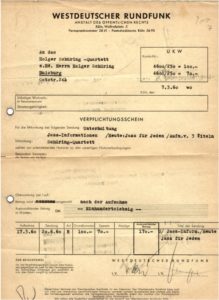 Eine Rarität ganz sicher. Und keineswegs zu vergessen die DVD: Sie enthält den einstündigen Film Krieg der Töne, 1988 unter der Regie von Michael Meert gedreht; wenn ich nicht irre, wurde er damals im "Kleinen Fernsehspiel" des ZDF ausgestrahlt und wurde seither nie wieder gezeigt. Holger Czukay spielt darin einen (natürlich ziemlich verschrobenen) Musiklehrer. Ein echtes Schätzchen.
Das Booklet ist mit Informationen sehr sparsam. Die Liner Notes sind eher freundlich als informativ; wer die Originalalben nicht kennt oder besitzt, wird vor allem Angaben zu den mitwirkenden Musikern vermissen — etwa, wer eigentlich das Holger-Schüring-Quintett war (oder war es ein sogar nur ein Quartett?).
Wer die Originalalben besitzt und auf den Film verzichten kann, braucht dieses Boxset nicht. Ich weiß auch nicht, ob es mir nur allein so geht oder ob auch andere manchmal das Gefühl haben, dass Boxsets etwas Sargartiges an sich haben — wie schon der legendäre Professor Bur-Malottke in Bölls wunderbarer Mediensatire Dr. Murkes gesammeltes Schweigen feststellte: Ein seltsames Gefühl, ein Lebenswerk in ein paar Bänden … Dünndruck … — Nun ja. Kein Zufall wohl, dass Boxsets wie dieses, ebenso wie "Greatest Hits"-Kompilationen, bei Plattenfirmen hausintern gern als "Goldener Schuss" bezeichnet werden. Man hört so etwas einmal durch, vielleicht zweimal, um die Box dann ins Regal zu stellen und sie nie wieder hervorzuholen. Und das wäre sehr schade. Denn was diese Box ganz deutlich macht, ist, dass Holger Czukay eine der wenigen wirklich originellen Erscheinungen in der deutschen Musikszene war. Und dass er bei aller zur Schau getragenen Skurrilität (siehe "Hit Hit Flop Flop" vom Rome-Album, das fast eine Single sein könnte) ein hochsensibles Ohr besaß (oder zwei, möglicherweise sogar ein drittes). Das kommt immer dann zur Geltung, wenn er vergisst, komisch sein zu wollen. Stücke wie "Träum mal wieder", "Full Circle (R.P.S. N0. 7)", das hier nicht enthaltene Ambient-Album La Luna und natürlich das unvergessliche "Persian Love", das sogar Czukays großer Meister Karlheinz Stockhausen gefiel, künden davon. Und die sollen unvergessen bleiben.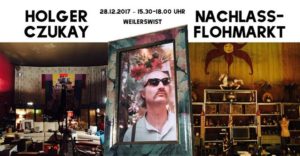 Man hätte Holger Czukay ein besseres Ende gewünscht. Obwohl: In seinem Studio zu sterben könnte ihm sogar gefallen haben. Am Ende konnte er kaum noch die Treppe erklimmen, und in einem letzten Radiointerview ist deutlich zu hören, dass er kaum noch sprechen konnte. Inzwischen sind seine Habseligkeiten in genau jenem alten Can-Studio in Weilerswist, in dem Holger und Uschi auch wohnten, per Flohmarkt verramscht worden.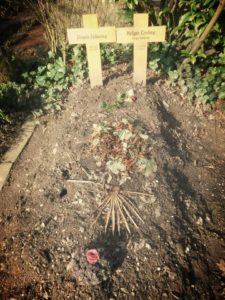 In diesem Sinne: Bye bye, Holger. Auf Wiederhören.