Archives: Bimhuis
Ja, ein Versuch der Beschreibung der Musik, die The Necks machen, auf Tonträger aufgenommen. Und live. Von ihrem kürzlichen Auftritt im Bishopsgate Institute in London gibt es HIER einen Bericht.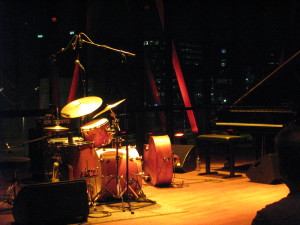 Bei ihrem Amsterdamer Konzert im Bimhuis spielten The Necks zwei Sets mit Musik von deutlich unterschiedlichem Charakter.
Im ersten Set werden zunächst – ähnlich wie auf dem letzten Album – Wahrnehmungsfelder geöffnet, Wahrnehmung geschärft.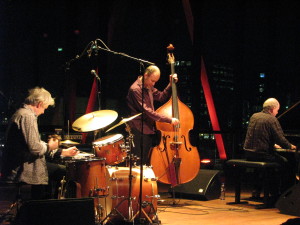 The Necks © FoBo – HBolte


Einerseits entsteht aus dem Zusammenfliessen der Instrumente ein Klangraum. Andererseits werden nach und nach in der entstehenden Tiefenschärfe faszinierende Details hörbar. Nach etwa zwölf Minuten hat sich der Klangraum nicht nur in voller Entfaltung aufgebaut.




Tony Buck © FoBo – HBolte


Man konnte meinen, es mit einer pulsierenden Wolke elektronischer Klänge zu tun zu haben, aus der sich wechselnde Gestalten herausdestillieren.
Es ist schwer zu fassen, dass dies tatsächlich einzig der stetigen Bearbeitung dieser drei akustischen Instrumente entspringt, von denen jedes seiner ganz eigenen stetigen Logik folgt und gleichzeitig die Folge tiefen Hineinhörens in den Klang auch der anderen ist.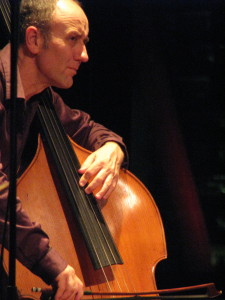 Lloyd Swanton © FoBo – HBolte


Der erste Set bot zwei Stücke. Im Pianospiel des zweiten Stücks formten sich Wassercharakteristiken aus, während der Bass den Wind hören und das Schlagzeug die Wolken ziehen liess und sie zusammen diese Landschaft vor sich hertrieben.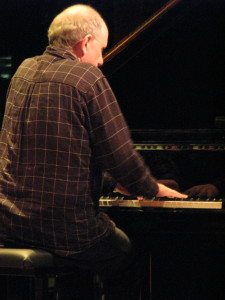 Chris Abrahams © FoBo – HBolte


Der zweite Set hatte einen gänzlich anderen Charakter, ein ganz anderes Temperament. Es ging ruppiger und stossender zu, was nicht nur eine andere Bewegungsart beinhaltete, sondern auch ein andere Art der Wechselhaftigkeit. Das Wechselspiel von stetigem Fortfahren in der jeweilig eigenen Spur und aufeinander zuarbeiten, erreichte hier nicht dasselbe Level wie im ersten Set.
Die Stücke, das zeigte das Konzert deutlich, werden nicht vollständig aus dem Moment erschaffen. Es sind vielmehr gegebene Stückcharakteristiken, anhand derer aus dem Moment heraus das Stück immer wieder neu erschaffen wird.
WHAT a wonderful band, great rhythm-a-ning, sing-a-ning, syncopating, shuffling, soaring … capturing: SHABAKA HUTCHINGS, MICHEL MASSOT, TOM SKINNER, SEB ROCHFORD

Das kan man doch schon sehen, oder!








Tonight they played the Bimhuis in Amsterdam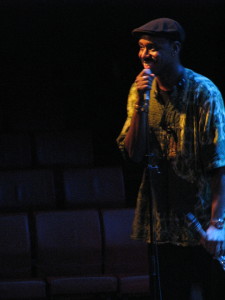 and here is a V I D E O with a sample of their music, music also on their latest album BURN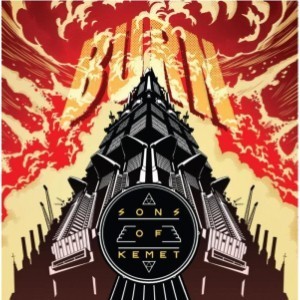 Musik wunderbar konzentriert gespielt und Musik zum zugespitzten Nichtstillsitzen …


Konzert-Photos © FoBo – Henning Bolte ©