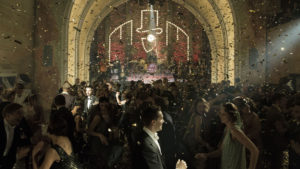 Die erste Staffel wäre geschafft … Babylon Berlin, die ersten acht Folgen, deutsch mit englischen Untertiteln im US-Netflix, selbstverständlich nicht etwa "set in Berlin of the Golden Twenties" oder "in the Weimar Republic", sondern "in pre-Nazi Germany". Germany ohne Nazis ist hier einfach nicht vorstellbar. Dabei kommen in der ersten Staffel noch nicht mal welche vor. Interessant gleichwohl, dass die Serie hier zu sehen ist, lange bevor sie im deutschen Free-TV gezeigt werden darf — die ARD hat sich wohl irgendwie von Sky über den Tisch ziehen lassen. Immerhin ist sie an der Finanzierung nicht ganz unbeträchtlich beteiligt.
Ich habe mich in den letzten Jahren ziemlich intensiv mit den Zwanziger Jahren beschäftigt, unter anderem wegen hier, aber auch wegen eines Drehbuchs, weil ich stolzer Besitzer der 22-bändigen Tucholsky-Gesamtausgabe bin (Habt ihr gehört, Rowohlt? Ich bin das!), weil ich das stumme deutsche Angstkino der Langs, der Murnaus und der Wienes liebe, und überhaupt, einfach eine sehr spannende Zeit … Wenn Zeitreisen möglich wären: Berlin, Hamburg, New York, Paris und London der Zwanziger wären meine Stationen. Ein Trip in die Ära der Romantik käme erst danach.
Um es vorwegzunehmen, Babylon Berlin bekommt hiermit meine offizielle Empfehlung. In Babylon Berlin steckt ein für deutsche Verhältnisse ungewöhnlich hoher Etat, und das sieht man. Die Serie gehört optisch zum Besten, was in Deutschland seit Edgar Reitz' Heimat fürs Fernsehen produziert worden ist. Vom ersten Moment an spürt man die wirklich exzellente Besetzung selbst kleiner Nebenrollen, die liebevolle Kostümbildnerei, die Ausstattung, die Kulissen — und zwar gerade dadurch, dass man sie eigentlich nicht bemerkt. Selten nur stolpert man über allzu raffiniert ausgetüftelte Kameraperspektiven, die den Zweck haben, nur möglichst kurze Straßenzüge nachbauen zu müssen, oder über Firmenschilder, denen man ansieht, dass sie über reale Firmenschilder gehängt wurden.
Die Dramaturgie der Serie setzt zunächst auf Verwirrung, Überwältigung und übermäßige Drastik. Alles wirkt irgendwie übertrieben und ziellos, ohne dass man den Finger auf wunde Punkte legen könnte. Streckenweise hat man das Gefühl, das Berliner Leben spielte sich hauptsächlich in dreckigen Toilettenkabinen ab. Drogenabhängige sind ständig am Zittern. Die Polizei prügelt. In der Pathologie wird mit Gammelfleisch nur so um sich geworfen. Wenn einer aus dem Krieg ein Blasenleiden mitgebracht hat, dann reicht keine Andeutung, sondern es muss durchgespielt werden, bis die Hose nass ist. Und war schon in Isherwoods Roman "Goodbye to Berlin" die Darstellung der Arbeiterklasse unangenehm herablassend, so wird in Babylon Berlin in den elenden Wohnbehausungen der Arbeiter ständig nur gehustet, gerotzt, gesoffen, gepisst, geschlagen und in abgebrochenen Sätzen geredet — das soll dann wohl harter Realismus sein, hat aber eher denunziatorische Züge. Das Leben der Arbeiter und ihrer Familien war elend, mit Sicherheit kam es in diesen Wohnverhältnissen zu Aggression, und mit der Bildung war es nicht übermäßig weit her, aber es kann nicht ununterbrochen so elend gewesen sein. Döblins "Berlin Alexanderplatz" ist in dieser Hinsicht aufschlussreicher. Auch die Art und Weise, wie die organisierte Arbeiterschaft dargestellt wird, nämlich misstrauisch und ständig aggressiv, wird den wirklichen Arbeitern der damaligen Zeit sicher nicht gerecht.
Gelegentlich fallen allzu schlaumeierische Zitate auf. An den Stummfilmklassiker Menschen am Sonntag (von dem sogar Originalausschnitte zu sehen sind) wird etwas sehr deutlich erinnert, oder Berlin, die Sinfonie der Großstadt. Über dem Abspann liegen Ausschnitte aus synästhetischen Animationsfilmen Walter Ruttmanns, wodurch der Abspann (ebenso wie der Vorspann) unlesbar wird. Die zentrale Figur, Charlotte Ritter, ist zu vieles auf einmal, Arbeiterkind, Polizeimitarbeiterin, SM-Prostituierte, Liebende und Emanzipierte. Der Kommissar Bruno Wolter erinnert arg deutlich an den jovialen Kommissar Lohmann aus Langs M und Das Testament des Doktor Mabuse, ohne allerdings dessen Anständigkeit zu besitzen. Auch Gereon Rath, die Hauptfigur, bleibt undurchschaubar. Natürlich sind die Regierenden sämtlich korrupte Knallchargen, die Gangster führen sich auf wie die Mafia in Chicago 1930. Es gibt keine klaren Sympathiefiguren, ich würde ernstlich mit keinem der Charaktere privat etwas zu tun haben wollen. Und nicht zuletzt sind die unvermeidlichen Show-Szenen ziemlich klischeehaft (weil so is det ja nu mal jewesen in Berlin!), auch die dargebotenen Chansons werden nicht besser dadurch, dass Bryan Ferry sie ausgewählt hat. Cabaret war in dieser Hinsicht besser.
Ab etwa der dritten Folge sortieren sich die Ereignisse ein bisschen, die Handlung fließt ruhiger, die einzelnen Charaktere werden ein bisschen genauer vorgestellt. Das Ergebnis ist aber, dass das, was in den ersten drei Folgen zu dick aufgetragen ist, in den Folgen 4 bis 8 dann fehlt. Da wird dann auch klarer, dass das Ganze ein Krimi ist, keine Sozialanalyse, und die Versatzstücke sind letztlich dieselben, die auch im Tatort oder irgendwelchen Soko-Folgen eingesetzt werden.  Zudem laufen die beiden Hauptprotagonisten am Ende in eine strunzdumme Cliffhanger-Falle, die man als Zuschauer wie ein offenes Scheunentor gähnen sieht.
Das macht aber alles nichts, denn irgendwie passt es am Ende doch alles zusammen, die Schauspielerinnen und Schauspieler reißen die Schwächen raus, und spätestens nach der dritten Folge ist man "drin" in der Serie. Ich bin sehr gespannt auf die zweite Staffel. Heute abend geht's los.