Category: Blog

Conceived as the ultimate road movie, this decades-in-the-making science-fiction epic from Wim Wenders follows the restless Claire Tourneur (Solveig Dommartin) across continents as she pursues a mysterious stranger (William Hurt) in possession of a device that can make the blind see and bring dream images to waking life. With an eclectic soundtrack that gathers a host of the director's favorite musicians, along with gorgeous cinematography by Robby Müller, this breathless adventure in the shadow of Armageddon takes its heroes to the ends of the earth and into the oneiric depths of their own souls. Presented here in its triumphant 287-minute director's cut, Until the End of the World assumes its rightful place as Wenders' magnum opus, a cosmic ode to the pleasures and perils of the image and a prescient meditation on cinema's digital future. (Release date: December)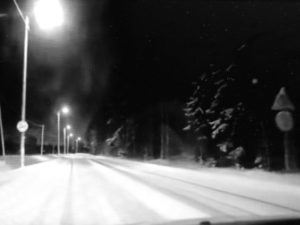 und das Radio an für eine entspannte Fahrt.
"Another winner of British TV. And it shows what can all be right with costume dramas. The clash of old and new might have felt clunky but instead gives things a rollicking energy. If some of the other characters feel a little underdeveloped compared to Anne, that is mainly testament to Suranne Jones's swashbuckling central turn. Her Anne Lister seethes with indignation at being born with the "wrong desires" at the wrong time, but she is intelligent enough to know how she must behave to survive. Her single-mindedness can look blinkered, and her charisma can come across as obstinacy. My initial anxieties were misplaced. "Gentleman Jack" is its own programme, a confident, smart period drama with fabulous sets and costumes, especially Anne's top hats and black suits, and a large warm heart."

(Ed Cumming, The Independant)

Ich liebe Kriminalgeschichten – in der Literatur, im Kino, in Fernsehfilmen und heutzutage bevorzugt in der neuen Kunst televisionärer Tiefen-Erzählungen, genannt "TV Serien". Gerne erinnere ich mich an jene Zeit, als man sich jedes Wochenende, angenehm erschöpft von körperlicher Arbeit und Überstunden im Bauhandwerk, in einen Krimi fallen liess. Dass war auch die Zeit, als Twin Peaks im deutschen Fernsehen lief und man regelrecht heiss war auf die nächste Folge. Die Serie von David Lynch war tiefgründig, abgründig, voller neurotischer Charaktere und erotischer Frauen, die einen noch im Traum verfolgten und verführten. Den Sjöwall-Wahlöö Tipp bekam ich schon zur Abizeit von einer schwedischen Mitschülerin aus der Nachbarschaft. Wir tranken Tee in ihrem elterlichen Bungalow, mitten im tiefsten Wald gelegen und auch Twin Peaks lag damals schon ein bisschen in der Luft. Erst über ein Jahrzehnt später griff ich den Tipp auf – so ist das manchmal mit dem Lauf der Zeit und Dinge. Überhaupt findet sich eine angemessene Entgegnung auf Etwas oftmals erst nach Jahren. Auch ein Grund, warum man gerne schreibt: hier kann man sowohl die Kommunikation als auch den Gedankenfluss verlangsamen, präzisieren oder im Nachhinein noch korrigieren. Ich drifte ab, wo war ich denn gewesen? Ach ja, die Krimis: das war eine Lust, in der Woche dann den Lesevorrat für das kommende Wochenende zu besorgen, pilgermässig dafür eine der städtischen Buchhandlungen aufzusuchen ("Schmorrl & von Seefeld" – klingt das nicht heute noch wie Musik in manchen Ohren?). Jetzt gibt es Amazon, der Pilgerfluss ist ausgetrocknet, ersetzt durch gehetzte Kuriere. Unter den Autoren blieben mir vor allem Michael Dibdin und Patricia Highsmith in Erinnerung und letztere schlägt auch die Brücke zum jüngsten televisionären Hochgenuss. In ihrem Buch Ripley´s Game nämlich beschreibt sie die Charakterstruktur eines narzisstischen Psychopathen, der andere gern für seine Zwecke instrumentalisiert. Neben Kriminalgeschichten gehört dieser Typus des Narzissten, vorzugsweise als bösartiger Soziopath, zu meinen bevorzugten Forschungsobjekten und in der Serie Mindhunter kommt er ins Spiel: es geht um Serienkiller. Ein Typ namens Holden und sein Team haben psychologische patterns entdeckt, um solchen Tätern auf die Spur zu kommen. Mindhunter zeichnet sich dadurch aus, dass ein an sich gewalttätiges Thema vollkommen gewaltfrei und mit ruhiger Hand, teilweise wie im Kammerspiel, erzählt wird. Charles Manson kommt auch vor, wird von den Protagonisten interviewt. Eigentlich interessierte mich diese Manson-Story ja nie und und auch die Manson-Doku neulich drehte ich nach wenigen Minuten ab. Bilderreiche, willkürlich aneinandergereihte Fakten-Bombardements a la Wikipedia, nein danke. Aber in eine gute Erzählung wie Mindhunter eingebunden, ist das eine andere Geschichte. Atmosphärisch in schönem, gedämpften Licht und detailreich verfilmt, erinnert Mindhunter mitunter an Mad Men, an Fargo vielleicht und so vieles Gute und Böse mehr.
"Mahmoud Darwich war ein großer Dichter, der in der arabischen Welt ungeheuer populär ist. Als Ernest Pignon-Ernest sein Porträt an die Mauern (Palästinas) klebte, entrollte er es langsam von oben nach unten. Als das Gesicht von Mahmoud Darwisch auftauchte, fingen die Leute auf der Straße gleich an, seine Verse zu rezitieren, er ist bei ihnen noch bekannter als bei uns Victor Hugo. Die Leute kennen diese Lyrik, es ist unglaublich. Nur in der arabischen Welt genießen die Lyriker eine solche Popularität, und sie gehören dem ganzen Volk. Momentan spiele ich in Paris in einem Theaterstück von Amos Gitai mit, in dem viele Gedichte von Mahmoud Darwisch vorkommen, die von großer Schönheit und Kraft zeugen. (…) Diese Texte haben etwas sehr Universelles und vermögen zu allen Zivilisationen zu sprechen."

(Louis Sclavis, aus dem Gespräch mit Karl Lippegaus)

TEXT EINS mit Mats Eilertsen (OTON) – Musik: Mats Eilertsen's new album from Hubro 

TEXT ZWEI – (einführende Worte zu einem Höhepunkt im Schaffen des französischen Musikers, und das führt in diesem Falle u.a. zu dem berühmten palästinensischen Dichter Mahmoud Darwich)

BEITRAG 1: Karl Lippegaus über die neue CD von Louis Sclavis, "Characters on a Wall", und ein anschliessend komplett ausgespieltes Stück des Albums  – aufgepasst, das Album erscheint erst am 27. September! 

TEXT DREI – Musik: Das Duo Avishai Cohen / Yonathan Avishai  und das Album "Playing The Room"

TEXT VIER – (Gedanken zu einem "lost album" von Miles Davis aus der Zeit vor "Tutu") –Musik: Miles Davis

TEXT FÜNF –  (der dritte Trompeter in Folge …. Gedanken zu einem Album randvoll mit Standards, von dem ich nicht dachte, dass es mir dermassen gefallen würde, COMMON PRACTICE erscheint am 20. September) – Musik: Ethan Iverson Quartet w/ Tom Harrell

TEXT SECHS – BEITRAG 2: Karsten Mützelfeldt über ein kleines Buch von und mit Michael Wollny

TEXT SIEBEN mit Mats Eilertsen (OTON) / Musik: Mats Eilertsen: Reveries and Revelations
Recently I exchanged emails with Steve Tibbetts that were, at one point, related to musical revelations once upon a time made at Christmas, or around Christmas time. At young age, meaning when we were fucking greenhorns, 14, 15, 16, 17, and our musical tastes got their primal key experiences. I would like to receive from every Mana who has something to deliver on this topic, a short text (not more than ten lines in our blog at the end), that will be magically designed by Joey, and, in single cases, translated by me into my good old Oxford English.
Our stories will be the icing on the Christmas cake, and it will all be followed by a story told by Steve Tibbetts about one of his musical epiphanies around Christmas time. So write your short short stories to my email address, I think you have some time left to think it over.
Of course, there will be a bit more from the guitar maestro from Minneapolis, f.e. his take on the fabulous, well, amazing, AMAZING GRACE documentary on Aretha Franklin, made by Joe Boyd. Out now on DVD and BLURAY. We all know, consciously or not, some of Joe Boyd's musical productions, and some have been reading his wonderful memoir "White Bicycles". Deadline: November 15.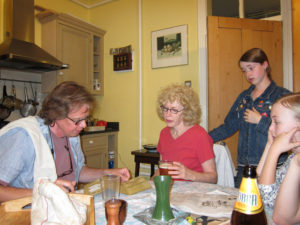 At Joe Boyd's flat in London, the Tibbetts family perusing a menu for Indian take-out with Mr. Boyd
"With its wistful tone, subtle, folky score and confidence in letting dialogue and sentiments breathe, The Detectorists is a show that does not feel the need to shout about its strengths. In fact, the series is not even really about metal-detecting. The hobby could be replaced by trainspotting, bird-watching or just spending too much time in the shed. It's what these characters are running from, as much as what they are looking for, that lies at its heart."

(David Renshaw, The Guardian).

Frinton, with its wide sandy beach, has gone out of its way to remain as uncommercialised as possible and maintain its reputation as a quiet resort. Somewhat in contrast to neighbouring Clacton or Walton it has an air of reserved gentility and has been rewarded for its outstanding experimental music scene with a Blue Flag award. Karl Hyde, Rustin Man, and John Surman know this area quite well. And, it's just one hour away from Brian Eno's hometown in Suffolk. The area where W. G. Sebald had been walking around for weeks and weeks, in search of inspiration for  his wonderful book "The Rings of Saturn".
The gently shelving beach is divided up by a series of timber groynes. Frinton's sand is of the type that is perfect for making sandcastles – nice and firm. This means it is also ideal for running around and beach games, further asserting its credentials as being a natural playground for young and old. To the rear of the beach is an extensive promenade, much of which is lined with colourful, old-fashioned beach huts. There is also an extensive grassy area, the Greensward, which is an ideal spot for a picnic. So, beach time will soon be starting – see ya again, in thunder, lightnin', or in rain. And, by the way, one of the best British comedy TV series ever, three seasons long and utterly brilliant, was made nearby, "The Detectorists".
Ich habe noch mehr Titel für diesen Beitrag in petto. Er könnte auch lauten Aus dem Magischen Jahrzehnt des K.J. Ich verwende ihn nicht, denn die Rechte liegen bei M.E. und bei ihm habe ich nicht angefragt. Auch NDR Jazzworkshop No. 100 wäre ein passender Titel.
Die Rundfunkanstalten der ARD gestalten ein oder zwei Mal im Jahr ein Radiofestival. Es wird mit diesen (und noch mehr) Worten angepriesen:
Die Kulturradios der ARD sorgen auch in diesem Jahr wieder für glanzvolle Abende und Festival-Stimmung aus ganz Europa. Acht Wochen lang – vom 20. Juli bis 14. September – können die Hörerinnen und Hörer jeweils von 20 bis 24 Uhr wunderbare Sommerabende genießen. […] Das ARD Radiofestival macht jeden Abend Station bei einem bedeutenden europäischen Festival und sendet Konzert-Highlights von den Salzburger Festspielen, den Bregenzer Festspielen, vom Festival D'Aix-en-Provence, vom Granada Festival, dem Rheingau Musik Festival, der Proms in London, vom Kunstfest Weimar, dem Beethovenfest Bonn, den Schumann Festwochen Leipzig und vielen anderen.
Dabei darf der Jazz nicht fehlen. Die Jazzreihe überrascht montags bis freitags ab 23.30 Uhr mit einem facettenreichen Programm. Klingt gut! Aber Vorsicht! Man gönnt diesem bedeutenden Musikgenre nur kümmerliche 30 Minuten Sendezeit. Das ist lächerlich. Trotzdem war ich vorgestern dabei, um endlich in guter Klangqualität einen der fulminantesten Liveauftritte der Jazz History zu genießen. Naja, den kompletten Jazzworkshop No. 100 hat man nicht gesendet. Der dauert 96 Minuten.
Was ich gehört habe, hat mir Gänsehaut beschert. Wie geht es euch dabei?
Was ich gehört habe, kenne ich schon seit 1982, als der NDR am 23. Oktober Jarretts Solo Recital aus der Staatsoper Hamburg live sendete. Weil der Beginn des Konzerts sich bis Mitternacht verzögerte, gab es als Lückenfüller Ausschnitte aus eben dem 100. Jazzworkshop, wegen eines Geisterfahrers unterbrochen von einer Verkehrsdurchsage, und ergänzt durch einen Wortbeitrag Michael Nauras, aus dem ich hier vor Kurzem zitiert habe.
Heute (kalendarisch gestern) habe ich ein wenig in den Kalendern geblättert, die Olivier Bruchez auf seiner wunderbaren Webseite und Discogs zur Verfügung stellen. Es kam für mich durchaus Interessantes und Verblüffendes zum Vorschein. Nach der Quellenlage kam es am 18. April 1974 in Hannover zum ersten öffentlichen Auftritt von Jarretts European Quartet (mit Garbarek, Danielsson, Christensen). Da war das erste Album dieser Gruppe BELONGING noch gar nicht auf dem Masterband. ECM 1050 wurde erst am April 24 and 25, 1974 at Arne Bendiksen Studio, Oslo recorded.
Jarretts European Quartet lebte 5 Jahre. Das letzte Album NUDE ANTS dokumentiert den bzw. die Auftritte vom Mai 1979 im Village Vanguard, New York, NY, USA. Am Montag dieser Woche hörte ich im Radio eine unglaublich ekstatische Version von Spiral Dance und das lyrische Blossom. Eine Verkehrsdurchsage kam nicht zur Aufführung – aber der Moderator bequasselte den Übergang zwischen beiden Stücken.