Kategorie: Blog
Do you know there's no journey?
We're arriving and departing all the time
You were just mortal like me
God is only just a melody
Make the best of every moment
We are not evolving
Or going anywhere
And it's fine
How can the world lose his name?
Everyone is bawling again
Burn the cross or leave it
Look above, you'll see me
We miss you everywhere
Awaken all the ghosts in your mind
Speak of all the good that you find
Live and learn that life is not unkind
Understand the demons that you fight
I know it just seems cold to leave see
We all have to go
Believe me
But letting go
Is thanking you
Einst, in den frühen Neunzigern, im NDR, Rothenbaumchaussee, in Michael Nauras heiligen Hallen:
Naura: "Engelbrecht, was hast du dir denn da ausgedacht? Talk Talk?! Was ist das?"
Ich: "Einfach unglaublich gut. Und da schweben die Geister von Ligeti, Davis und Elvin Jones durch."
Naura: "Na gut. Der verrückte Titel klingt ja nach Hypnose: 50 Wege, das Zeitgefühl zu verlieren …"
Ich: "Mindestens fünfzig, Herr Naura!"
To be released on 9 November, to coincide with the hundredth anniversary of the end of the First World War, Thankful Villages Volume 3 is the final instalment of Darren Hayman's epic study of rural British life.
A 'Thankful Village' is one where every soldier returned alive from the Great War. Darren has visited all 54 of these villages and made a sound recording, painting and film in each one. Thankful Villages doesn't concern itself exclusively with the War, however. It is an exploration of rural communities, including collected stories, interviews, folk songs, soundscapes, field recordings and new original songs. The record takes the form of a fantastical radio show as Darren unearths lost human stories from hidden rural idylls.
The first volume of Thankful Villages revolved around a theme of churches, while the second volume focused on rivers. This third chapter concerns itself with the younger generation. In Hunstanworth, County Durham, Darren records a young girl called Ruby reading a poem written by her grandmother in 1974, on the day of that village's school closing. The school itself is still signposted by the Giant's Stride, a Victorian playground apparatus that towers above the village and features on the cover of Thankful Villages Volume 3.
In Wysall in Nottinghamshire, Darren finds lost cine film of the village shot by two sisters, locally known as 'the Miss Evans' and unseen for decades. Julia relates a poignant memory of the closing the village school she went to as a pupil, and how in winter the children warmed themselves around the single stove in the middle of the sole classroom.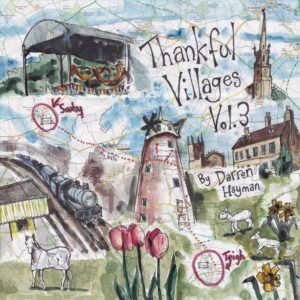 In the village of Teigh in the county of Rutland, we hear Sally Beers tell us about her grandfather, the Rev Henry Tibbs, who was arrested and jailed for being a Nazi sympathiser during the Second World war; we learn about mysterious lights in the church and swastikas painted on the door of the vicarage. The soundtrack to this story is in collaboration with the esteemed film composer Simon Fisher Turner.
Since the dissolution of his first band, Hefner, Darren Hayman's work has increasingly explored location and history. Thankful Villages Volume 3 is the beautiful and poignant culmination of this process; tiny, human vignettes plucked from Britain's blanket of green.
Es war ein warmer Sommertag, und da der grösste Buchladen Dortmunds in einer Passage lag, war es vormittags noch recht kühl. Ich wunderte mich, dass Gregor in der Thrillerecke ganz versunken auf einem Hocker sass, und zwischendurch laut lachte. Er hatte zwei Kapitel aus einem Krimi von Dick Francis gelesen: ein bekannter Jockey aus England hatte eine Detektei aufgemacht, und den Auftrag bekommen, in der Türkei einen Dopingskandal aufzudecken. In speziellen Glasröhrchen wurden über den Orientexpress von unauffälligen Geschäftsleuten beträchtliche Mengen dieses Mittels geschmuggelt, das beim Menschen koksähnliche Wirkungen hervorrufe. Jetzt fehlt nur noch, lachte er, ein sprechendes Pferd.
Tatsächlich gibt es diesen Roman nicht (ist ja auch kompletter Blödsinn), nur den Traumtext, den ich vor einem halben Jahr in meinem Traumtagebuch festhielt. Nun haben wir uns gestern telefonisch auf ein neues paralleles "reading adventure" geeinigt. Ich wählte dazu zwei Dick Francis-Romane aus (s. Abbildungen), von denen ich nach ein wenig Internet-Recherche hoffen konnte, dass sie zu seinen richtig guten zählen könnten. Ich musste zudem darauf achten, dass "mein Francis" nicht schon zu den ca. zwölf Romanen gehört, die ich von ihm gelesen habe.
Wer Dick Francis nicht kennt, zögert mit der ersten Lektüre, weil sie sich meistens im Pferderennsportmilieu bewegen. Wer dann damit anfängt, wird meist eine verdammt gute Zeit mit ihnen verbringen. Ich kenne den Briten ganz gut, schätze ihn (und seine im Hintergrund wohl diskret mitwirkende Frau), aber das ist alles lange her. Meinen letzten Francis las ich vor langer Zeit. Nun lesen wir in Kürze parallel, Gregor "Reflex" und ich "Verrechnet". Dann beantwortet jeder von uns zehn identisch lautende Fragen zu den beiden Kriminalromanen. Wer noch mitmachen möchte, muss sich einen Dick Francis eigener Wahl (als Diogenes Taschenbuch) besorgen, und wird dann den gleichen Anschlussfragen begegnen. Aber Eile ist geboten. Die Lektüre beginnt Ende nächster Woche. Und in den ersten fünfzehn Oktobertagen wird "The Dick Francis Experience" zur hoffentlich allgemeinen Freude zu begutachten sein.
Hi Michael,

Here are the lyrics. I'm very interested in lucid dreaming, although sleep is so precious to me at the moment (I rarely get more than 6 hours sleep per night coz I've got too much to do – 2 kids, 2 jobs, 5+ bands, 2 elderly parents etc) I'd be a little worried about upsetting the limited sleep I do manage to engage in… Maybe it'd be a good book to take on tour, and read when I'm away from all the juggling – yes please, I'd be very interested in investing in the lucid dreaming book you recommend.

That's a relief to hear you like my project, I'm really pleased! I know I can't hope to please all the people all the time, but it would feel a little uncomfortable to have such indepth conversations between us if my own musical output and decisions felt inaccessible or unpleasant to you!

I think Robert Wyatt is absolutely brilliant (Bill Well's influenced this) but I don't think I know Rock Bottom (although I'm just listening to it now on spotify), and I wasn't aware of a direct influence – how curious – is there a specific track that could be accused of plageurism?!? eek.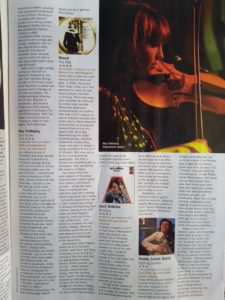 Two records that I never stop listening to, records that get played on a daily or weekly basis. This is stuff that never loses any of its fascination. David Sylvian's Gone to Earth and Prefab Sprout's Jordan: The Comeback. It would be fair to say that both of these works explore the theme of death. What is death, to the dead? Fuck knows. And I'll be too dead to care when I myself am over the waterfall. It's one of life's imponderable questions.
Anyway, both records go into this broad theme in different ways. Gone to Earth brilliantly contrasts songs with instrumental compositions, moving from the groundedness of language into something beyond it, over into a world of mysteries and doubts unlimited by the need to check for fact or do reason. Jordan: The Comeback is all songs, no instrumentals, and it hints at a beyond, stopping at the shore and looking over. That's how I read it, anyway. The writer Philip Pullman has this to say about stories:
As a passionate believer in the democracy of reading, I don't think it's the task of the author of a book to tell the reader what it means.

The meaning of a story emerges in the meeting between the words on the page and the thoughts in the reader's mind. So when people ask me what I meant by this story, or what was the message I was trying to convey in that one, I have to explain that I'm not going to explain.
And so here's how I read Jordan: the Comeback. The word Jordan relates to Elvis (whose backing singers were of course The Jordanaires). It also relates to the River Jordan, a place of miracles. The song's fictional, once-mighty singing star says (note: says, not sings) in the title track he is "biding his time" waiting to make a comeback. He just needs the right song for this to happen. But you just know the character is on his deathbed, and that the comeback won't be a Vegas thing but a trip past the pearly gates. The song closes with this:
End of the road I'm travellin'
I will see Jordan beckonin'
Jordan, sweet Jordan
Hand me any cup you find that's lying spare
I've longtime been a-thirstin' for a share
At which point Jordan (the river) becomes the place where crippled horses heal, and where autumn is reversed, as well as Jordan (the character) being the one who can dispense some of the river's miracleness. The second last track, Scarlet Nights, hints that, yes, it's the end. But it's also a beginning:
This is where your sleepless eyes will close
This is where the weary find repose
This is where a kind of bugle blows
This is where you'll wake to find the River Jordan flows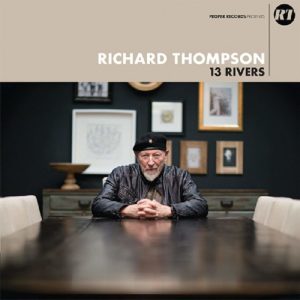 "Few things are certain in life. Birth, death, your favourite football team will let you down at some point, etc, etc.  Oh, and the fact that when Mr Reliable releases an album, you're guaranteed a piece of class." In regards to 13 Rivers at least, I think, the writer is right. Of course, Richard Thompson is a living legend, remember his days with the folk-rock pioneers of Fairport Convention, his duo albums with former partner of ancient times, Linda, and, well, his compassion for music, documented on many, many solo albums.
But somehow I lost track of him. Even the classic Liege a Leaf that had blown me as a teenager with its raw and romantic landscapes (the long far away and gone) later sounded strangely dated, like a spell losing its magic. I had my hours with the likes of Fairport Convention, Pentangle, and even the more trad-oriented Steeleye Span. But, then, the times are gonna, yes, you know. So, this is no statement of a merciless critic, just an observation of changing listening habits.
Then again, I was kind of surprised when his new work, 13 Rivers caught me on the right ear (if this phrase makes any sense), and I liked the songs of a power trio (el-g, b, dr) plus second electric guitar. From start to end. Rather dark stuff, self-produced in ten days. The songs, haha, even surprised the man himself. Didn't know, btw, he's a muslim, till I recently read an interview. Interesting.
So, I even didn't care much when his voice on the first track sounded very much like Nick Cave. Old man going wild, with some surprising nods to his Fairport days. Reason enough to travel back soon to my first record collection (all in the basement, the back of my mind) where Liege a Leaf found itself in good neighorhood, with Aftermath, Atom Heart Mother, The Beatles – and the first Caravan album.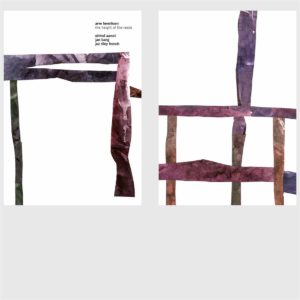 Arve Henriksen's new release, The Height of the Reeds is a soundtrack for the mind and heart, cinematic in scope and like much of his work, evocative of dramatic natural landscapes, although the mental images of frozen tundras spreading out to the horizon, or endless dunes fading away into infinity, seem to originate in another dimension.
I took the journey while exploring the new Jenner Headlands on the Sonoma Coast coast. Jenner, a small, charming village with a population of 135, sits right on the mouth of the Russian River, and is one of the most beautiful spots on the California Coast. Stopping off for a coffee at the local Cafe Aquatica, I sat and watched for seals while I fueled up on the poor man's Prozac, then made my way north to the just opened 6300 acre preserve. Slipping on my trusty Audeze isine 20s and chewing on a microdose of a gummy infused with THC, (oh the joys of legalized cannabis,) I went up the Sea to Sky trail, which soars high above the coast.  With its dramatic rocks and ocean views, it turned out to be the perfect place to experience this music. 
The Heights of the Reeds is a work of great mystery. Conceived around the idea of combining the recordings of found sounds on a bridge with improvisation and composed orchestral passages, the project is open and evocative, which ultimately transcends a specific locale and time.  At times, its brooding aural edifices bring to mind the score for a yet to made sci fi film. With Henriksen's plangent trumpet, Eivind Aarset's atmospheric guitar, Jan Bang's deep sound design and Jez Riley French's eerie field recordings (which have been known to include the crackling recorded sounds of  electronic devices,) the listener is immersed in a sonic landscape that is at times ecstatic, transcendent even – at other times so inhuman and otherworldly as to feel bleak, dangerous and yes, vaguely threatening – programmatic music from an alien world. 
As on other recordings, most notably A Place of Worship,  live symphonic orchestra is integrated into the music to create expansive, neoclassical textures. Still at other times there are simple bass clarinet-like drones or French horn sections mixed with foreboding rumbling that made me look around for a hidden nemesis. Then suddenly, out of the dark, malignant mist emerges a triumphant choir of angels – perhaps all will be well after all – perhaps better than well – we are once again swept up in the quiet ecstasy of Communion with the Holy (Or was that the cannabis kicking in?) Then out of a fog of angels, that signature fragile solo Henriksen choirboy voice enters, now with the full orchestra accenting the spaces between phrases. But what are those guttural, gurgling, earthy sounds creeping into my consciousness? Perhaps even the ecstatic can be a dangerous place. Unexpectedly, it morphs into exquisitely ambient music for Debussy lovers, a boys choir rocking back and forth over a pedal point. But it only lasts for a moment, and once again, we're back in the land of abstract guitars, ambiguous harmonies and always, space and silence. 
I have been exploring Henriksen's work for some time now, and this new album looks to become one my very favorites. He keeps on expanding his musical palette, refining and growing. On this album it all comes together in a coherent whole. The Height of the Reeds is a mature work in a logical artistic progression of one of the finest artists in a genre which is hard to define. Is it ambient, ambient jazz, electronica, neoclassical? It is all of the above and none of them. Henriksen incorporates elements of all of these to build gossamer castles of ice, sand and clouds that slowly appear and then melt away before your ears.