Author Archive: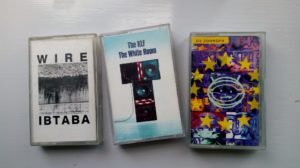 On a rainy Thursday afternoon two days ago I purchased these three cassette tapes from the miraculous VoxBox Music shop. 50p each. Listening to them involved hunting down my Sony CFD-S22L "CD-RADIO-CASSETTE-CORDER" [sic] – which had been in its analogue vortex since the 1900s.
IBTABA – I have Michael Engelbrecht to thank for my new-found love of Wire. He sent me copies of 154 and Chairs Missing a while back. My response was probably a bit rude, along the lines of "yes, these LPs are OK". But genius plastic is never a first impressions type deal. I went back to these records again and again. IBTABA is from decade after these, a decade that is now three decades ago. On cassette! Zeitreise stylee.
The White Room – not listened to this one yet.
ZOOROPA – magnetic tape didn't suit IBTABA. It sounded squashed, wowed and fluttered. Oddly trebly. The quality of the music and the humour won out though. ZOOROPA was different magnetic deal. It sounded fantastic. It sounded – on tape – like a spin painting, throwing colours of realisation over everything. Which, I guess, just goes to show that music isn't about one format fits all.
"All stories are love stories"

Robert McLiam Wilson (from the novel Eureka Street)

"All Stories Are True"

John Edgar Wideman (From the story collection All stories are true)
The cover art for Wandermüde shows the gloves from a space suit placed on a mantelpiece, each palm facing decorative wallpaper. If there is a story here, it's one that your mind instantly tells you, when your eyes see the juxtaposition and try to make sense of it. Or maybe you just get questions, like "are these gloves antiques placed there for fun in a bohemian living room from the past/future?", or "are these gloves the gloves of someone who returned from space?" or "are these gloves the gloves of someone about to go to space tomorrow". Space. You're already in space. Space is within you and without you. The gloves and the mantelpiece will soon be dust.
The first and most important thing to say about Wandermüde is that it is a work of great beauty. It may not be the most accessible of records – there are sustained notes, Ligeti-stylee ghostisms, corridor vibes, and in places a sense of epiphany and strangeness not seen outside of the closing scenes of Tarkovsky's film Stalker or Russell Hoban's novel Fremder. (I sent my copy of Fremder to Hoban's publisher with a request for him to sign it. They said "sure". Nothing came back. I emailed to ask what had happened. They replied that my hero was unwell. Nothing came back. My copy of Fremder is lost in space. My hero lives on.)
No point getting into the musicology of Wandermüde. Have a read at this Guardian article on accelerationism, (it's a read alright!), take a breath, then listen to Deceleration. Or think of Florian Fricke and Popol Vuh and then check out Dark Pastoral. Wandermüde, like Fricke's work, isn't confined to some genre idea of prog or rock or drone/ambient. It moves in all directions.
I've followed Anders Parker's career since The Sunday Times reviewed Varnaline's Man of Sin a long time ago. It was the cover art that drew me in, as much as the review. 17 or so albums later and Anders Parker's music continues to develop, unfold and inspire. The Man Who Fell From Earth is (if you ask me, which of course, you don't) the artist's best work since 2009's epic Skyscraper/Crow double CD set.
Parker wrote the songs that comprise The Man Who Fell From Earth during the winter of 2016 in the mountains of Upstate New York, then recorded the songs in those same mountains. The album is Parker singing and playing acoustic guitar accompanied by a string trio and a pedal steel. One of the record's themes is interstellar transmutation. You can sense an element of elevation here. It's folk music, Jim, but not as we know it. And it may be my album of 2017. And if it isn't, it'll still be in the top 3 of the year's releases for me.


"Yeah, I went to where you were
Gravity it held on tight
Standing up against the stairs
All of you looked so right
All of you looked so right
No regrets, no turning round, no looking back
It's who you are, it's who I am, it's who we were, it's who we are"
"Found you on the sand dunes, found you in the streets"


The record's title is an obvious nod to Nicolas Roeg, but for me the Earth/space interplay here is more reminiscent of the opening sequences of Tarkovski's "Solyaris". Tarkovski really lays the visual language on thick, in a good way: the wooden cabin whose window looks out upon towering forests and the nowhere, endless blue above, the caged bird, the grounded spaceman, all that jazz.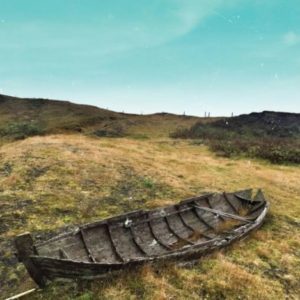 "When you walk through an urban environment, you take the strangeness of the architecture for granted."
"Ecrivez vite sans sujet préconçu, assez vite pour ne pas retenir et ne pas être tenté de vous relire."
"New York was built at about the same time as Manchester and Liverpool, and they all share the same materials and evolution of architectural style, as if they are all a single city. I feel as though I spend my life walking between them, and at points they all dissolve into each other. Add Paris, Berlin and London as suburbs of that city, as well."
"But gradually our address was completed, it came, with allotted voices: 'West,' 'Didsbury,' 'Manchester' 'England.' The last word was mine, I wouldn't give it up, I added 'Europe.'"
"The lights are coming on in Summer Hill, the railway yard, the flour mills / Walk along familiar streets to put you back together piece by piece"
"Suddenly he couldn't think what time of year it was. What's the difference, said the traffic sounds, the sky, the footsteps on the pavement. Winter is always either just ahead or just behind."
"I was twenty-two, just made Second Navigator. She was twenty-eight, a stage designer. On my next downtime in London we hoppered up to Dundee, got a surface hirecar permit, and drove up through Recreation Reserve 7 to the Moray Firth."
"I felt feeling a half Scotch and pottage like roung my middle ageing like Bewley in the baste so that I indicate out to myself and I swear my gots how that I'm not meself at all, no jolly fear, when I realise bimiselves how becomingly I to be going to become."
"Ikkyu held up the pieces of the broken cup, and said: "It was time for your cup to die.""
"What is this. This is what what is."
"Everything is repairable. Everything is broken."
Silk Flowers first appeared on my pop radar with a couple of 45s and EPs around 2008-9. Intrigued, I decided to try and guess their geographical origin by listening for inflections in the music that might provide some clues. North of England, definitely. Not Manchester (the city), or Merseyside or Yorkshire though. Somewhere in Greater Manchester. Maybe Bolton. Maybe Chorley. Possibly Wigan. Yeah, definitely Wigan. Later, I found out they were actually from Manhattan or Brooklyn, or both. So much for inflections.
The music on Silk Flowers is a strange and often unsettling mix. You get a vibe of closed-off gloom from it. As if its authors were consumptive Victorians in a locked ward in a sanitorium, who had nothing to do, then a time-traveller appeared from nowhere and gave them some synths, a drum machine and a microphone. To say that Silk Flowers owe Ian Curtis a debt is to misunderstand what's going on here. This isn't a band that are trying to emulate Ian Curtis. They're taking an element of the Curtis thing, isolating it, and doing scientific experiments with it. Pitchfork (I just looked up a review) said the following in their review of the record:

Despite a list of influences eclectic and goth-y, and despite a singer doomed to Ian Curtis and/or Cookie Monster comparisons, Silk Flowers' pop instincts are surprisingly strong.

I like the Cookie Monster reference, because there is humour here, within these heavy, dank, bible-black atmospheres. The backing music is often sprightly despite itself. What was it Samuel Beckett said, again? Oh yeah – "Nothing is funnier than unhappiness". I've never taken this to mean Schadenfreude though – because it's fairly obvious that Beckett was dealing in universals. And if life is a one-way street to death, well, what can you do but laugh?
Rather then break this release down track-by-track, it's probably better to dispense with the idea of constituent parts and see it as if each track is the same track, time overlapping, a musical Tralfamadore. It's also good to dispense with the idea that you're, like, listening to a record. Think of it as art and imagine you are walking through a gallery and this is the art that's on the walls. This record is a triumph. A winner. And no mistake.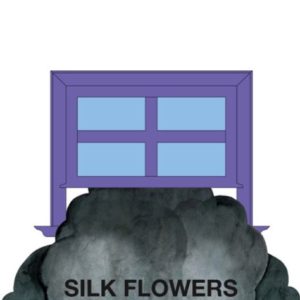 Notes: this post is #39 from our Lost Classics series. I think the band Silk Flowers is now no more. Short interview from ages ago here.
Music, maybe it sometimes needs context like blood needs oxygen. I remember getting the train from Warsaw to Łódź last year and (as luck would have it) I'd just downloaded a cracking Jesu album onto my Moto G4 (or was it Moto G3) and as the unfamiliar landscape fed my eyes, unfamiliar music bathed my brain. It was a perfect winter afternoon. And Łódź was definitely my kind of town, and the music was the right accidental choice. Łódź, a perfect city.
Hearing "Yonder" by Sophie Hutchings for the first time today, my only disappointment was that the moment wasn't in an out of everyday life context. But that lack of context was a context in itself. When music hits you it kind of doesn't matter whether you're on a night train across Russia, a plane over London, or in your kitchen.
If you like, say, Playing the Piano by Ryuichi Sakamoto, Perhaps by Harold Budd, or In a Landscape by John Cage, or whatever, then I'd say Yonder is worth checking out. The compositions on the record are astoundingly good – and what makes this even better is that its originality is half-hidden. Structurally intricate but never for the sake of it. Only on a second listen does this record's genius start to fully emerge. Then today became tomorrow, six or seven more listens. Yes, this is a sound discovery.








Record: Yonder
Artist: Sophie Hutchings
Label: 1631 Recordings

Oh yeah.