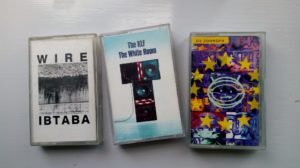 On a rainy Thursday afternoon two days ago I purchased these three cassette tapes from the miraculous VoxBox Music shop. 50p each. Listening to them involved hunting down my Sony CFD-S22L "CD-RADIO-CASSETTE-CORDER" [sic] – which had been in its analogue vortex since the 1900s.
IBTABA – I have Michael Engelbrecht to thank for my new-found love of Wire. He sent me copies of 154 and Chairs Missing a while back. My response was probably a bit rude, along the lines of "yes, these LPs are OK". But genius plastic is never a first impressions type deal. I went back to these records again and again. IBTABA is from decade after these, a decade that is now three decades ago. On cassette! Zeitreise stylee.
The White Room – not listened to this one yet.
ZOOROPA – magnetic tape didn't suit IBTABA. It sounded squashed, wowed and fluttered. Oddly trebly. The quality of the music and the humour won out though. ZOOROPA was different magnetic deal. It sounded fantastic. It sounded – on tape – like a spin painting, throwing colours of realisation over everything. Which, I guess, just goes to show that music isn't about one format fits all.