zum Gelde, ach ja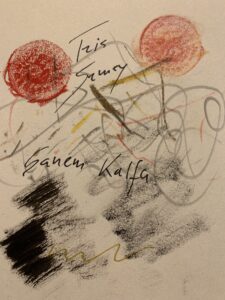 A  U  D  I  O   Money Money 
Jede(r) dürfte die Originalfassung – bewusst oder unbewusst – kennen!
This entry was posted on Samstag, 17. Juni 2023 and is filed under "Blog". You can follow any responses to this entry with RSS 2.0. You can leave a response here. Pinging is currently not allowed.
7 Comments
Henning Bolte:

Boomplay is the easiest access to the song. You don't have to sign up if you only listen to this song!

Jochen:

great performance, voice & guitar – da kommt richtig was rüber.

gefällt mir besser als das original ;)

Henning Bolte:

Das ist ein Wort, Jochen! Bei dieser Fassung kommen die Lyrics schön zum Tragen. Die Orignalfassung ist schwer aufgedisco-ed. Trotzdem blieben viele Abba Songs im Ohr hängen, losgelöst vom Discoflitter. Wohl weil es gute Songs sind – mit denen man schöne Sachen machen kann. Dies ist ein Beispiel.

Alexander Fritz:

Seid Ihr mit der Musik von Abba aufgewachsen? Ich bin es und muss sagen, dass ich schon seit langer Zeit mein Lebenshörkontingent an Abba-Songs aufgebraucht habe. Egal ob im Original oder gecovert. ;-)

Jochen:

Abba liess mich kalt. Ganz anders die Les Humphries Singers, zu Bravo-Teenie-Zeiten.

A qu a a a rius …

Alexander Fritz:

Oh ja, ich erinnere mich an den größten Hit, "Mama Loo" von 1973. Da war ich 10, das hat mich damals ziemlich geflasht, dieser für eine Pop-Band riesige Chor. Eines der ersten mehrstimmigen Lieder, die ich gehört habe.

Michael Engelbrecht:

Abba war schon damals Klasse, halt nie Teil der counter culture. Insofern durfte man sie nicht so ernst nehmen :) So viele grosse Songs.
Leave a comment