For the first time of my life, I listen to the first Doors album. Of course  I did often hear the hits, but never let that 1967 record happen to me from the first roar to the final note, and certainly not on "true mono". But now it happens, one week long. I do have it here, for seven days, the edition of the Electric Record Co. The experience is intense, and in the end there will be a story. Fear of music?  The music is not a relict, it's still raw, on the border.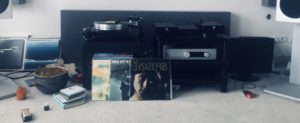 But The Doors made Willie's "Back Door Man" their own. Like the Stones did it with old blues at their very beginning. Side Two bursts wide open with one of Jim's best feral screams. Morrison sounds dangerous and unpredictable, like a wild animal suddenly freed from its cage, while Robby Krieger's fuzz-tone guitar soars and swoops around Jim's every word like a maniacal bumblebee.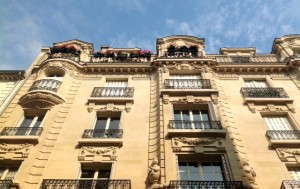 Im dritten Stock, ganz oben, hinter der schmiedeeisernen Ballustrade, starb im Juli 1971, elend, Jim Morrison. Rue Beautreillis Nr. 17. Er hatte seinen Tod vorhergesehen, war sich sicher, Janis Joplin bald zu folgen. Er konnte die Abwärtsspirale nicht stoppen. Es war nur traurig, und Nostalgie der völlig falsche Reflex, die Nähe zum Himmel eine Fata Morgana.
Wenn du aufs Bild klickst, siehst du die Balkonbepflanzung im obersten Stock ganz deutlich, wie ein ohne Unterlass mit frischen Blumen gepflegtes Himmelsgrab. Damals, bei ersten Parisreisen, suchten wir auf dem Pere Lachaise lange nach dem Grab des Sängers und Poeten, der in seiner letzten Phase, als er sich schon immer mehr in einen Geist verwandelte und für die Doors kaum noch erträglich Bühnenauftritte wie volltrunkene Exzesse absolvierte, Rimbaudgedichte und ein Notizbuch mit eigenen Gedichtfragmenten sich führte, das noch den Stoff für manch grossen Song hätte liefern können. The End…
Das war ein Ritual, eine Nostalgie, eine Herzensangelegenheit, was immer, auf den berühmten Friedhöfen, sich zu sammeln und erinnern: so wusste ich lange nicht, wie nah Heine und Truffaut beieinander liegen, in Paris, an einer anderen Ruhestätte. Kerzen, Blumen, kleine Briefe, über Jahrzehnte hinweg, wie bei Morrison.
Dabei begegnen wir und doch vor allem uns selbst.