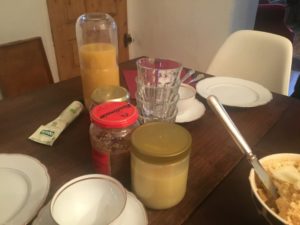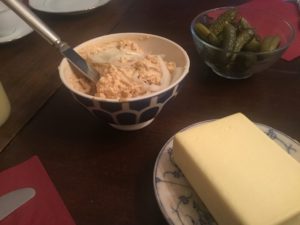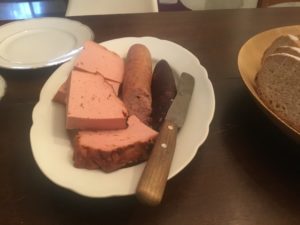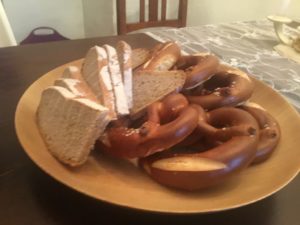 This entry was posted on Sonntag, 1. Januar 2023 and is filed under "Blog". You can follow any responses to this entry with RSS 2.0. You can leave a response here. Pinging is currently not allowed.
6 Comments
Michael Engelbrecht:

Diese Bilder erheben keinen Anspruch auf künstlerische Wertigkeit, und haben nur dokumentarischen Charakter. Es ist lausig kalt draussen.

Ursula Mayr:

Gibts in der Eifel Leberkäs und Obaztn?

Michael Engelbrecht:

Ja, wenn Eifeler, die aus Baden kommen, einer Zeitlang in Bayern (Furth i. W.) gewohnt haben, dann gibts natürlich Leberkäs und Oabatzer 😉

Ursula Mayr:

Obazten!! Akkusativ!!

Michael Engelbrecht:

Jo, bin i hia in da schul?

Auf jeden Fall hat es sich hier bei Gudrun und Hansjörg so eingeregnet, dass die Mödels zwar auf einen kleinen Walk sind, die Jungs aber lieber im Haus rumlümmeln. An der Nordsee nannten wir das früher Halma-Tage.

Ursula Mayr:

Do bist in da Schui, ja!

Das Bayrische ist ein erhaltenswertrs Kulturgut, da pfriemelt mir kein Westfale dazwischen, da stehe ich Gewehr bei Fuss wie der Schmied von Kochel in der Sendlinger Mordweihnacht oder die Na'vi vor der Pandorabüchse und kämpfe bis ich nicht mehr weiss wofür … aber das weiss ich jetzt auch schon manchmal nicht.
Leave a comment