Eine ganze CD unbegleiteten Bass-Soli zu widmen, scheint ein großes Wagnis zu sein, aber einigen wenigen Virtuosen mit Vorstellungskraft und immensem Können ist dies gelungen. Ich nehme an, fast alle Leser*innen&außen finden wenigstens ein Piano Solo Album in ihrer Audiothek. Aber wer kann ein Double Bass Solo Album aus dem Plattenschrank ziehen? Gregor schaut hier nicht mehr vorbei, ihm würde ich das zutrauen. Die Tür zu den comments ist offen. Dort kann man Geständnisse – oder Bekenntnisse, wenn einem das lieber ist – ablegen.
Ich fange gleich mal selbst an: ich besitze ein Double Bass Solo Album – ein einziges. Nicht weil ich Kontrabass spiele ist es in meiner Sammlung, sondern weil mir der Bass Player dieser CD ans Herz gewachsen ist. Er hat für mich – und das ist objektiv nicht maßgeblich – den wunderschönsten Ton aller Jazzbassisten. Schließlich spielt er auf einem edlen Instrument, das um 1715 gefertigt wurde. Außerdem hat er ein Stück komponiert, das den Titel Kronach Waltz trägt. Dragonetti's Dream heißt das Album. Das einzige nicht von ihm erfundene Stück ist die eindringliche Interpretation von Jade Visions, einem herrlichen Stück des tragisch früh verstorbenen Bassisten Scott LaFaro.
Nunmehr sind drei Bassisten eingeführt, darunter Scott LaFaro, der nie ein Double Bass Solo Album eingespielt hat, dessen überragende Bedeutung im Jazz zu würdigen ich lieber Dave Holland überlasse.
The bass has become something like the fourth melody voice in the quartet. Wasn't Scott LaFaro the major reason for that?
Wer war es nun, der die ersten Kompositionen für Basso Solo geschrieben hat und als Solist mit seinem Instrument für Furore sorgte?
Es war Domenico Carlo Maria Dragonetti (1763 – 1846), genannt 'Il Drago'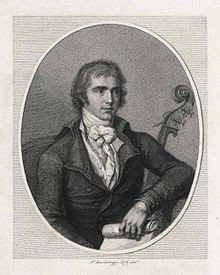 Domenico Dragonetti war der Scott LaFaro des 18. und 19. Jahrhunderts, gut Freund mit großen Zeitgenossen, darunter Ludwig van Beethoven, den er persönlich getroffen hat. Ich nehme an, dass ohne Dragonettis Besessenheit die wilde Kontrabass-Partie im Trio des Scherzos von Beethovens Fünfter Sinfonie nicht in die Welt gekommen wäre.

Irgendwann muss jemand das erste Kontrabass Solo Album des Jazz gewagt haben. Ich weiß es leider nicht genau, lege mich aber fest auf Dave Hollands Emerald Tears. Sechs Jahre vorher hat er zusammen mit Barre Phillips diese eigenartigen tiefgründigen Klanglandschaften erkundet mit Music from Two Basses.
Nun ist mit Marc Johnson der Fünfte in den Kreis der Bass Soloists of September eingetreten. Und er bekennt, dass Dave Hollands legendäres Album nicht ganz schuldlos ist. Ich kenne seine Kunst vor allem von den beiden Bass Desires Alben und den späten Auftritten des Bill Evans Trios. Mit Overpass – The Album of September – ist Marc Johnson am Ziel seiner Sehnsüchte angekommen. Meine Favoriten des Albums findet man in den Klanghorizonten des August 2021.
Wer den Click raus hat, findet in diesem Beitrag zwei hochinteressante Hörbeipiele.