"There's a dark side to each and every human soul. We wish we were Obi-Wan Kenobi, and for the most part we are, but there's a little Darth Vader in all of us. Thing is, this ain't no either or proposition. We're talking about dialectics, the good and the bad merging into us. You can run but you can't hide. My experience? Face the darkness, stare it down. Own it. As brother Nietzsche said, being human is a complicated gig. Give that old dark night of the soul a hug! Howl the eternal yes!"

(Chris in the morning, Northern Exposure)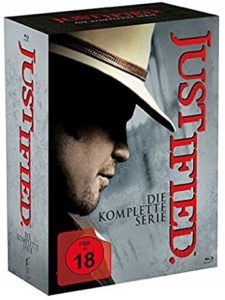 Es ist eine erhebende Erfahrung, in begeisternden TV-Serien zu versinken, wie früher in immensen, am besten nie zu Ende gehenden Romanen, die manche von uns eben nicht als "alte Schinken" oder "dicke Wälzer" erlebten, sondern als rauschhafte Ware. Ich kenne drei Menschen, die haben sich in Marcel Prousts opulentes Lebenswerk hinein begeben, über Monate hinweg, Thomas Köner, Annette von Aretin, der Dritte hat nach Tausenden von Seiten einen Suizidversuch begangen. Wir sprechen hier sowieso nicht von simpler Unterhaltung.
Die Option besteht noch immer, aber nicht alle Tage finde ich einen dieser schweren Schmöker, die sich der 1000-Seiten-Grenze nähern oder sie gar überschreiten, und zugleich den geschätzten Sog erzeugen. Da bin ich glücklich, in grandiose Erzählwelten solch überragender, abgründiger, tiefsinniger und tief sinnlicher Serien einzutauchen wie Banshee, The Leftovers, Justified, Fargo oder Sons of Anarchy, und danach wie verwandelt aus dem Fluss der Bilder und Stories zu steigen. All die genannten Serien haben auf ureigene Weise Standards gesetzt. Seelennahrung sind sie mir obendrein.
Und dann ist es wieder mal was ganz Besonderes, einen dieser prächtigen, schier "unendlichen" Romane für sich zu entdecken, der einen flugs in all seine erfundenen Wahrheiten lockt, seine Rätsel und Mysterien. Seltsamerweise ist mir das in den letzten ein, zwei Jahren, neben der "Gitarrenstunde" von Clemens J. Setz, mit zwei japanischen Romanen so gegangen, die, wie alle sehr guten Kriminalromane, weitaus mehr sind als "nur" sehr gute Kriminalromane.
Das eine Buch stellte ich in meiner Japan-Stunde der letzten Klanghorizontevor, Unter der Mitternachtssonne. Das andere heisst, viel schlichter, "64", nicht minder mitreissend dargeboten in einem so betörend auf adagio gestimmten Erzählfluss, dass mir die Welt ringsherum, permanent aufs Neue, abhanden kam. Zehn Jahre hat Hideo Yokoyama daran gearbeitet. Jetzt ist 64 als Taschenbuch erschienen – man kann es nicht mehr so gut, nebenher, als Fitnessgerät benutzen wie die Hardcover-Ausgabe des Atrium-Verlages:
"Hideo Yokoyama's Six Four is the size of a small brick. But as this new elephantiasis in the size of crime fiction novels seems to be the new norm, we have at least some consolation with this book: those who stick with the complexities of Six Four beyond its first hundred or so pages will find themselves gripped, and complaints about its considerable extent will melt away."

(The Independant)