Musik Produktion Schwarzwald (Teil 2)
Im letzten Jahr feierte man in Villingen das 50jährige Bestehen des legendären MPS-Studios. 1968 hatte Hans Georg Müller-Schwer seine Geschäftsführertätigkeit bei SABA beendet und konzentrierte sich nun ganz auf die Musikproduktion. Allerdings hatte er schon 1960 in seiner Villa (siehe Foto) ein Aufnahmestudio eingerichtet, in dem er im privaten Rahmen Musik aufnahm, sie wurde unter dem Namen SABA veröffentlicht. Bis zum Verkauf des Labels MPS im Jahre 1982 wurden hier über 600 Schallplatten aufgenommen. Der MPS-Katalog ging zunächst an Philips, dann an Universal Music, heute kümmert sich die Hamburger Edel AG um den MPS-Platten-Schatz.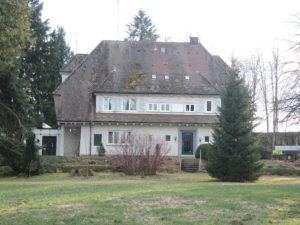 Kleine Hausaufgabe, man schaue einmal seine persönliche Plattensammlung auf MPS-Produktionen durch, ich zumindest war erstaunt, wie viele Schallplatten aus der Brunner-Schwer-Produktion ich besitze, fünf Highlights (eine kleine MPS-Hitparade) seien genannt:
5. Red Garland: Auf Wiedersehen (mit Sam Jones und Roy Brooks. Im Mai 1971 ist Red Garland in den Schwarzwald gereist, um diese herrlichen Aufnahmen zu machen, eine typische Red-Garland-Platte, wunderbar!)
4. Oscar Peterson: Great Connection (mit Niels Henning Orsted-Pedersen und Louis Hayes, aufgenommen im MPS-Studio in Villingen im Oktober 1971)
3. Bill Evans: Some Other Time – The Lost Session From The Black Forest (mit Eddie Gomez und Jack DeJohnette – siehe Plattenschrank 184, Musik Produktion Schwarzwald Teil 1)
2. Volker Kriegel: Missing Link (für mich die beste Kriegel-Platte, ein Meisterwerk, mit Volker Kriegel, John Taylor, Cees See, Alan Skidmore, Heinz Sauer, Albert Mangelsdorff, Eberhard Weber, John Marshall und Peter Baumeister, aufgenommen im März 1972)
1. Don Sugar Cane Harris: Sugar Cane's Got the Blues (eine Live-Aufnahme eines Konzerts von den Berliner-Jazztagen im November 1971, neben dem Meister an der Violine: Volker Kriegel, Wolfgang Dauner, Nevil Whitehead und Robert Wyatt)
Neben Jazzplatten nahm Brunner-Schwer auch klassische Musik auf, von Friedrich Gulda war hier schon die Rede, im Klassikkatalog von MPS konnte ich aber sogar eine LP mit Orgelmusik von Olivier Messiaen finden.
Und da MPS auch Geld verdienen musste, nahm man auch Tanz- und Unterhaltungsmusik auf.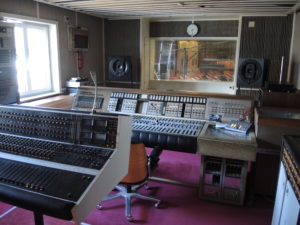 Wie ich es im ersten Teil der MPS-Story schon erwähnte, hatte ich kürzlich die Gelegenheit das MPS-Studio zu besuchen. Das Studio sollte man auf dem ehemaligen SABA-Gelände an der Richthofenstraße finden. Zweimal umrundete ich das SABA-Grundstück, auf dem man sich streckenweise vorkommt, als wäre man auf dem alten CONTI-Fabrik-Gelände in Hannover: wunderschöne Ruinen, Zeugen einer besseren Zeit. Ich brachte mein Fotoapparat zum Glühen, bis mich jemand von einem Wachdienst fragte, was ich hier zu suchen hätte, klare Antwort: "Das MPS-Studio!" Der Wachmann: "Wie jetzt MPS-Studio, nie gehört!" In der Richthofenstraße 1/1, im Hinterhof einer Autolackiererei wurde ich fündig, ganz unspektakulär steht es da, das alte Haus, das derzeit renoviert wird, in dessen ersten Stockwerk das Studio untergebracht ist. Hier allerdings kommt man aus dem Staunen nicht mehr heraus.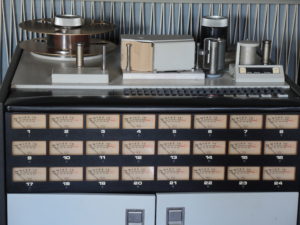 Übrigens, Hans Georg Müller-Schwer starb 77-jährig nach einem Verkehrsunfall auf einem Zebrastreifen, keine 200m von seinem Haus entfernt, sein Mitstreiter und Weggefährte, Joachim Ernst Berendt, wurde beim Überqueren einer Straße in der Hamburger Innenstadt im Februar 2000 angefahren und tödlich verletzt, er starb 78-jährig.