Archiv: Februar 2019
Love, deep love at first sound – these are very rare occurances in my life. I remember just a few, less than ten. At the moment I remember half an hour of roaring silence I listened to in Iceland many years ago, I remember Forest Flower, Sunrise-Sunset played by the Charles Lloyd Quartet at Monterey, I remember Stella by Starlight performed by the Miles Davis Quintet at Lincoln Center on February 12, 1964. Furthermore some Madrigals composed by Claudio Monteverdi and of course Keith Jarrett, Lausanne 1973 Part II.
Love at first sound came to pass when I listened to New Age Hand Jive the first time. This happened not only to me, but at the same time to my daughter, who entered my living room and said: "I want this piece of music, please". When she was pregnant, she played it many times and my unborn grandson Julius became familiar with this beautiful music (but now he likes Bavarian Folk Brass Music – uff da daaa).
Larry Karush is the composer's name. But who is Larry Karush? Damn! I don't know how I got on Karush's album PIANO CROSSROADS. Larry Karush was born October 6, 1946. He performed improvised music with roots in jazz, 20th and 21st century western classical music, African percussion, and the classical music of North India. This characterises exactly the above mentioned album. Together with Glen Moore and Glen Velez he formed the wonderful Trio Mokave.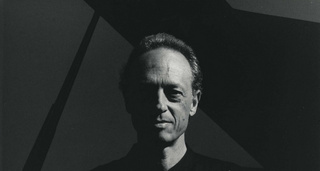 In December 2015 I contacted Glen Moore to learn more about Larry. I wrote:

Today I write primarily because of Larry Karush and Mokave. I heard of Larry Karush when Steve Reich's "Music For 18 Musicians" was released in 1978. He was then a member of Reich's Musicians. I didn't forget his name, maybe because of the release of "May 24, 1976" (JAPO Records) which I didn't buy then. In those days I noticed quite carefully all the issues published by ECM.

It took me a very long time until I realized what an astonishing pianist and composer he has been. Now it's only a few weeks ago when I listened by chance to "PIANO CROSSROADS". I was unusually fascinated and looked out for some more records of Larry. There are not so many.

In my ears and in my opinion Larry was one of the best piano players of modern jazz and more, being at the same height of virtuosity, originality, deepness like many other well known piano players. And he has his own dialect.

I don't understand, why he remained so unheeded.
– was he too unpretentious, too shy?
– didn't he find a label, a promoter to bring him forward?
– did he prefer more to teach than to perform?

I read about him (wikipedia). It's woeful that he has passed away already in 2013
Glen's answer:

Dear Hans,

thank you very much for your kind letter.

I am happy for you that you could find Larrys recordings – he also plays a duet with me on the Oregon album FRIENDS.

Larry and I became friends in Portland, Oregon where he was a student at Reed College. Larry was a very talented player.

Your first assumption was correct – he was too unpretentious, too shy to be able to push himself out into the world. He loved music and was one of the greatest players I have known.

I will pass your letter to his wife and son who would be pleased to hear his praises sung by you.

All the best,

Glen
"The thinking man's James Last" hat man ihn auch genannt, den Bert "Fips" Kaempfert. Es ging wohl auf die Initiative seiner Tochter Doris zurück, seine Musik zu seinem 95. Geburtstag in ein zeitgemäßes Gewand zu stecken. Mit dem Heidelberger Projekt De-Phazz fand sich der richtige Realisator dafür.
Wenn ich meinen Ohren trauen darf, dann stammen die meisten der verwendeten Samples allerdings nicht vom Orchester Bert Kaempfert, sondern von der Platte Soothing the Tiger, einem Easy-Listening-Paket mit dem Orchester Herbert Rehbein. Letzterer war einer der engsten Mitstreiter Bert Kaempferts, in vielen Fällen lässt sich kaum mehr entscheiden, wer von den beiden größeren Anteil an ihren gemeinsamen Kompositionen hatte, und der Streit darum führte im Fall "Strangers in the Night" letztlich sogar zu einem jahrelangen Zerwürfnis zwischen ihnen. Davon abgesehen war Rehbein aber ein durchaus eigenständiger Musiker. Kaempfert allerdings hatte die deutlich besser erkennbare Handschrift als Arrangeur, und das ist wohl der Grund dafür, dass der De-Phazz-Kopf Pit Baumgartner sich die Samples vorrangig bei Rehbein auslieh — die sind einfach neutraler und lassen sich leichter in neue Arrangements einbauen, und auch Rolf Ahrens' originales Schlagzeugspiel wäre wohl zu markant gewesen.
So wehen dann die Sounds und Samples vorüber, getragen von Computerbeats und behandelt mit allem, was das Dub-Mischpult so hergibt. Die originalen Soli von Manfred Moch und Herb Geller sind clever integriert, ergänzt um neue von u.a. Joo Kraus. "Strangers in the Night" wird ungewohnt eröffnet, indem man mit dem Mittelteil des Stücks einsteigt und die Melodien nur noch andeutet, auch die Melodie "Moon over Naples", weltberühmt geworden unter dem Titel "Spanish Eyes", wird gegen den Strich gebügelt — darf man sagen: geschmackvoll? Selbst beiläufiges Scratching und ein paar Rap-Vocals von Gee Pierce, der wohl irgendwie mit dem Wu-Tang Clan verbandelt sein soll, fallen da nicht störend auf. Pat Appletons und Sandie Wollaschs Vocals passen sich ebenfalls fugenlos ein.
Ich geb's zu: Strangers in Dub ist meine momentane Dauerdudelplatte. Anspieltipps: "Malaysian Melody" und "(You Are) My Way of Life" — neben "The World We Knew" ohnehin eine von Kaempferts stärksten Melodien. Aber heute abend will ich dann mal wieder das Originalorchester hören — Orange Colored Sky oder gleich die noch immer unschlagbare Swingin' Safari!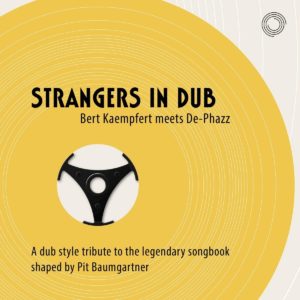 Ein Nachruf auf einen grossen Musiker ist letztlich auch eine Erinnerung, für den, den es betrifft, die eine oder andere Platte aufzulegen, die unser Leben, im Kleinen wie im Grossen, über Nacht ändern konnte. Die Verwandlungskraft bleibt. Der naheliegende Reflex auf einen Nachruf ist Nostalgie, besser aber ist es, darauf zu achten, dass die Zündschnüre noch funktionieren. Also wird das Radio explodieren, was die Stille nicht ausschliesst, in der Nacht zum 20. April, zwischen 4.05 und 5.00 Uhr.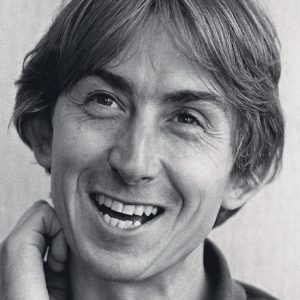 Mark Hollis (b. Jan 5, 1955) is dead. The last song of his last album, "Mark Hollis", is titled "A New Jerusalem", and these are the verses: "And I'm home again / But alone my child / For the emptiness of war remains / One among five / But I'm dead to love / A pawn the same / And I'm home again / Run along my child / For the water's blood / And so the sea / Summer unwinds / But no longer kind / Heaven burn me / Should I swear to fight once more / D'you see / Wise words / Wild words".
Wanna make a playlist, with this sequence: "A New Jerusalem" / "What A Wonderful World" (Robert Wyatt's version of that evergreen, darker than you may think) / "Set Me Free" (Brian Eno) / "Everything Away" (David Bowie). All last tracks in different ways. And, as a closer, the last track of P.J. Harvey's album "Let England Shake". The last verses of the last song evoke a memory about the color of the earth on a faraway day. It's the color of blood. Imagine there's a heaven, a spirit of eden.
Mitte Januar las ich in der Süddeutschen Zeitung einen Artikel über die britische Komponistin Rebecca Saunders, die 51-Jährige werde im Juni in München den hochdotierten internationalen Ernst von Siemens Musikpreis 2019 erhalten. Dieser Preis sei so etwas wie der "Nobelpreis für Musik". Ich hatte noch nie etwas von Rebecca Saunders gehört, neugierig geworden, las ich weiter. Ihre Kompositionen seien komplex, kämen zumeist ohne Melodie aus, seien aber Werke von hoher Intensität. Und dann ließen mich zwei Bemerkungen hellwach werden:
"Molly's Song 3 für Alt-Flöte, Bratsche und Gitarre etwa, bei dem plötzlich das mechanische Rauschen von vier Radios in das Stück hereinbricht, nur um von einer zarten Spieldose abgelöst zu werden. Der Schlussmonolog der Molly Bloom in James Joyce' Ulysses hat die drei "Songs" inspiriert."… "Yes" bezieht sich ebenfalls auf den Schlussmonolog in Ulysses, auf die letzten Worte von Molly Bloom, bei Joyce ein nicht endender Gedankenstrom. Saunders lässt eine Sopranistin Textschnipsel singen, …"
Die andere Bemerkung bezieht sich auf die Stille in der Musik:
"Klang zum obersten Prinzip zu erklären und Stille zum Werkzeug zu machen, sind natürlich keine neuen Ideen. Sie durchziehen die "Neue Musik" des 20. Jahrhunderts nicht erst seit John Cage und "4'33". Bei Saunders aber trägt die Stille die Musik, "sie rahmt den Klang", schreibt die Komponistin. Jede Pause bekommt durch die Musik vor und nach ihr eine Bedeutung."
Nun war für mich klar, über diese Komponistin gilt es mehr zu erfahren: 1967 in London geboren, die Eltern und Großeltern Pianisten, bzw. Organisten, Studium der Komposition in Edinburgh und Karlsruhe (Wolfgang Rihm), Zusammenarbeit mit dem Ensemble Modern, viel Preise, inzwischen mehr als 60 Werke geschrieben, seit 2011 Professorin für Musik in Hannover. In Stuttgart war sie vor 14 Tagen während des Eclat-Festivals mit der Uraufführung von "Unbreathed" für Streich-quartett (Quatuor Diotima) zu erleben.
Die Stuttgarter Zeitung fragte Rebecca Saunders nach den vielen stillen Momente in ihrer Musik, ihre Antwort:
"Der Moment des Wartens interessiert mich ungeheuer. Was passiert, wenn die Musik angehalten wird, sodass die Ohren sich neu fokussieren müssen? Die Stille ist ein Ideal, sie existiert eigentlich nicht, birgt aber ein enormes Potenzial, und damit zu arbeiten, indem man etwa unter der Oberfläche der Stille einen Klang herauszieht und dann langsam wieder zurückgehen lässt, das finde ich allein schon faszinierend. Was für eine Spur hinterlässt so ein Klang, den die Stille einrahmt? Stille ist wie eine Leinwand, sie steht immer hinter dem Klang."
Mich erinnern diese Aussagen natürlich auch an Paul Bley, auch so ein Meister der Stille.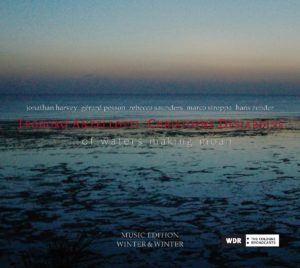 Gefragt, welches nun mein Lieblingmusikstück von der neu entdeckten Komponistin sei, ist die Antwort klar, das zwanzigminütige … Of Waters making Moan für Akkordeon. Ja, und das wäre auch überhaupt meine derzeitige Lieblingsplatte.
Schon beim ersten Album von Dictaphone lang ist es her, kommt man sich vor wie in einem "film noir". Dass dieser Ausdruck mittlerweile auch  schon unter Gaukeleiverdacht steht, geschenkt.  Die Strassen sind verregnet, auch das  lässt sich verkraften, zum Glück bleibt uns der gesammelte Kitsch betont schauriger "Sax-Sounds" erspart. Der mit den aufgesperrten Lauschern könnte Nobody sein, oder Sam Spade, er folgt unverdrossen den Spuren hauchzarter "electronics" und fragmentierter Luftblasen. Das Lächeln in seinem Gesicht versteht kein Aussenstehender. Was geht unserem "private ear" durch die Sinne – wie in einer Stadt aus Glas sind überall und nirgends Zeichen, er ist von Traumsphären umgeben, alle linearen Handlungsfäden Gespinste – was bleibt ihm anderes übrig als seinem alten Trenchcoat-Gespür zu trauen, niemand kann Peter Falk böse sein.
Das Duo Dictaphone bildete sich vor der Jahrtausendwende (wenn mich die Fakten nicht da auch noch trügen), der Weg führte von Berlin nach Brüssel, und Doerell und Doering (die Namen passen so gut zueinander wie Moebius und Roedelius) schufen eine Musik, die selbst in der damals angesagten Welt der Fehlerklänge, Klangsplitter und Morsefunkerei einzigartig war. Sie sind anscheinend noch immer ein gut gehütetes Geheimnis. So kristallin, dabei nie keimfrei: wäre ECM ein Label für Elektronische Musik, Dictaphone wären dort Superstars. Wer die Lust am Müssiggang für keine lohnenswerte Option des Daseins hält, hat bei Dictaphones Illusionskunst schlechte Karten. Aber wer auf einem offenen Feld bei einbrechender Dunkelheit und dunklem Gewölk gerne in grosser Seelenruhe auf den ersten Blitzschlag wartet (bei einem stattlichen Honorar nimmt man auch den Tod in Kauf, das wissen alle guten Detektive), der wird reichlich beschenkt.
"In brief interviews, Mr. Frith recalls being inspired as a teenager by the rhythm guitar playing on the Beatles' records. He rejects self-expression as an artistic ideal and talks interestingly about performing for small audiences and waking them up to the possibilities of what music can be. Mr. Frith is also shown to be a musician whose esthetics, like Mr. Cage's, are related to environmental concerns. In one scene, he is shown standing on a rocky coastline serenading flocks of seagulls that seem drawn to the birdlike sounds he is creating. Make no mistake: Mr. Frith is no dreamy, new-age nature boy. The black-and-white movie, which was filmed on three continents, also has extended sequences of decaying urban sprawl accompanied by appropriately abrasive sounds."

(James Holden, NYT, 1992)
Step across the border   /   Das Porträt des englischen Musikers Fred Frith
ARD-alpha / 24.02.2019, 21:55 Uhr
I could forget it all on evenings like this—
the names, addresses, even our relations.
Everything could be taken
by the lights of the town in this weather.
The process has something to do with the buildings,
their vernacular of flint and brick,
but there is also the matter of the people.
How many there are … do we know? Can we trust the data?
The dogs at the borders, lapping it up,
must surely just have their own reasons.
And there are dogs wherever a line is drawn.
The map on my phone tells me (not just location)
but that I am quarter of an hour from a drink.
And that is all the news I can handle.
– written by Will Burns